After overcoming all odds and learning to walk again, former patient Kai Kristiansen has reflected on the chance meeting with the doctor who saved his life.
---
The 28-year-old from Whickham, Gateshead, was on his motorbike in May 2012 when he was involved in a collision with a car in Hexham, just three weeks after his 21st birthday.
He was launched into the air and travelled 76 meters down the road leaving him hospitalised for three months.
He said: "A car was turning right, and I was behind coming around the corner. I tried to overtake it and as I overtook, they turned right, and I went into the side of the car.
"I woke up in hospital a month later."
Pioneering treatment
Kai broke 11 vertebrae, tore open the protective sac around his heart and now only has one lung as the other had to be removed. He also broke multiple ribs and had severe nerve damage in his neck and shoulders.
He needed urgent treatment on scene and in hospital and credits the Great North Air Ambulance Service's (GNAAS) initial response with saving his life.
The GNAAS doctor on shift that day was Jeff Doran. Jeff said: "Although this was quite a long time ago, I remember it well.
"Kai was critical at the time. We were able to perform general anaesthetic to put him to sleep to protect his brain and more importantly to take over his breathing."
On scene, Kai received advanced treatment from GNAAS which involved piercing a hole in his chest to release trapped air, which was affecting his lung and heart performance.
Learning to walk again
Kai was airlifted to the Royal Victoria Infirmary in Newcastle and then blue lighted to the Freeman Hospital where surgeons operated immediately. Kai's dad Alan said: "The consultants explained to me it wasn't good. They said if you're a gambling man and play roulette -this is red or black – live or die.
"Kai couldn't move his arms so in attempt to get him moving again we used to put dolls in his hands and leave him in reception, so he was forced to try and move. Then when we could move his arms, we put traffic cones on his head so he would have to reach that little bit further."
Kai was then transferred to Walkergate Park Hospital where he learned to walk and use his arms again and now, seven years on, he describes himself as "fighting fit".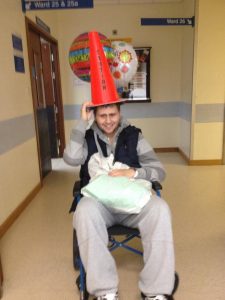 Chance meeting
This year, Kai signed up to the Great North Run (GNR) to raise funds for GNAAS, but nothing could have prepared him for what happened next.
Kai's dad said: "It was heart breaking when he decided to do the GNR as I knew this was such a huge milestone for him – he had never ran that far in his life."
After running the gruelling 13 miles from Newcastle to South Shields, Kai came face to face with Jeff on the finish line.
He said: "There he was, the doctor who saved my life. He knew straight away exactly who I was, and he could remember everything that happened.
"He asked me how I found the run and I said about three words to him and broke down – I just couldn't stop crying. It was just all too much!"
Jeff also remembers it being a complete shock when he bumped into Kai and something that will stick with him forever.
He said: "The GNR day itself was such an inspiring and emotional day but I had no idea I would meet an ex patient at the finish line and especially one I remember so well. It was a double whammy of emotions in a nice positive way."
Since then, Kai and his family have vowed to do everything they can to help GNAAS.
Kai said: "The run was only a tiny fraction of what I am going to do to pay them back for what they have done for me. Watch this space, it's only the start."
The reunion
Last week at GNAAS' Teesside International Airport base, Kai met up with Jeff and paramedic Andy Mawson who was also on duty that day. In an emotional and heart-warming reunion, Kai told the team that he had no words to describe his feelings towards GNAAS.
He said: "What they did for me and for my family on that day is just unreal. Then going through this now and getting to meet the team that saved my life is emotional and unbelievable. I can't even believe I am standing here today."
Jeff added: "It has been so lovely to meet them here at the air base and show them round and explain a bit more of what we do. It's been really great."
GNAAS has a limited number of places for the 2020 Great North Run. To secure yours today, visit gna.as/kai