Nick Copson of County Durham survived a head on collision and then overcame amputation, sepsis, bed sores, major organ failure and delirium. Yesterday, we published his account of the relentless ordeal he has faced in battling back to health.
Today, GNAAS paramedic Marcus Johnson describes how he and the team played their part in Nick's survival.
---
I remember us coming into work that morning and while we were doing the normal checks, we took a phone call from the North East Ambulance Service (NEAS) about an ongoing job near Hamsterley.
The aircraft was offline until 9am so we made the decision to drive up to the scene. We set off at 7.50am and arrived at 8.15am. On the way we discussed activating our Cumbrian aircraft once we had seen what we were dealing with.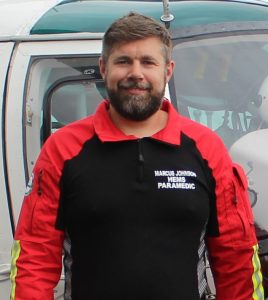 Pic: Marcus Johnson
When we got there, it was a fairly chaotic scene, with two badly damaged vehicles each with one seriously injured patient. We could see quite quickly that the aircraft would be needed so we called them for the additional support. So when they arrived, we had two critical care teams, each with a doctor and paramedic, to support the work of the ambulance service and fire and rescue teams who were already present.
Nick was more seriously injured of the two patients and so we focussed our initial efforts on him, although while he was being released from the wreckage of the car, we helped with the other patient. Nick was showing signs of a skull fracture and also what is known as a flail segment, which is when a section of the chest becomes detached. It is usually a sign of a serious injury underneath. He'd also sustained very bad fractures of his leg and pelvis, and was showing a reduced level of consciousness – his eyes were closed and he wasn't really talking to us.
When the fire and rescue team freed Nick, we decided to give him a general anaesthetic to just put him to sleep basically. We also gave him a blood transfusion and a chest drain, which released lots of blood from his chest cavity. Having seen his leg injuries, we had expected him to make more of a fuss when he was removed from the car, but he didn't flinch which indicated either a serious brain injury or a major spinal injury.
After that it was a case of getting him ready for the flight. He was flown down to James Cook University Hospital in ten minutes. That would have taken around an hour by road. In someone like Nick's case, every minute counts.
His condition had been deteriorating before we arrived. Using the advanced techniques that we bring to the scene like blood transfusions, the anaesthetic and the chest drain, we were able to slow that deterioration down and allow him to get to hospital for the additional care he needed there. But in my view Nick has played the biggest part himself – he has fought all the way and got himself in the position he is today.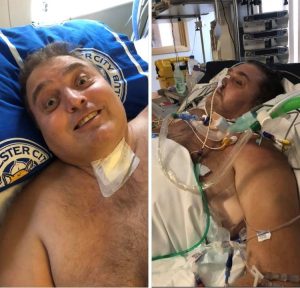 Read more: Nick's account of surviving the incident, and the aftermath