A cyclist has tackled the equivalent of Land's End to John O'Groats in his garage for GNAAS.
---
Ben Osborne, 42, was originally meant to be taking part in some charity rides this year, but to due to the outbreak of COVID-19, these were cancelled.
The sports & rehab therapist then decided to set himself his own cycling challenge which didn't even require him leaving his home in Blaydon.
Ben would spend 10 days cycling in his garage covering a total of 1,000 miles, the same length as travelling from Land's End to John O'Groats.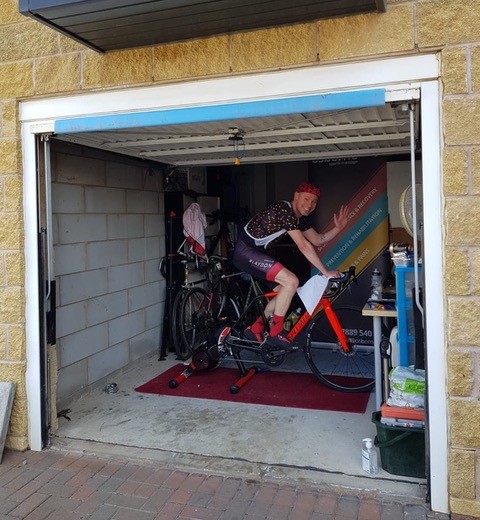 He said: " I got thinking and this is what seemed a worthy way to use the time constructively, challenge myself, do something interesting and raise some money at the same time."
Ben helps run Blaydon Cycle Club which has supported GNAAS in the past.
He said: "Cyclists all know of the great work GNAAS does and appreciate that our sport puts us in a position of potentially needing the air ambulance at some point.
"Personally, I was in a crash during a cycle race a few years back in which one of the riders sustained horrific injuries. He was unresponsive on the tarmac and his injuries would certainly have killed him if it weren't for the quick response of GNAAS. So I have witnessed first-hand that GNAAS are lifesavers.
"I'm also constantly surprised at how few people realise that GNAAS relies on charitable donations to operate. So I think that makes it even more important to keep on putting the charity's name in front of people and getting the message out there."
Ben has surpassed his initial target of £500 and raised more than £1,700 for GNAAS.
To sponsor Ben, visit his JustGiving page.
Get on board, online!
There are lots of ways to stay involved with the charity while staying at home and doing your bit to prevent the spread of COVID-19.
Find out more