"We managed to survive Frankie Boyle and his review of 2020 fairly unscathed, James Corden had a good laugh but by far the most credible was a Radio 4 comedy show and they loved it."
---
Andy Mawson has been a paramedic at the Great North Air Ambulance Service for 11 years, and in his role as a director of operations for three years.
He oversees service delivery, clinical care and training as well as being the brains behind the jet suit paramedic concept, which he spoke in more detail about at the first GNAAS Business Club, which is now open to new members.
Here, Andy explains how a jet suit paramedic service might be delivered… 
"My main objective is to deliver the clinical service that the public expects us to, so as part of that role we're constantly searching for ways of doing things differently or doing things better. Within the critical care team and within the charity itself, there's a real culture of development and innovation and I don't think anybody is really in the mindset of standing still, and subsequently this led to the jet suit project.
We've got a wonderful advantage in Cumbria by using the aircraft, because it means that most places in the Lake District we can get our team to a patient in need in about 25 to 30 minutes. But we have to find an area that is flat enough to land and very often this isn't next to the patient, so there might be a kilometre walk to get to that person in need.
We've always wondered whether there is a different way of doing things in Cumbria and over the summer it was particularly busy in the Lake District because there were a lot of people in the UK.
Over the years we've developed into mobile A&E units, and the doctor and the paramedic team are there to bring the emergency department to the patient, including ultrasound techniques, performing surgery and delivering anaesthetics.
So during the summer when someone has a relatively minor injury, for example a broken ankle or a broken arm, then the charity objectives to use our team in the best way probably don't mean that we can send an aircraft to that person. What happens is that the very dedicated and skilled mountain rescue teams will mobilise to that patient on foot, provide first aid and some level of medical care and then carry them down off the hill. So what we can say with certainty is that in the Lake District there's a lot of injured people that wait a long time for medical care.
The frequency of these type of incidents certainly during last summer were 15-20 a week so the lakes were very busy, and they attract 18 million visitors a year to Cumbria and this is growing each year.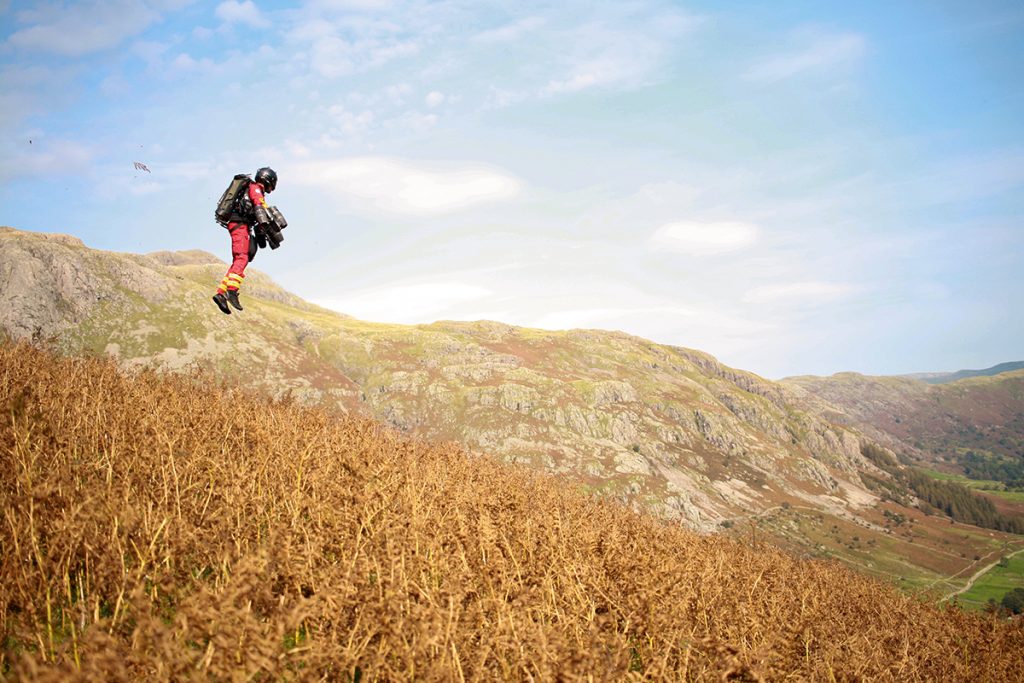 We monitor mountain rescue team calls so we see a lot of people on our screens at our control desk who are injured and probably very frightened and in a lot of pain but who actually don't fit the need for a critical care team, and that was really where the idea of the jet suit came about. The suit itself is a very cost-effective way of potentially getting a solo paramedic to the top of the mountain to deliver immediate care to someone who may have a broken ankle or broken arm.
Gravity Industries who developed the jet suit never really envisaged its use to help people, it was always seen as an exhibition item. Obviously, there's fairly significant interest from a military point of view but I think we were the first people to go to them and say we wonder whether there is an application in remote medicine. We spoke at length over the phone and then progressed that towards the idea that we would test it on the ground because Gravity themselves had never actually flown the jet suit in that sort of terrain.
In September 2020 we all met over in Cumbria and simulated a rescue and that was where we filmed Richard Browning, the founder of Gravity Industries, flying towards the top of Bowfell and getting to a casualty site.
About three quarters of the way up is where we had the casualty simulated which demonstrated how long and arduous the climb could be and I think even Gravity were stunned just how easy the jet suit ate that distance up.
The proof of concept exercise that we filmed and released went really well and gave both teams the appetite to look at how such a system might be developed operationally but not only at GNAAS but also in other areas as well for example ski resorts and other areas where remote medicine is a challenge.
In the background alongside other work we've looked at what medical kit we could carry, we're working with a company down south called Black Space Technology that have developed ways of doing patient monitoring through an android device, we are going to work with a system called what3words to potentially develop a heads up display within the helmet to help us navigate around, so I guess innovation breeds innovation and the jet suit was received way more positively and with more interest than we ever envisaged and I think on the first day I had done about 14 or 15 interviews all around the world.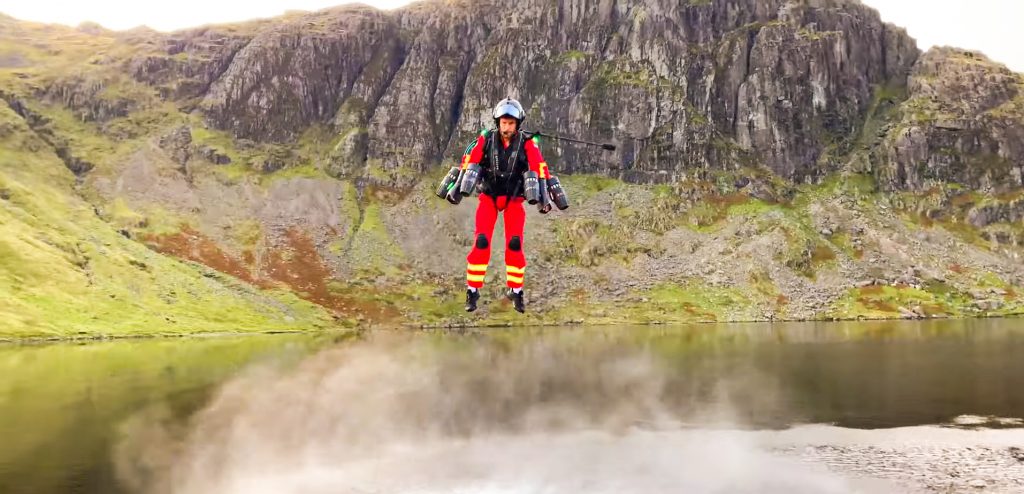 The media interest was huge. We managed to survive Frankie Boyle and his review of 2020 fairly unscathed, James Corden had a good laugh but by far the most credible was a Radio 4 comedy show and they loved it, so if that's a measure of success then I think we've succeeded.
Obviously our prime aim is a charity that delivers care and is about the patient and I think that when you conceptualise this as something that is really tried and tested but just using a different method of transport, it actually becomes really accessible.
This level of innovation will hopefully open doors for us as a charity because ultimately, we're selling a product. Everybody in GNAAS is really humbled by the support we get but our product has to keep getting better.
We have to keep generating that interest and generating that support and finding new ways of doing things.
Regarding the ethos of innovation and improvement, I speak from experience that there's nothing quite like a night shift in the car with someone for 12 hours to start throwing some crazy ideas. Our team are blessed with a lot of time together and we have a really open culture which allows people to express ideas. As wonderful and as wacky as they might be, it means that every now and again it is a little bit like shooting stars, where one of them lands and we go oh that could really work.
This sounds awful but after more than ten years of flying around the skies in helicopters and driving rapid response cars on blue lights, the excitement of it doesn't excite me as much as the idea of using a jet suit and being able to say to the first patient, I bet you never expected that."
These are extracts from a talk delivered at the first virtual networking event for GNAAS Business Club.