"The bags function as a miniature on-the-move A&E unit, but right by the side of the patient when they are fighting for survival."
---
A team from the Great North Air Ambulance Service (GNAAS) has pioneered a new kit bag aimed at making their patient care more efficient. Holly Taylor caught up with one of those involved, paramedic Lee Salmon, to find out more about the concept and what the use of the bag will mean for the critical care team.
When GNAAS is called out to a critically ill patient, seconds count.
More often than not, on scene, the team on duty would have to run to and from the aircraft to grab bits of life-saving equipment or rely on help from the ambulance service.
That was of course until five critical care team members at GNAAS came up with the idea of carrying all the equipment needed on scene – on their backs.
Since the development of these 15kg kit bags, the team has seen shorter on-scene times which has ultimately resulted in better patient care.
Lee, please describe these new medical backpacks.
These new bags contain all our medical equipment.
They are a modular system, comprising of two main bags, a monitoring bag, and a procedure bag. They are also supported by small modules that can be clipped to each bag to change its operational capability.
So, for example, if we are attending a child patient, we would add the paediatric module which contains all the equipment that would be specific to children.
Inside the bag, you will find a ventilator for protective ventilator strategies for those patients who are critically ill. We also have the butterfly scanner ultrasound so we can do scanning on patients and see whether they have any internal bleeding.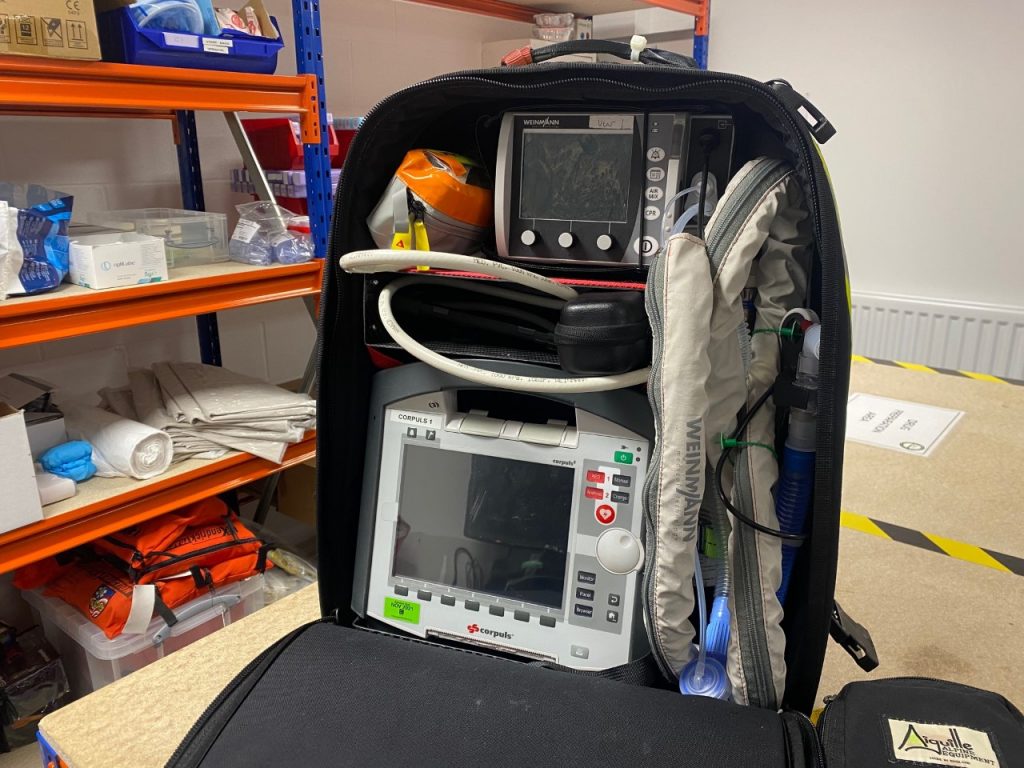 Then, there is the defibrillator and monitoring unit which gives us the opportunity to look at patients' observations and make sure they are in normal parameters and if not, we can monitor them accordingly.
This technology utilises Bluetooth so the different segments can speak to each other and aid us in moving patients around which in turn is much, much easier.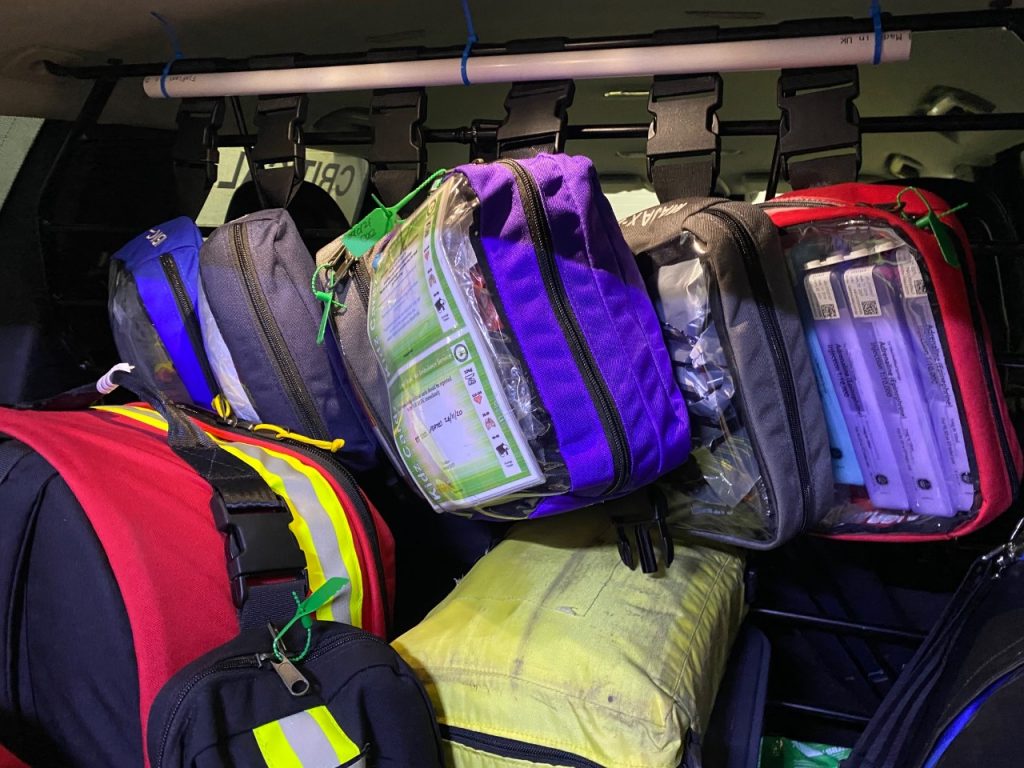 Who designed the kit bag and why has it been built the way it has?
The bag requirements were drafted by a team of five of our clinicians from GNAAS. We looked at the various components that we thought would be used most frequently and prioritised these over seldom used elements.  It makes the bags function as a miniature on-the-move A&E unit, but right by the side of the patient when they are fighting for survival.
The bags are formed from two very different materials.  The monitoring bag has a highly complex carbon-fibre exoskeleton structure, which not only gives the bag shape but means we can store the very expensive ventilator and monitoring equipment both safely and with protection to the devices themselves.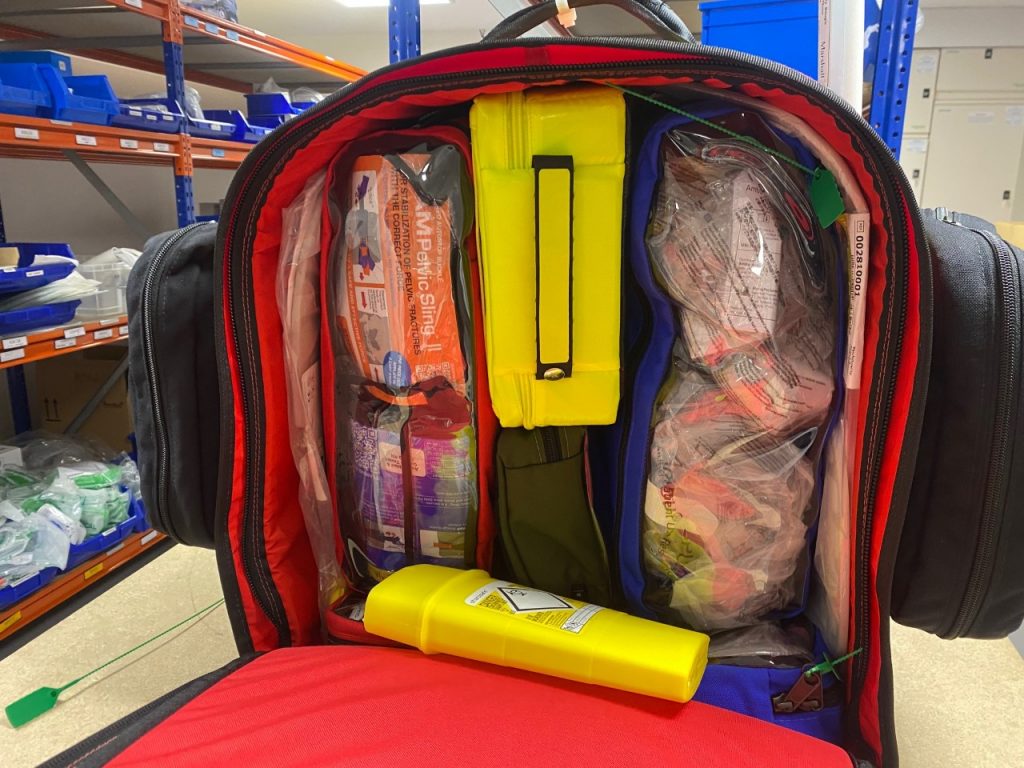 Hansell Composites from Stokesley designed and manufactured this amazing structure for us.
Cumbrian-based mountain equipment manufacturer, Aiguille also collaborated with us to provide us with these bags.
Aiguille concentrated on their strengths, designing a bag that can carry a heavy load, safely and ergonomically. The modules are designed to make sure they fit well, are easily selected, and are a good fit, as it is very heavy – 15kg!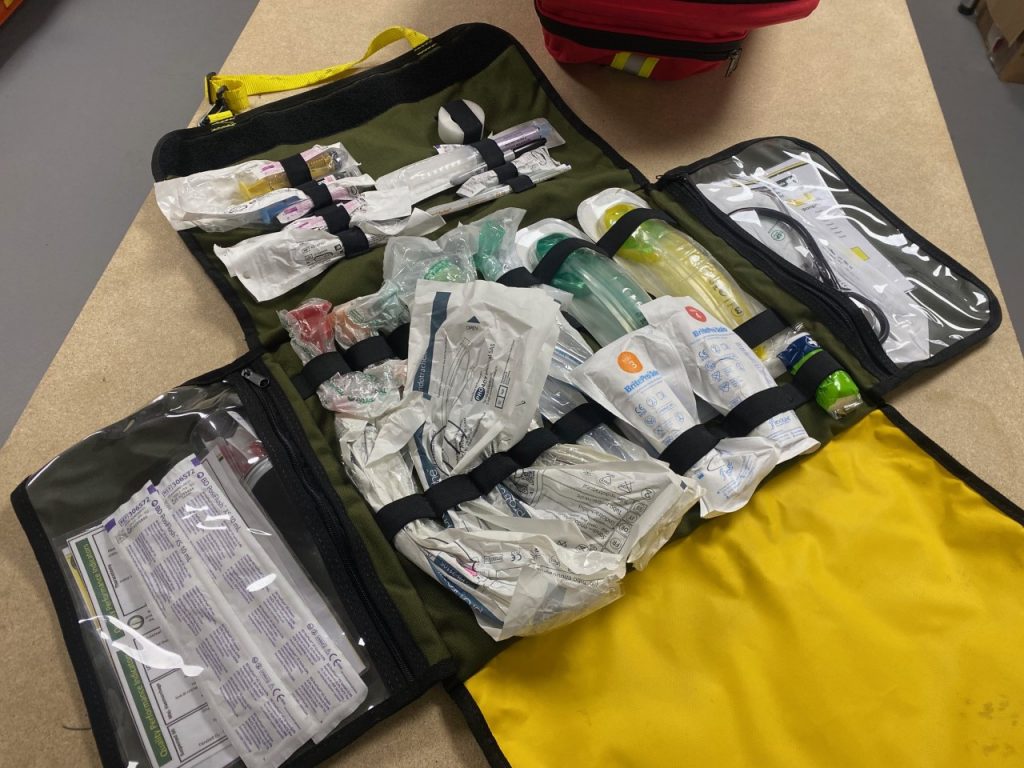 This bag is transferrable between the car and aircraft so regardless of how we respond we can take this bag with us and know the equipment is safe, ready to use, and is in an organised and efficient setup.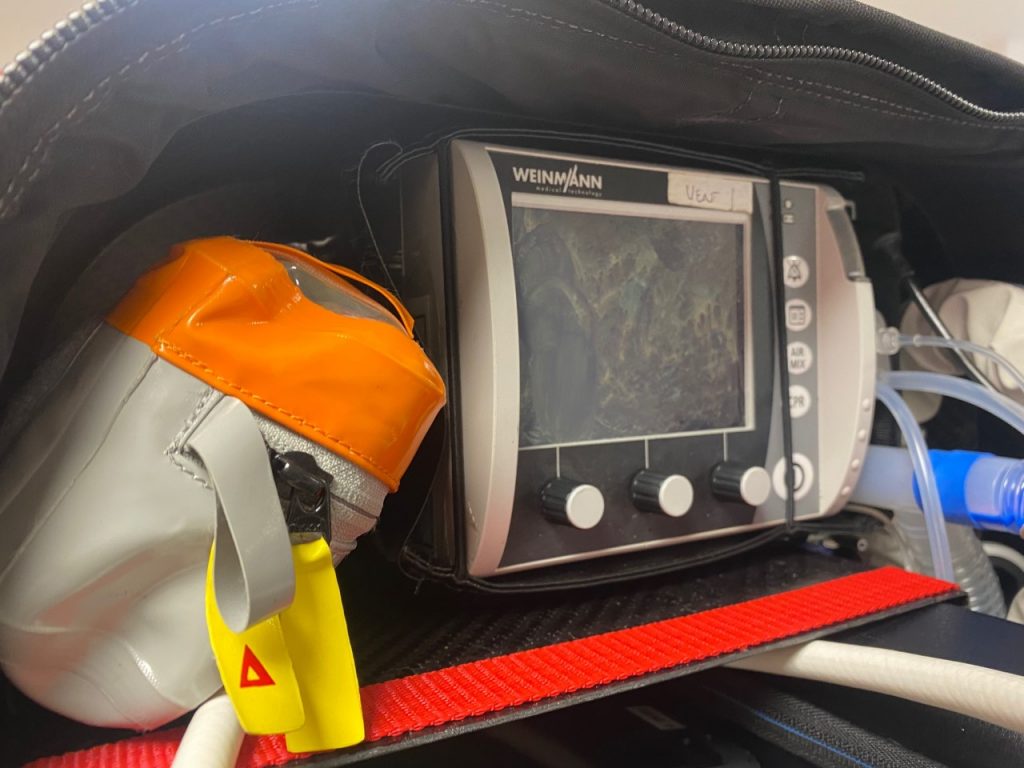 What will the bags enable you to do that you can't do in the helicopter?
These bags help us take critical care equipment to the scene of the patient with ease. We can't always walk back to the aircraft – if we were going to a patient on a mountain top, for example – so we will always want to take this with us.
There is always the potential of having to go to patients in rural places and these bags mean we can have everything we need while being by the side of a patient.
Before these bags were designed, we used to go back to the aircraft for certain bits of equipment or ask the ambulance crew to get us things that we couldn't carry. This often felt clunky and essentially created a time delay.
We wanted to take everything, but we weren't humanly capable of doing so, so we developed a way of carrying everything safely.
We are already seeing that these small gains are converting to shorter on-scene times and ultimately better patient care.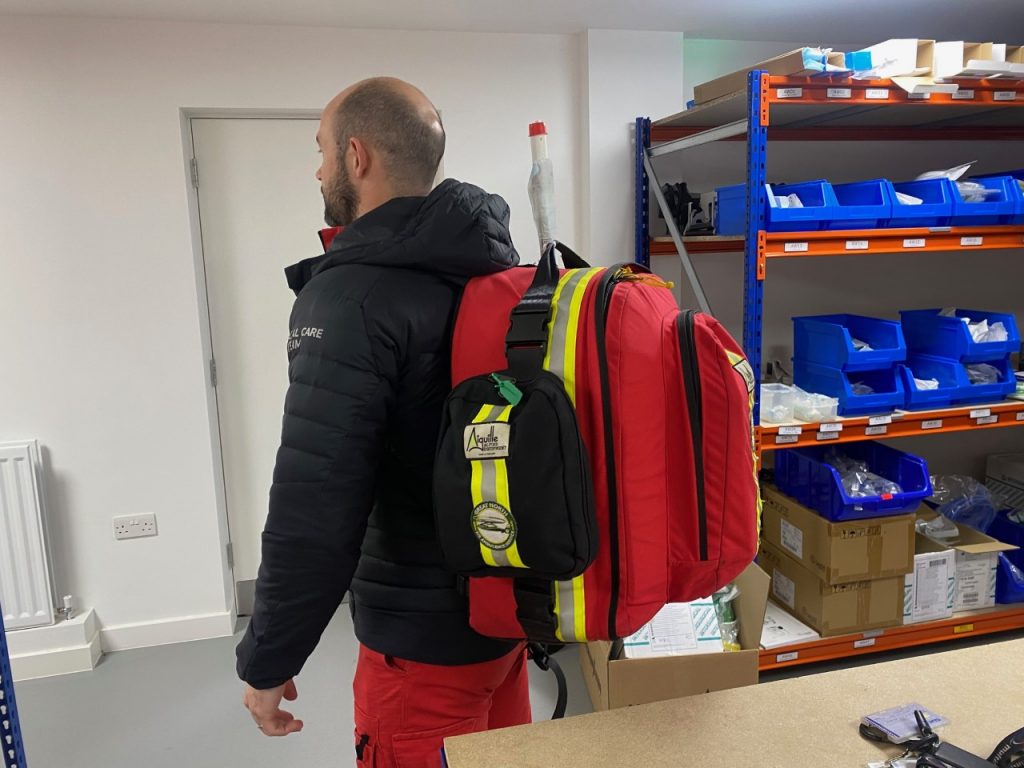 Will they be used on every job or will it be specific incidents – if so what and why?
These will be used on every job we attend, from serious head injuries to large road traffic collisions. In situations like this, the new bag system will save lives and justifies the time, cost, and collaborative approach to getting it right. In our field of practice minutes count, and minutes can and do mean the difference between life and death.
We are using human factors more and more at GNAAS and constantly reviewing the equipment we carry in the hope of pushing boundaries and making small operational gains that add up to saving lives and reducing suffering to everybody unfortunate enough to need our help in the future.
We are always looking for new ventures, pieces of equipment, and possibilities on how to make people's lives better, and the public support in this endeavour is greatly appreciated.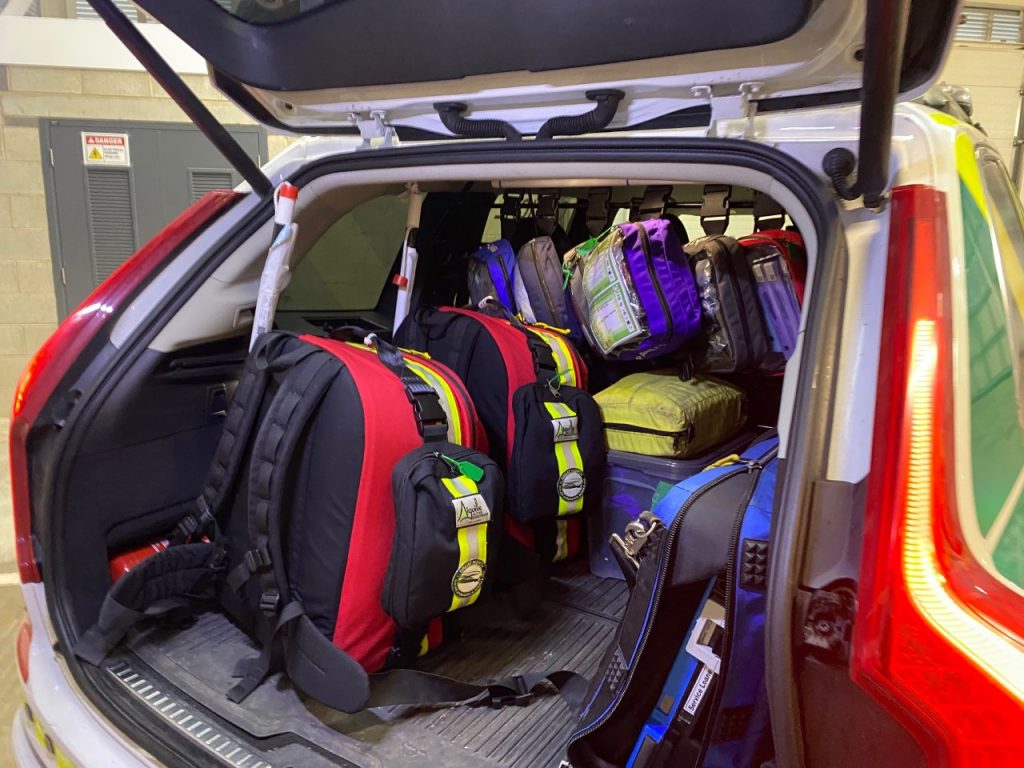 Help us to keep holding strong
We are here, keeping you in safe hands. With your support, we can keep holding strong.
Donate