The Lake District could become home to the world's first jet suit paramedic.
A collaboration between Gravity Industries and the Great North Air Ambulance Service has resulted in an unparalleled test of human flight in the heart of the Lakes, pushing the boundaries of emergency response.
The Lake District is by far the UK's most famous national park, and it's not hard to see why.  The picturesque panorama of craggy hilltops, mountain tarns and shimmering lakes draw some 15 million people each year.
But this wild terrain can be treacherous, resulting in several incidents requiring the medical expertise of the Great North Air Ambulance Service critical care team. The undulating peaks and valleys can often mean the helicopter is unable to safely land close to the casualty, forcing travel by vehicle or foot.
But what if there was another way for the critical care first responder to locate and stabilise the patient within minutes?
GNAAS x Gravity Industries
On Tuesday 8 September, a year of discussion between GNAAS and Gravity Industries culminated in a jet suit test flight.
Taking place at Langdale Pikes in the Lake District, Gravity Industries founder Richard Browning flew from the valley bottom to a simulated casualty site on The Band, near Bowfell.
The flight took 90 seconds; by foot, it would have been an arduous 25-minute climb. The exercise demonstrated the considerable potential of utilising jet suits to deliver critical care services.
Andy Mawson, director of operations and paramedic at GNAAS, said: "We could see the need. What we didn't know for sure is how this would work in practice. Well, we've seen it now, and it is, quite honestly, awesome."
"We think this technology could enable our team to reach some patients much quicker than ever before.
In many cases, this would ease the patient's suffering.
In some cases, it would save their lives."
– Andy Mawson, GNAAS director of operations and paramedic 
The Jet Suit
British inventor Richard Browning founded the pioneering aeronautical company Gravity Industries in March 2017. The 1,050-horsepower system relies on five mini jet engines – two each built into units attached to the hands and one built into a backpack.
Power: 1050bhp
Turbines: 5
RPM: 120,000
Fuel: Jet A1 or Diesel
Dry weight: 27kg
Flight time: 5-10 minutes
Current speed record: 85 mph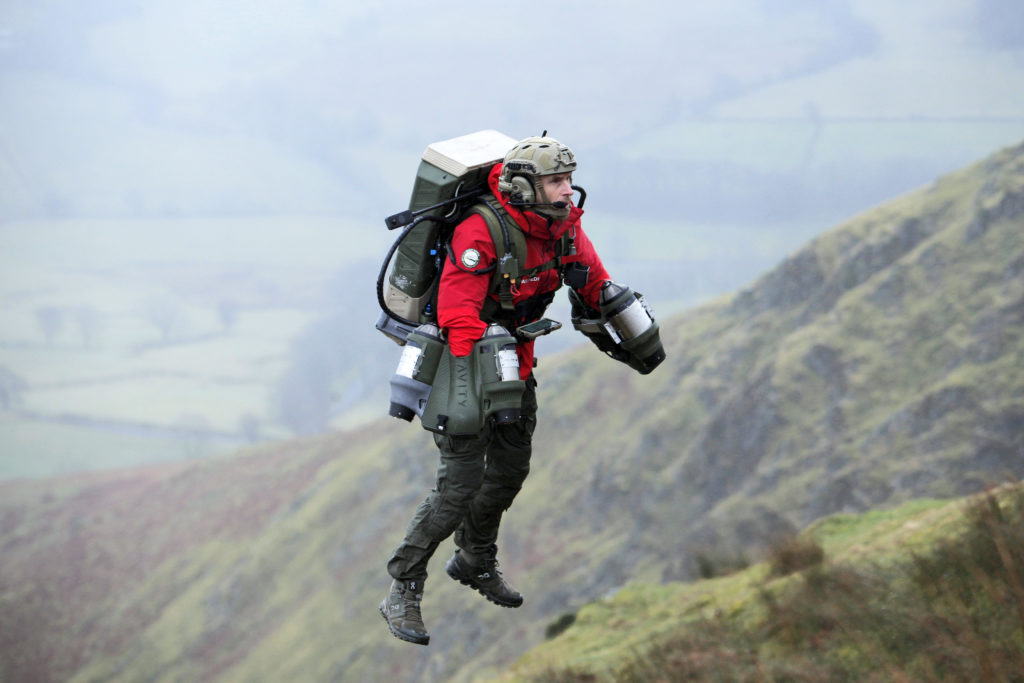 GNAAS partners with renewable energy leader for Jet Suit paramedic trials
The Great North Air Ambulance Service has partnered with the renewable energy leader Ørsted and Gravity Industries to trial the viability of Jet Suit paramedics.
Read the press release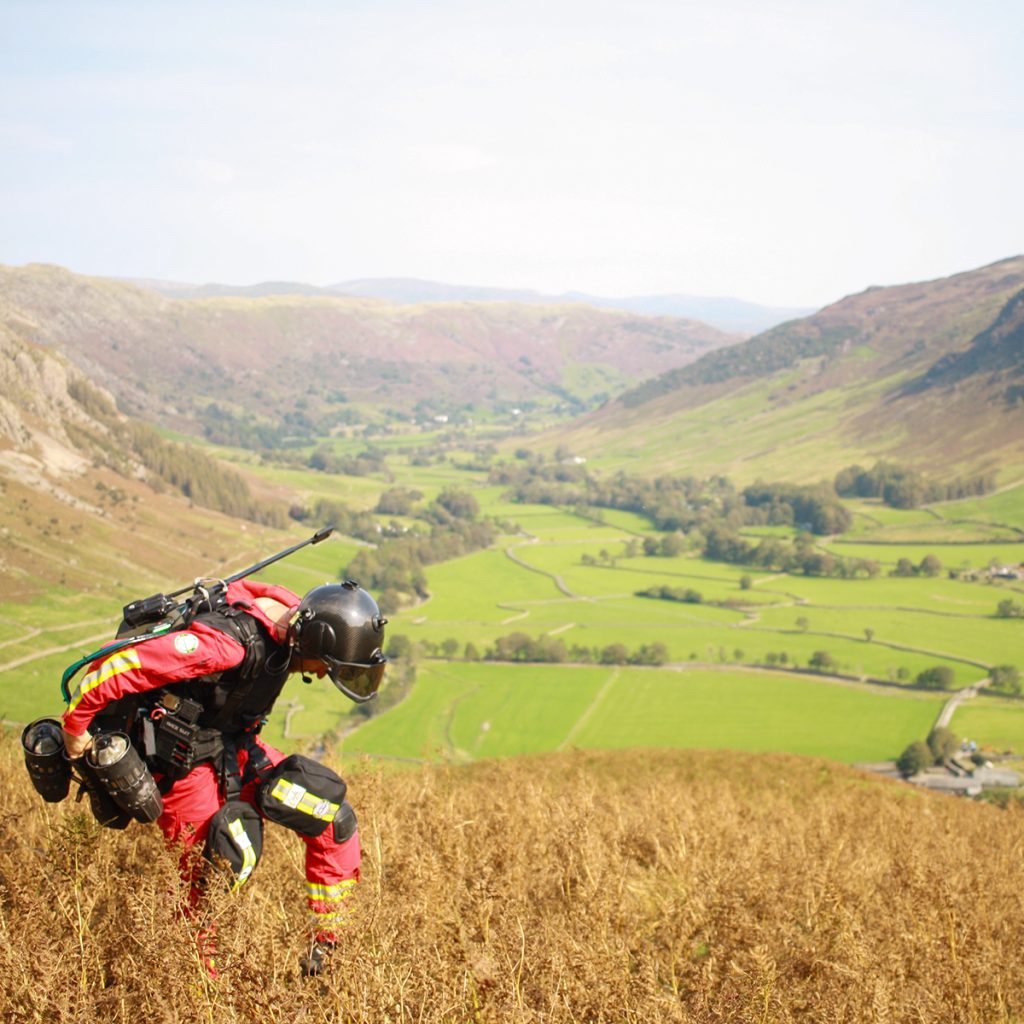 Andy Mawson: the man behind the Jet Suit
Andy Mawson has been a paramedic at the Great North Air Ambulance Service for 11 years, and in his role as director of operations for three. He oversees service delivery, clinical care, and training, as well as being the brains behind the jet Suit paramedic project, which he speaks about in detail.
Meet Andy Mawson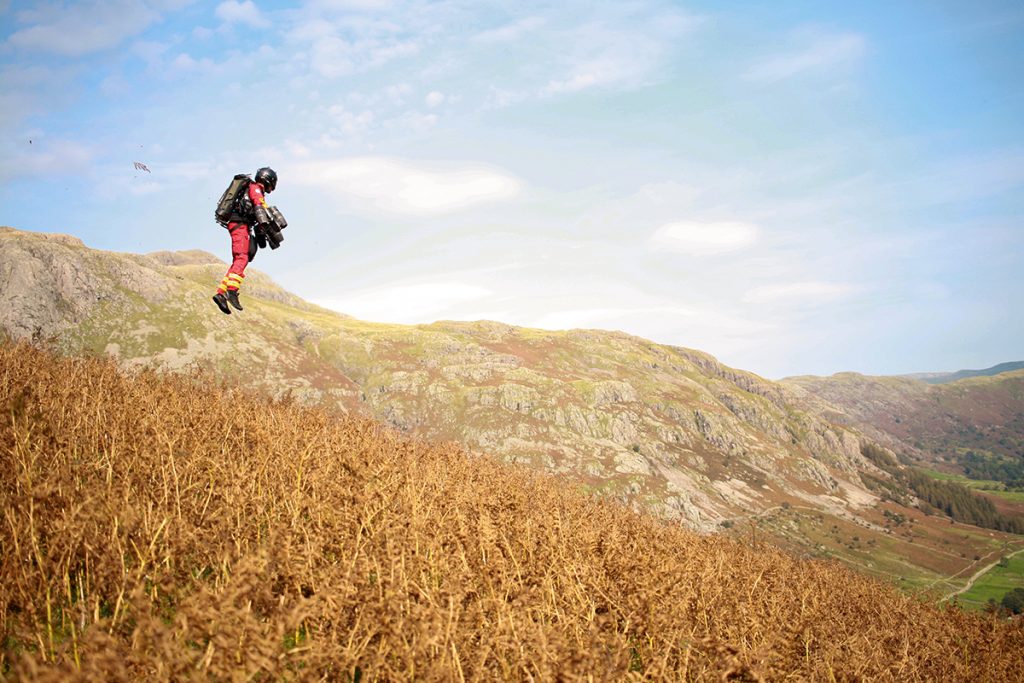 The Jet Suit paramedic: your questions answered
After worldwide news coverage and a social media frenzy, we undoubtedly had a lot of burning questions to answer!
Your questions answered
Help us stay in the sky by donating today.
Innovations such as this enable us to continually develop emergency care, saving the lives of more patients who would have died at the scene. GNAAS is a charity and we rely on donations to survive.