Toddler Oliver Lightburn required the Great North Air Ambulance Service (GNAAS) after suffering scalds at his home.
---
The two-year-old from Ousby knocked over a jug of boiling water, scalding his shoulder.
His quick-thinking mum, Hannah Shaw, 27, doused Oliver in cold water to cool him down.
She said: "It all happened in slow motion. He just pulled the jug down, he was screaming, but I just instinctively got him in the bath and kept pouring cold water over him."
While Miss Shaw cooled him down, Oliver's grandmother called for the emergency services. 
Due to Oliver's young age, the Great North Air Ambulance Service responded from their airbase at Langwathby.
Hannah said: "I just wanted to say a massive thank you for coming and airlifting our son Oliver Lightburn to Carlisle after his scalding accident.
"Thank you so much — we will forever be grateful. Thankfully he has one tiny red bit on his shoulder that hasn't even blistered. We are back home with our happy little boy back."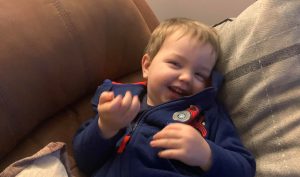 Play the GNAAS Raffle for your chance to win £10,000.
A GNAAS spokesman said: "We had two doctors and a paramedic on board. It took us six minutes to get there.
"We treated a patient on scene before they were airlifted to hospital in Carlisle."
Only a month after the incident, from which he made a speedy recovery, Oliver and his mum took on a fundraising challenge to raise funds for the service which came to their aid.
The pair raised more than £1,200 by walking 32 miles – the distance from the RVI hospital in Newcastle to GNAAS' Teesside airbase – as part of the Race to the Base virtual challenge.
Hoping to help other people who could find themselves in this situation, Hannah added: "Getting him under the cold water saved him. All I could think about was him getting skin grafts. The boiling water had covered his back, arm and ear.
"When we got to hospital, the doctor said they would rather treat hyperthermia — getting him into the water saved his life."