A man who fell 100ft and lived to tell the tale has been reunited with the critical care team who came to his rescue.
---
Christian Unsworth, from Wigan, was hiking on the Old Man of Coniston on Christmas Eve last year when he lost his footing and fell to the bottom of Grey Crag.
The 25-year-old said: "I was having a walk and I thought 'oh I'll do a shortcut' and shortcuts are not always the best to do, and it led me to have a fall."
Mr Unsworth, who suffers from ataxia – a neurological condition which can affect coordination, balance and speech – was spotted by a couple who saw him fall and rushed to help him.
They rang for the emergency services. The Coniston Mountain Rescue Team, shortly followed by the Great North Air Ambulance Service (GNAAS), arrived on scene.
The aftermath
Mr Unsworth had sustained a broken pelvis, back, and sternum, a punctured lung, and a large cut above his left eye.
He was assessed by both teams and given pain relief before being placed in a vacuum mattress and stretchered off the fellside to the air ambulance.
Mr Unsworth was then flown to the Royal Preston Hospital and underwent a back operation to help him walk again.
After spending two and a half weeks in hospital and missing out on the Christmas festivities he was transferred to his local hospital in Wigan before finally returning home to continue his recovery.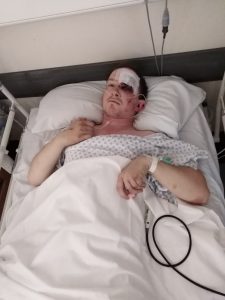 Ian Unsworth, Christian's father said: "We'd gone out for a meal, and we'd told him not to go out walking, but he didn't listen. When we got back my partner's relative told me he'd had a fall, but we didn't think it was going to be that serious.
"He's had a couple of pins put in his back and he's walking okay now and is back on his bike. He's young which has probably helped him recover so well."
The reunion
Since the incident Mr Unsworth and his family have visited the GNAAS base at Langwathby and thanked the pilot, doctor and paramedics who came to his aid.
Mr Unsworth added: "GNAAS do a fantastic job. They do amazing work. Without them, people would end up dying. They're an amazing team."
To support GNAAS, which operates the Pride of Cumbria aircraft from Langwathby, near Penrith, please consider making a donation online today.