We know that fundraising the old-fashioned way is not so easy these days, so we've put together some virtual ideas to help boost the team morale in your business, while raising money for an amazing cause.
---
For most of these, all you need to do is set up a team JustGiving/fundraising page in your company name and list the participants!
Social Media
Use your company's social media channels to host live events. Whether it's a themed quiz on a Friday night with an after-work drink (or 7), an online auction or raffle, going live on social media is a great way to stay connected with your following and do your bit for charity. You can then ask viewers for a donation to GNAAS for taking part and having some fun!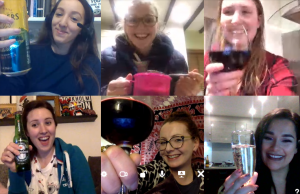 Zoom
Since our new way of life seems to comprise of endless virtual meetings on Zoom, why not set up a 'Conference Call Costume Contest'? The challenge is that this would only work from the neck up, so award prizes for the most creative, the funniest outfit or the best theme and lift the spirits of the entire workforce.
Donate your skills
Depending on what your business is, donate your skills live!
Bar? Live Cocktail Masterclass. Gym? Live Exercise Class. Restaurant? Live Cooking Class. Digital Marketing Agency? Online Seminar/Workshop.
The list is endless, what could your business do to raise funds?
Challenges
Live Stream Challenges are only getting more popular and are a fantastic way to raise some funds. The 2.6 challenge did amazingly well for all charities, so take inspiration and get your team together (separately) to run the length of a marathon or climb the height of a mountain — shared of course!
Out-of-office
What does your out-of-office say? You've more than likely updated it to let people know you're working remotely so why not include a giving opportunity in it? As your chosen charity, let people know you are supporting us and include a link to encourage people to donate their daily commute or cup of coffee!
Online shopping
Lastly, everyone is loving a bit of online shopping these days, so when you shop, make a conscious effort to do your bit by using Amazon Smile, Go Raise, GiveAsYouLive, EasyFundraising, TheGivingMachine or pennies.org when you shop online and select GNAAS as your Chosen Charity.
For more fundraising inspiration, click here.