Last week we launched the appeal for fundraisers with a taste for adventure to join our upcoming Great North Air Ambulance Service (GNAAS) treks.
---
The once in a lifetime trips offer participants the chance to climb some of the world's highest peaks while raising funds for urgent pre-hospital care in the North-East.
With a choice between Mount Kilimanjaro in Tanzania or the Atlas Mountains in Morocco, fundraisers are guaranteed an experience like no other and best of all, there's still spaces left to sign up!
We spoke to Sam Marshall, founder and managing director of Monkey Mountaineering who is heading up the treks to find out more about what each of the climbs entail.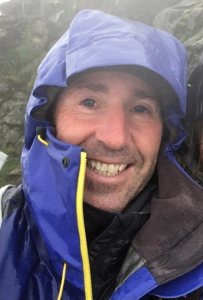 Sam, tell us about Monkey Mountaineering and how it got started?
I have always loved the outdoors and climbing from being young. I am fortunate enough to have been able to climb or trek on every continent.
I joined the army at 21 as an aircraft engineer and when I left, I was at a crossroads and felt like something was missing. I decided it was time to do something for me, so I started Monkey Mountaineering with Becky, a family friend, and my wife Jo.
Can anyone sign up to these two treks?
The outdoors should be accessible to everyone and although people think they won't be able to succeed on treks – they really can.
On our treks, we never leave anyone behind, and we walk as slow as the slowest person. When you are trekking at altitude, you need to allow your body time to acclimatise, one way we achieve this is by walking at a slow steady pace keeping our work rate and pulse as low as possible.
Even when you think the climb is hard you probably still have 60% left in your tank. Most people are a lot more capable than they think so we really try and encourage and support everyone through it. On one of our most recent treks up Kilimanjaro we had a 75-year-old with us, so it really is open to all ages and capabilities.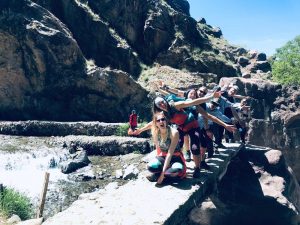 What level of fitness is needed?
Fitness is important but you do not need to be super fit. On most of our treks you need to be able to walk for about six hours each day carrying a small rucksack. The best advice I can give to anyone is to get out walking and to supplement everything you would normally do with a walk. Walk to work, walk in the hills carrying a small bag – walk whenever and wherever you can.
Talk us through some of the highlights of each trek?
On both these treks, the summits are the obvious highlights as it is completely exhilarating when you reach the top. It may be hard to get there but the sense of achievement after makes it so worth it.
On the Atlas Mountains Trek in Morocco the other highlight most definitely is the fantastic Berber cuisine. You can expect things like tajines and salads and it's so tasty. It's always served on the go while we trek, on a carpet with the most stunning views while you eat – a fantastic cultural experience.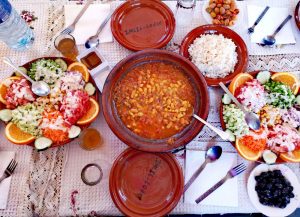 The best thing about the Kilimanjaro climb other than the food, is the wildlife. You can see monkeys up close and personal and the sunrises and sunsets are something else.

What are some of the challenges faced with each of the climbs?
I won't lie, whether you are the fittest person on the trek or not, both climbs are going to be tough at some point.  All you must do is believe in yourself. The best things in life take time and effort so just be resilient and keep going.
What makes the treks unique?
We are a small family run business and we are ethically motivated. On our treks we use local guides and local produce to help support the economy. By using local guides and not western guides we promote a richer and more cultural experience. All our guides are hand-picked and up to UK standards.
Are there any specific customs and traditions to be aware of?
Morocco is a 99% Muslim country. This means alcohol is not easily available and it isn't allowed inside the Old Medina of Marrakesh.
On Kilimanjaro we think it is important to talk to and engage with the mountain crew to enhance the cultural experience. Treat them well and get to know them. We are one of only 22 UK companies signed up to the Kilimanjaro Porters Assistance Project (https://kiliporters.org/).  Which means we are committed to the fair treatment of our mountain crew.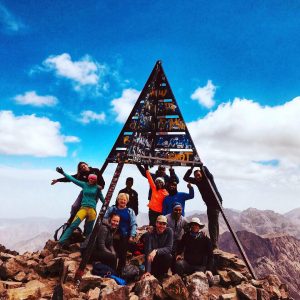 Who will be accompanying fundraisers who sign up for the treks?
We are pro local guides, and this really helps to immerse you in the local culture and traditions. For the Kilimanjaro trek we operate with one guide to two people and on Toubkal its generally three guides for all the eight people on the trek. Guides are all first aid trained, and we carry medical oxygen on Kilimanjaro in case of emergencies.
What would you say to someone who was in two minds about signing up?
Life is for living – that's my advice! Get yourself out there. People always have self-doubt and talk themselves out of it, but I say why not? Nobody will get left behind.
To learn more about each of the treks and how you can get signed up visit: gna.as/treks
To contact Sam Marshall directly to find out more visit: http://bit.ly/2PNXcYc