A group of paramedic students from Teesside University has raised more than £1,200 for the Great North Air Ambulance Service (GNAAS) by walking 24 miles in just one day.
---
The paramedic society, which is a group for students at Teesside University, hosts charity events and study groups for students on the paramedic course.
Jessica Snaith, a member of the paramedic society, said: "GNAAS are amazing. A few of us have been backed up by the service when we have been on our university placements within the North East Ambulance Service (NEAS), so we have seen some of the amazing work the doctors and paramedics do. It's local charity too, which we love."
The team walked 24 miles on 1 March 2020 – a walk that took them nine hours in total.
They began their journey at Saltburn-by-the-Sea and finished up in Whitby, North Yorkshire. Jessica said: "It was brutal. There wasn't just student paramedics who participated, we had art and design students join us and a couple who live in the local area who had seen our fundraising posters and asked to participate too."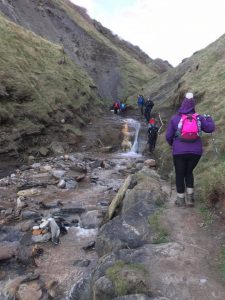 The group's aim is to work closely with GNAAS in the future and carry on holding fundraising events.
Jessica added: "The walk was a huge challenge. We're so pleased to have raised so much. Not just money but awareness for what the charity does.
"Hopefully most people will never need to use the service but you never know."
If you would like to donate to Teesside Paramedic Society's just giving page, click here.
Fundraise for GNAAS
Would you like to plan a walk or another event to support us in 2021?
Find out more