Darren Crumpler from Catterick was just three jumps away from getting his skydiving license when he crashed into the side of a house in County Durham. Suspended in the air with his parachute tangled around the TV aerial, he was left seriously injured, dangling by his harness.
---
The 51-year-old said: "It was 14 July 2019 – it was just like any another normal day. I turned up at the skydiving centre and had some tea and toast then I got my kit ready and did my first jump.
"I then booked myself onto the next flight and jumped again – that was the last thing I remember about that day."
Darren had taken up skydiving at Peterlee's Skydive Academy as a hobby in 2017, after his wife Emma bought him his first experience as a gift.
He said: "She asked me what I wanted for Christmas, so I decided to write a sort of bucket list which had skydiving on it.
"After I had done it, she asked how I found it, thinking I would say horrible, but I said brilliant and took it up as a pastime."
Just one year later, Darren was Accelerated Free Fall (AFF) level 1 qualified and decided he was going to get his full skydiving license. He was just three jumps away from being fully qualified when the unthinkable happened.
Hanging in the balance
On his second sky dive of the day, Darren hit the side of a house in Shotton Colliery, County Durham. His parachute canopy was tangled from the TV aerial on the gable end of the property.
Darren's parachute had wrapped itself around the roof and he was suspended in the air, dangling from his harness.
Although Darren remembers very little about the accident other than being in a world of excruciating pain, Great North Air Ambulance Service (GNAAS) paramedic Paul Burnage attended the incident and remembers it well.
He said: "We landed in Shotton Primary Schoolyard and we had to jump over the fence to get to him. I remember walking up the drive to him.
"He was up against the gable end wall and was hanging by his harness with his parachute still attached and caught around the TV aerial. It looked like something from a cartoon.
"The homeowners were in and were aware of what had happened but there were so many emergency services around that they just stayed out of the way. Darren was in a lot of pain."
A slow recovery
Darren's injuries were catastrophic. GNAAS airlifted him to James Cook University Hospital in Middlesbrough where he stayed for ten weeks.
He said: "My injuries were an open fractured ankle, a shattered heel, a broken femur, an open elbow fracture, a fractured pelvis, a burst bone in my spine, a laceration to the head and three skin grafts.
"One of the skin grafts involved removing muscle and nerves from my wrist and putting it where my elbow was. Now when I touch my elbow, I feel it on my wrist."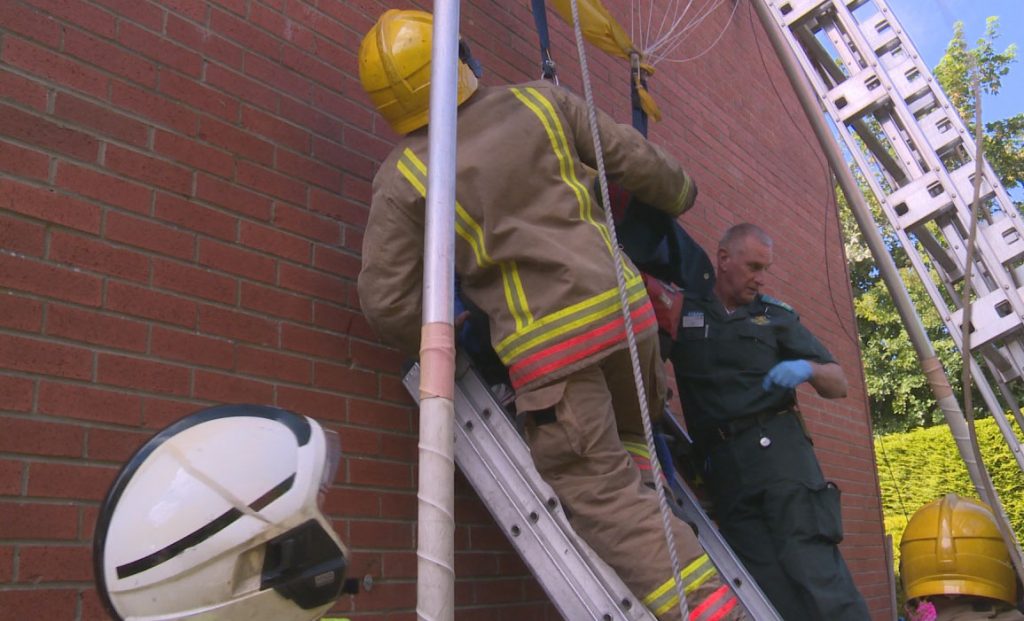 Darren, who spent 20 years serving in the army said: "During my first week in hospital I was heavily sedated. I was then flat on my back for three weeks due to my spine injury".
Unsure of what the future would hold for him following his accident, Darren recalls the moment he was told he would walk again.
He said: "When I was able to sit up and dangle my legs off the bed I just burst into tears. Not because of the pain, but because it was so emotional as I honestly didn't believe I would ever be able to walk again.
"I was so scared as I had no indications of what my abilities would be. Now I just want to push myself and carry on, but I know I need to be patient."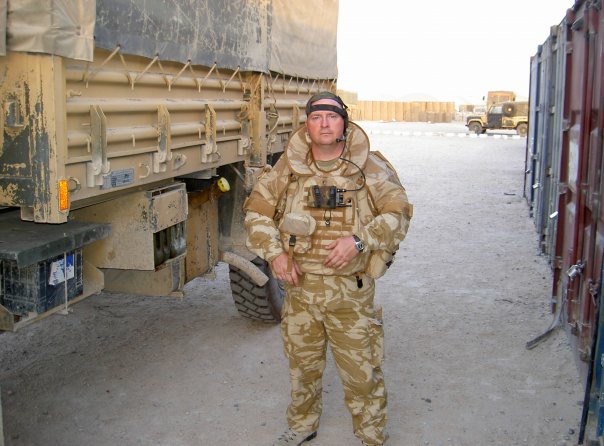 Special thanks
Although Darren's recovery is proving to be a slow process, nothing has stood in the way of him spreading the word about the work of GNAAS whenever he can.
He said: "I have absolutely no words for what I think about GNAAS. I am unbelievably grateful. What you do is extraordinary. My wife and I tell everyone about you.
"You are simply amazing. We have done charity work in the past and we didn't even realise until we needed you that you were a charity. You are top of our list now."