A NATIONAL documentary will feature the story of a motorcyclist who was seriously injured in a crash in Darlington.
---
Ronnie Murray, a 54-year-old coach driver from Darlington, was travelling through Croft-on-Tees to head to work when he came off his motorbike on 5 August 2018.
His story is featured on Emergency Helicopter Medics on More4 on Sunday at 9pm.
The series follows the work of the Great North Air Ambulance Service (GNAAS), the charity which treated Mr Murray following the incident.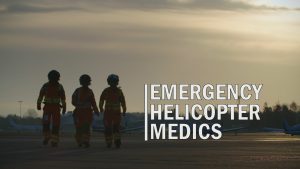 Speaking about his incident, Mr Murray said: "It is all a blur, I can't remember anything. I believe I took a tumble but there were no other cars involved. A driver stopped and phoned the police and GNAAS were called in."
Mr Murray had previously required the services of GNAAS after he was involved in a collision with a motorbike in Pooley Bridge in July 2017.
On that occasion he was flown to Royal Preston Hospital, where an x-ray revealed his injuries weren't as serious as first thought, and he only had a very badly bruised leg.
However, Mr Murray wasn't as lucky the second time round and last year he sustained a broken neck, fractured skull and broken tibia after he crashed on Croft Road.
He was treated by the GNAAS paramedic and doctor team and flown to James Cook University Hospital in Middlesbrough for further treatment.
To find out what happened to Ronnie, watch Emergency Helicopter Medics on More4 on Sunday at 9pm.
Incident timeline: 
13:44 Mobile to incident from Durham Tees Valley Airport
13:50 On scene 
14:16 Take off from scene, transporting patient by air
14:27 Arrive at hospital – James Cook University Hospital in Middlesbrough
14:51 Returning to base
14:57 Arrived back at base
Summary
Ronnie had sustained serious injuries and was around 20 miles from the nearest Major Trauma Centre. The speed and versatility of our aircraft meant our critical care team arrived on scene just six minutes after being activated, and were able to administer the treatments needed to stabilise his condition before transporting him to James Cook University Hospital in Middlesbrough in 11 minutes.