A motorcyclist who was featured in a national documentary after a serious crash has been reunited with the aircrew paramedic who came to his aid.
---
Ronnie Murray, a 54-year-old coach driver from Darlington, was travelling through Croft-on-Tees to head to work when he came off his motorbike on 5 August 2018.
His story was featured on Emergency Helicopter Medics on More4, which airs every Sunday at 9pm.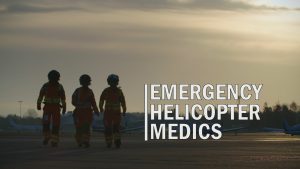 Mr Murray had sustained a broken neck, fractured skull and broken tibia and was treated by GNAAS paramedic Jamie Walsh and Dr Dion Arbid before being flown to James Cook University Hospital in Middlesbrough by GNAAS pilot Jay Steward.
Mr Murray said: "I was woken up in hospital by these little lights saying Ronnie, wake up, wake up, you've been here two and a half days, and you don't know, you've been in an induced coma, you've had a motorcycle accident."
He stayed in hospital for two and a half weeks before coming home and he has since made a good recovery.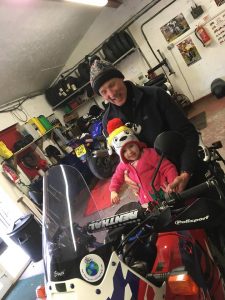 Mr Murray visited the GNAAS base at Durham Tees Valley Airport with his family, including his mother, grandfather, daughter and granddaughter, and they met Mr Walsh to personally thank him for his help.
Mr Murray said: "These guys that I've just been here with now are magic. Absolutely stars. These guys are lifesaving guys and I would give my right arm for them."
Despite being involved in a serious motorcycle incident, this hasn't put Mr Murray off from riding a bike and he has since bought a new one.
GNAAS paramedic Jamie Walsh (pictured below with Ronnie) said: "When you turn up to an accident like Ronnie's we're in a privileged position to be able to help and make a difference.  The care we can deliver not only improves their chance of survival but hopefully reduces their time in hospital.  It was fantastic to see Ronnie walk into the base following the significant injuries he had sustained, and it was an absolute pleasure to meet him and his family under better circumstances . . . and to hear he has got another motorbike."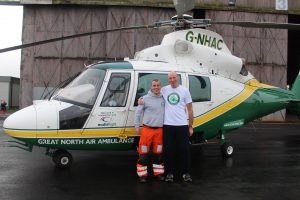 Mr Murray added: "Motorbikes don't frighten me, just unfortunately I fell off this one. I'm really absolutely blessed and glad that I'm alive here telling this story today. These guys are fantastic. They deserve every penny in every charity box all the time."
Watch Emergency Helicopter Medics on More4 on Sunday at 9pm.
13:44 Mobile to incident from Durham Tees Valley Airport
13:50 On scene 
14:16 Take off from scene, transporting patient by air
14:27 Arrive at hospital – James Cook University Hospital in Middlesbrough
14:51 Returning to base
14:57 Arrived back at base
Summary
Ronnie had sustained serious injuries and was around 20 miles from the nearest Major Trauma Centre. The speed and versatility of aircraft meant our critical care team arrived on scene just six minutes after being activated, and were able to administer the treatments needed to stabilise his condition before transporting him to James Cook University Hospital in Middlesbrough in just 11 minutes.