"I cope with difficult traumatic jobs, to some degree, by detaching from the human element. Reflection about the humanity of it all comes later…"
---
Phil Godfrey has been a doctor at the Great North Air Ambulance Service (GNAAS) for the past 12 years.
Holly Taylor chatted to Phil to find out more about what his work involves outside of the organisation and what he likes to get up to in his free time.
How long have you worked at GNAAS? 
Well, this took a bit of working out. My first ever shift with GNAAS was July 2006, so it is coming up to 16 years.
Where do you work outside of GNAAS and what is your role?
I'm an anaesthetic consultant at James Cook University Hospital in Middlesbrough which is one of our regional major trauma centres.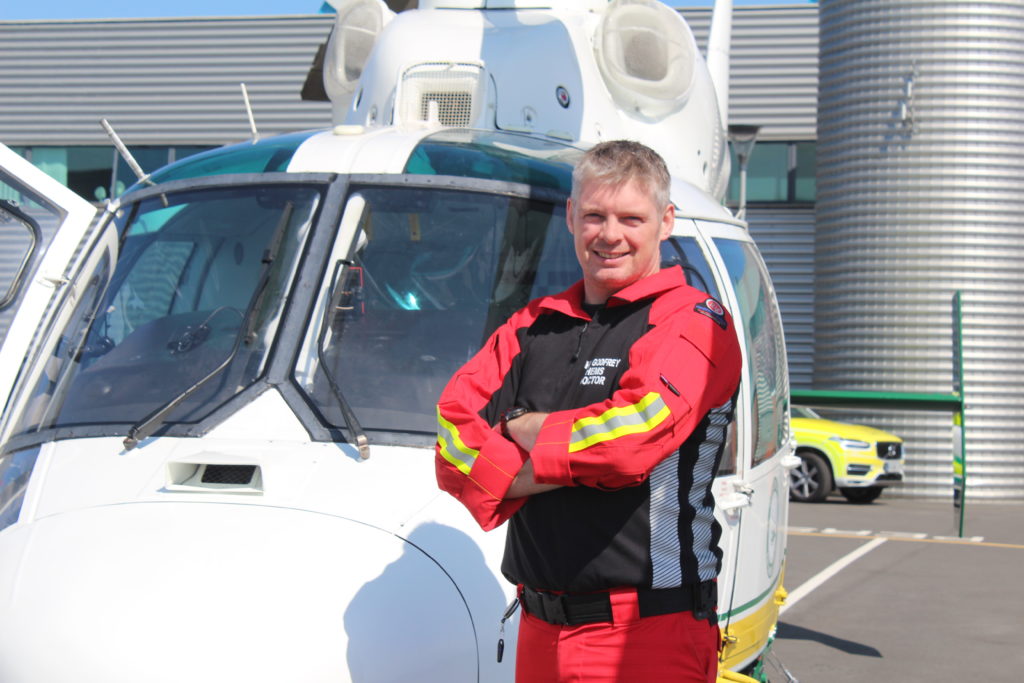 How long have you worked there? 
I've been there as a consultant for about 12 years now.
Talk me through an average day in your consultant role?
I arrive at work at 7:30am and head to the operating department.
I usually give anaesthetics for patients on the orthopaedic trauma list, so after putting on my theatre scrubs, I attend the 8am trauma meeting to help plan and prioritise the emergency cases for the day.
We start the first anaesthetic at 9am. This may be anything from an older person with a broken hip, or a very young child with a broken arm.
Also, it's not uncommon for me to be looking after a patient in theatre who I brought in with GNAAS from a road traffic collision the day before. It's quite rewarding for me when this happens as I get to continue the journey with them.
My job at the 'top end' of the patient is not only to provide an anaesthetic and pain relief, but also to make sure that I maintain stable physiology on a person who is being operated on.
This means anaesthetists have to perform lots of technical procedures and be good at making and communicating decisions with the surgical team. Some of the most challenging cases in trauma theatre are patients who are bleeding heavily during their surgery.
On certain days of the week, I form part of the trauma team.
This means that when or Accident and Emergency Department is informed about an incoming major trauma case, my bleep goes off and I have to immediately go to the resuscitation room as part of this team.
My role here is to help stabilise the sickest patients and, manage their airways and help transfer them for CT scanning or to the operating theatre. Again, I often get to see my GNAAS colleagues when they hand patients over to us in the hospital.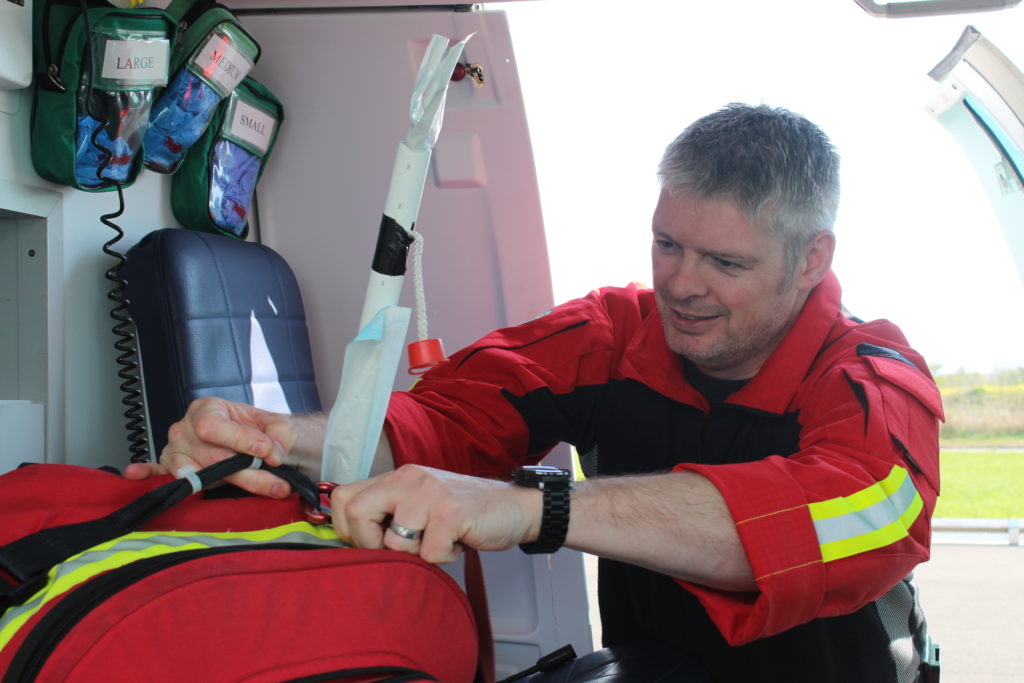 How do you manage working between GNAAS and your other job?
Balancing two jobs can be tricky. Fortunately, I have a fairly fixed rota at the hospital, so I know well in advance which days I am available to work for GNAAS.
Talk me through your career from the beginning up to now? 
I went to medical school for five years in Newcastle. During this time, I spent some time working with the ambulance service so I must have known even back then that I would end up doing pre-hospital care.
After qualifying as a doctor, I spent about nine further years in training before becoming a consultant. I've worked in most of the hospitals in the North East.
How is GNAAS different from your other work? 
My work at GNAAS is very different from hospital practice.
Because we have no NHS funding, we are all very conscious that everything we do at GNAAS is reliant on a huge effort from the general public, our volunteers and our fundraisers.
Also, due to the fact we are a smaller organisation, we are also able to be more responsive and bring new innovations into practice.
What's the best/worst thing about your job outside of GNAAS? 
The best thing about my hospital job in anaesthesia is the ability to concentrate on one patient at a time and give them all my energy.
Similar in many ways to my role at GNAAS. I'd struggle to be an A&E or ward doctor who have to look after lots of patients at the same time.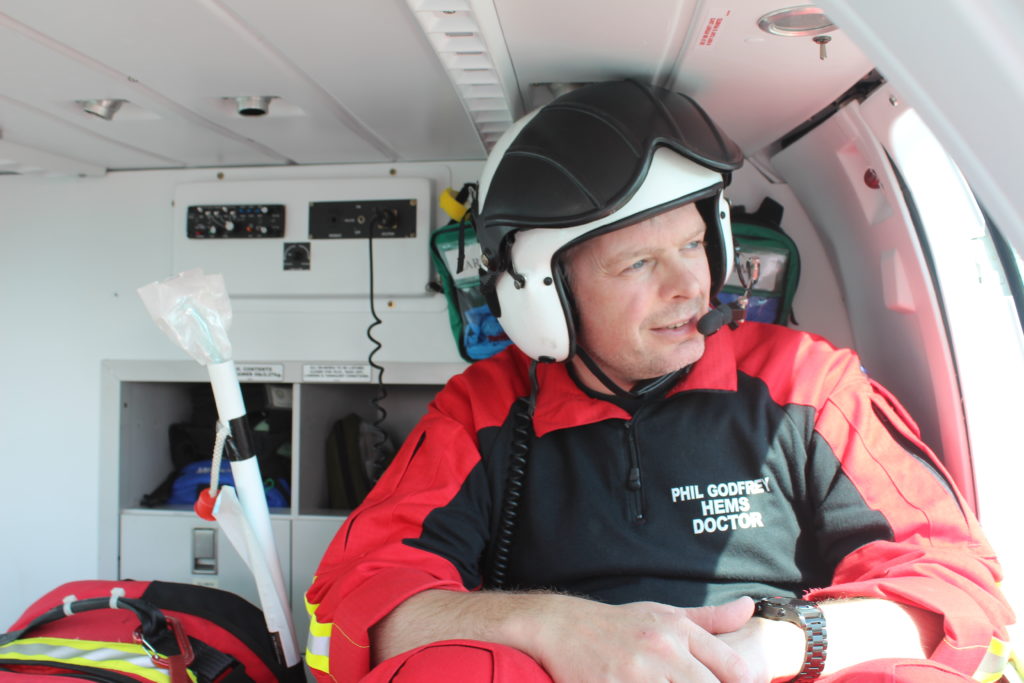 Do you have any standout jobs in your other role? What happened?
Whilst I enjoy helping fix patients with major injuries at hospital, it's often not these big 'heroic' cases that stand out.
For me, I get a sense of achievement after straightforward situations such as managing to gently coax a very scared child through their anaesthetic without upset or helping take away the pain of a broken hip in a 105-year-old (my record age so far).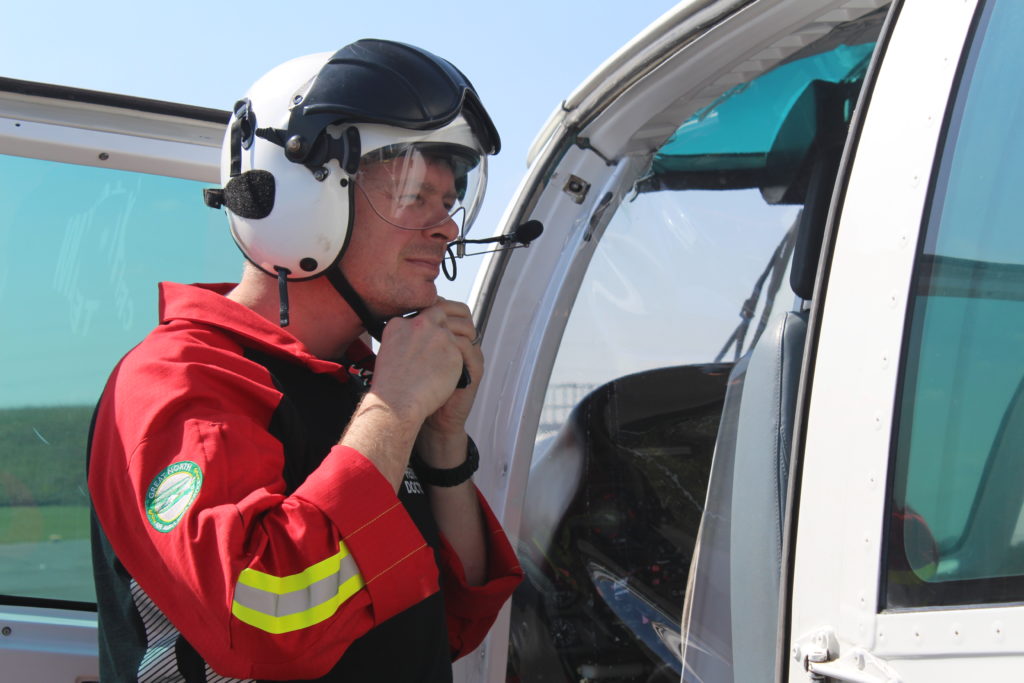 How do you cope with difficult jobs? 
I cope with difficult traumatic jobs, to some degree, by detaching from the human element – at least whilst there are technical tasks to perform or decisions that need to be made.
I think most of us do this if we're honest – otherwise, we would be too distracted to function effectively. Reflection about the humanity of it all comes later, and we talk things out with our colleagues.
What do you like to do outside of work?
Outside of work, life is all about family – my beautiful wife and 2 teenage girls.
I also like music (playing and listening live), movies (especially horror), and Manchester United (also currently horror).
Together we can secure the future of critical care.
This year, we need to raise £6.4 million to guarantee we can continue our life-saving mission.
Donate now