"I originally wanted to be an air traffic controller but my teachers said I was better at science than organising things!"
---
33-year-old Nicola Schunke, from Southport, joined the Great North Air Ambulance Service (GNAAS) back in August 2021 as their newest doctor.
Nicola recently passed her sign-off which means she is now a fully fledged member of the critical care team.

Holly Taylor chatted to her to find out more about her work, life outside of GNAAS and her love of the outdoors.
Nicola, how does it feel to be signed-off at GNAAS? 
I am both very relieved and privileged to be signed-off as a solo HEMS doctor meaning I can now work alone without the supervision of another doctor.
Talk me through the sign-off day? 
It was an early start for the GNAAS tradition of the 'competition style' breakfast for the examining crew and anyone else on base who is hungry!
I made healthy blueberry muffins and then very unhealthy bagels with cream cheese, bacon and syrup which went down a treat and definitely fuelled everyone up for a long day of assessments.
After this, I was given three clinical case simulations to perform as well as three exam papers and three oral presentations.
The end of the day was the big reveal on whether I had passed or failed…
I passed!
I felt most nervous about sorting out a good breakfast and then the written papers.
We've been put through our paces a lot at GNAAS on manikins, so I didn't feel too nervous about those and the team are all so lovely so it makes for a nice audience to deliver presentations to.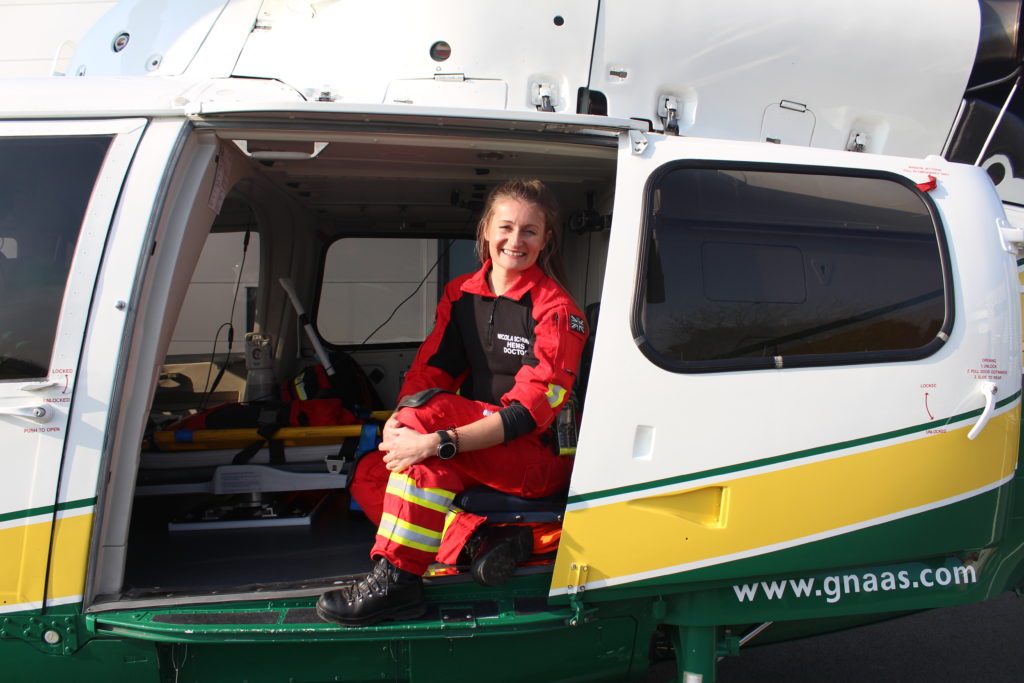 How did it feel to be told you had passed? 
AMAZING! Again, I felt very proud to have been signed off as a HEMS Doctor which has been a long term life goal.
A long drive home to see my puppy Jessie for cuddles and play time followed by a little ski holiday in France.
Did you know that you always what you wanted to be a doctor? 
I originally wanted to be an air traffic controller but my teachers said I was better at science than organising things!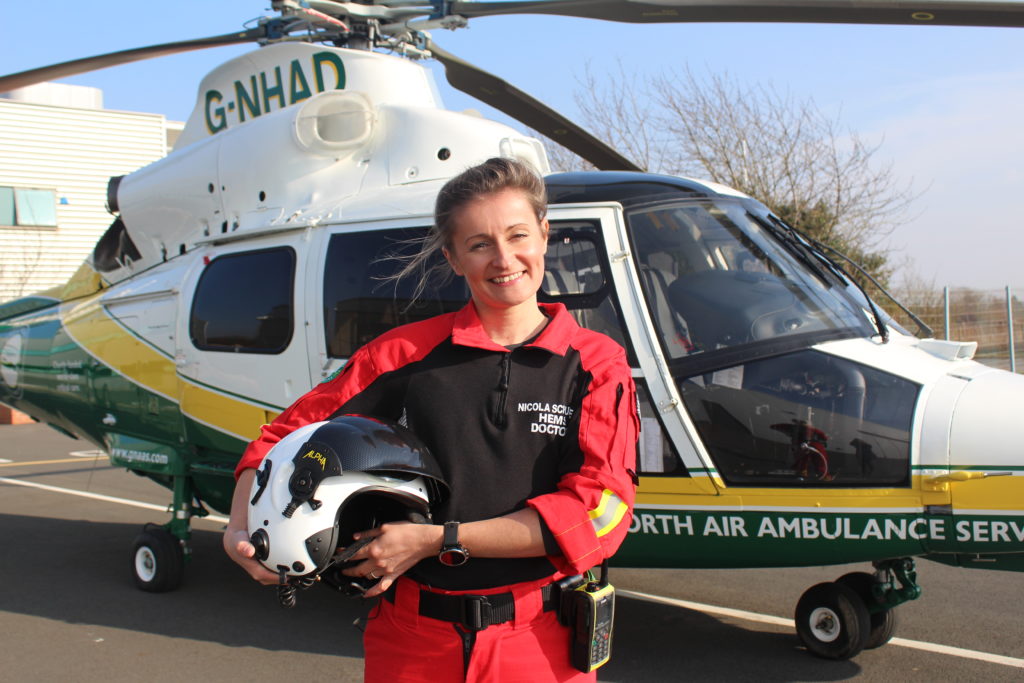 Tell me a bit about your life growing up? 
I grew up in Southport and enjoyed a close family childhood by the seaside.
My older brother used to make me play military helicopter games and we would always pretend to be pilot & co-pilot or engineers and pilots.
Not far at all from how grown up life actually ended up!
Talk me through your career from leaving school to now? 
I left school at 16 and studied A levels in biology, chemistry, geography and maths which was very boring.
I gained sponsorship from the Royal Air Force and studied medicine in London and the rest is history.
I always had one eye on the exams and my training programme through anaesthesia and one eye on adventures outside the hospital.
Being in the military has helped me nurture my adventurous spirit and I have managed to get away on expeditions with work and travelled the world with medicine. I am very close to finishing my overall medicine training and will be a consultant very soon….which sounds very grown up right?!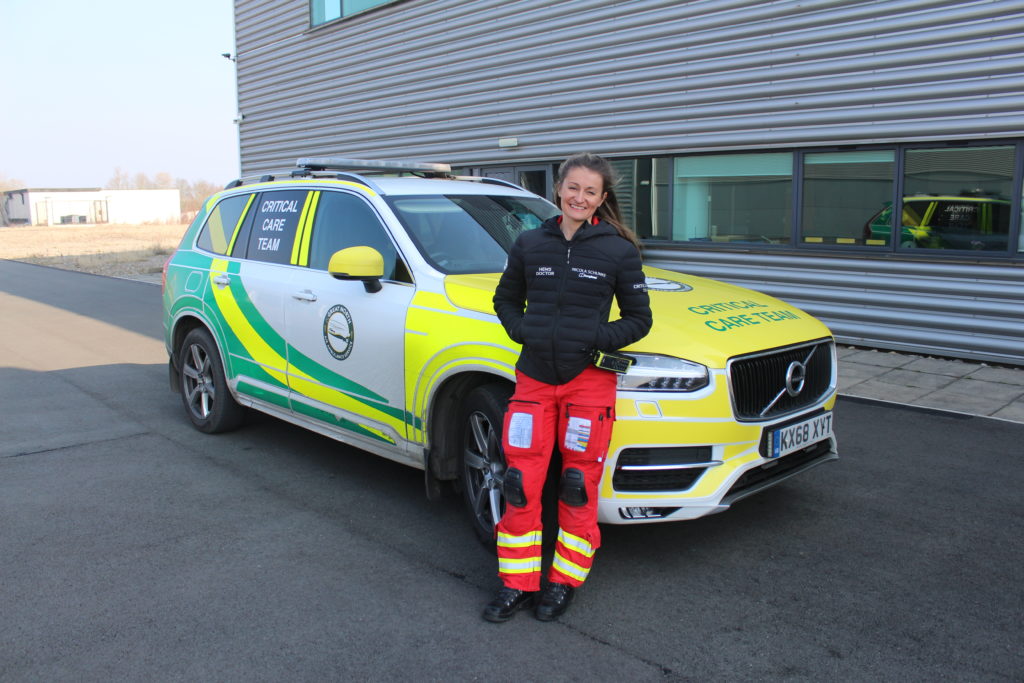 Biggest obstacle you've faced in your career so far? 
Being separated from my family has always been the hardest.
I currently have long drives to see my husband who works down in Oxford and my mum who's over in Southport.
I have grown to survive the Sunday night commute, but it's all the more worth it when I get to work in a helicopter as my day job!
Tell me more about what you like doing outside of work?
I love hanging out with my golden retriever puppy Jessie and my husband Tom on long walks in the countryside.
I also love time away in the Alps skiing and road trips over Europe.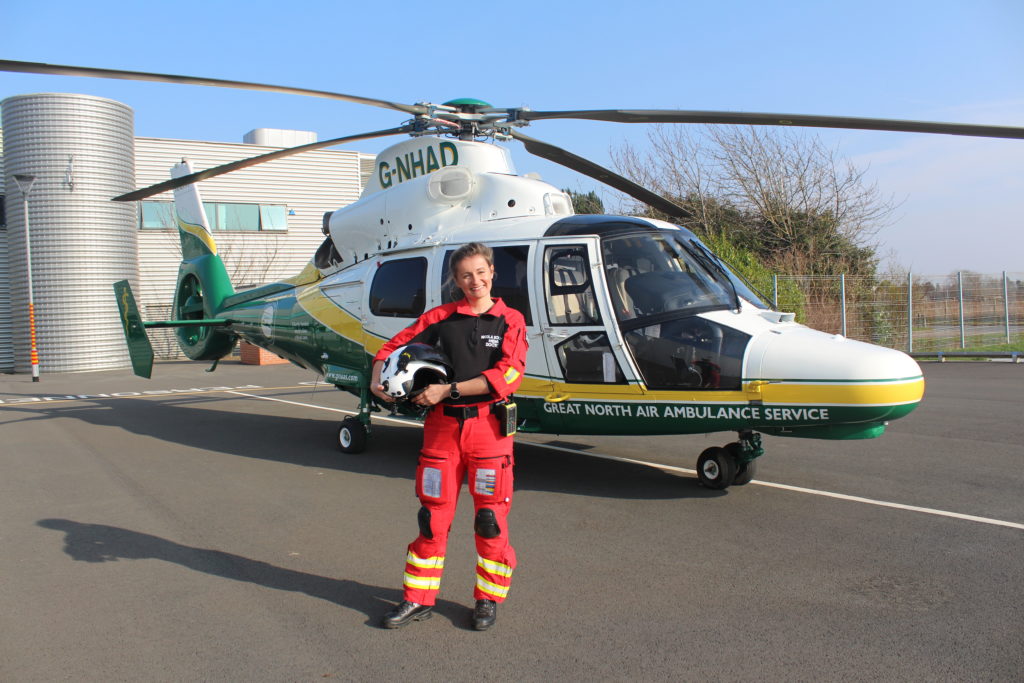 How does your hospital job differ from GNAAS? 
I work as an anaesthetists in theatres in the hospital which is organised, quiet, warm and dry and mostly predictable.
That's the opposite to helicopter emergency medicine which is often chaotic, noisy, cold and sometimes wet!
The mix of the two places of work complement each other as I am often able to visit the patients I have transported to hospital to see how they are getting on days and weeks later.
What is the best/most difficult part of your job both at GNAAS and in hospital? 
The best part for me is feeling as though I have done a good thing after a shift.
We often don't realise how rewarding our rescue and healthcare roles are in the overall range of jobs out there.
The work we do is pretty impacting for everyday people and it feels nice to give back.
It's also pretty awesome to fly over stunning Cumbria on a summer's day, land in a field and then trek up a waterfall to attend a patient.
What's the GNAAS team like to work with? 
Caring, motivated and funny.
I think that having a good sense of humour and also a healthy dosing of humility is a pre-requisite. The pilots are often the funniest…but we don't tell them that to their faces!
Together we can secure the future of critical care.
This year, we need to raise £6.4 million to guarantee we can continue our life-saving mission.
Donate now