"I think I wanted to be a doctor from about 13-years-old. I always loved science and using that knowledge to solve practical problems. I also wanted to do something worthwhile to help others."
---
Working three jobs and coming up with new life-saving medical advancements, all while being a mum to two young children isn't for the faint-hearted…
Holly Taylor met with GNAAS doctor, Rachel Hawes, to find out about her career, her pioneering concept that changed the face of air ambulance medicine, and that one superpower she relies on to keep her going.
Rachel, what is your role at GNAAS and how long have you been here?
I have been a doctor at GNAAS since August 2009.
What is your job outside of GNAAS?
When I am not working on the helicopter, I am a consultant , specialising in major trauma at the Royal Victoria Infirmary (RVI) in Newcastle and I also work as a medical officer in the Army Reserve, which I have done since 1999.
What made you want to be a doctor?
I think I wanted to be a doctor from about 13-years-old. I always loved science and using that knowledge to solve practical problems. I also wanted to do something worthwhile to help others.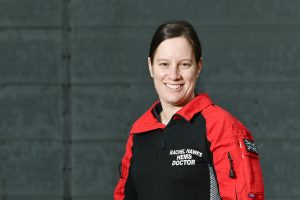 Talk me through your career from the beginning until now?
After medical school and time as a junior doctor, I started training in emergency medicine. As part of that training, I ended up doing anaesthetics so I could get some experience in airway management, resuscitation, and looking after sicker patients in intensive care.
I found that I really liked the specialty and stayed! I always knew I wanted to look after sicker patients in an emergency setting but to be honest, there's so much overlap between emergency medicine, anaesthesia, and intensive care that I would have probably been happy in either specialty.
I went to Newcastle University to study medicine and while I was there, I joined the Army Reserve, thinking I'd probably try it for a couple of years and 21 years later, I am still there!
Doctor training in the Army is roughly split into thirds: medical training, military skills, and leadership. I was always really interested in trauma management and was given the opportunity to deploy to Afghanistan during the Op Herrick conflict and received world-class training in trauma resuscitation.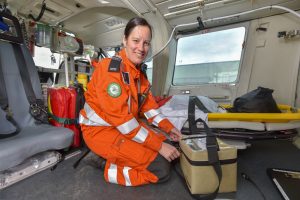 That's when I first saw blood being used in a pre-hospital environment. I recognised that it would be useful back at home and it went from there – it was about adapting a military system into something that is suitable for civilians.
The 'Blood on Board' project has been a really rewarding project, it's fantastic to have an idea that might work well for patients and then see it through to being implemented in a resource-limited setting of the NHS and GNAAS charity.
Then, for the concept to go on actually saving lives, it is just amazing.
I received an OBE in 2018 for bringing lessons from a military environment and implementing these into the NHS, to save lives in our local populations in the North East and Cumbria.  It was amazing to be recognized and such a shock!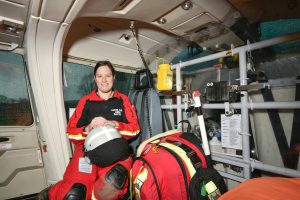 Where else has your job taken you?
London, Afghanistan, and I have also done some training in South Africa.
Which role is the most rewarding?
My career combines skills that are centred around looking after critically ill and injured patients. The jobs are totally different, but the skills are similar and the experience I get in each job is mutually beneficial to the others. I've been very lucky that I've managed to run three careers in the NHS, Army, and GNAAS side-by-side for so many years which has been fascinating, enjoyable, and rewarding but very hard work and busy.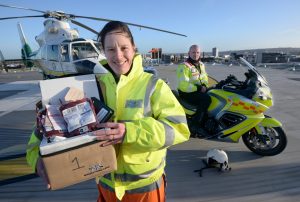 What does your average day outside of GNAAS look like?
I have just come back to work from maternity leave and I have both a baby and a three-year-old at home. I currently work 90% full-time and split my time between GNAAS, my job at the RVI, and my time at home.
How do you cope with difficulties of the job?
My top tip would be to recognise that it is normal to feel sad when something sad happens. It doesn't mean it has adversely affected our mental health but we do need to process that and talk about the things we see on a regular basis.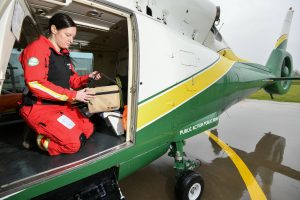 How do you juggle your work and home life?
My top trump superpower would definitely be being organised!
What do you like to do in your free time?
I love being outdoors and going for meals out and spending time with friends and family.
What sacrifices would you say you have had to make in becoming a successful doctor/woman?
I would have to say the sacrifice I have made is being frivolous with time. I get hardly any time for myself and it really can't be wasted.
I need to be on top of my time management.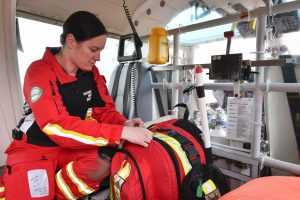 Have you ever felt resistance/inequality in your line of work and how did you overcome it?
For me, it's stereotyping. As a young female doctor with a North East accent people have sometimes assumed stereotypes in the past. If you're good at what you do and stand up for your opinions and they are based on sound judgement, then people tend to back down.
It's important to be yourself, find your own leadership style or way of doing things, not the stereotype that people think you should be.  Then you tend to be remembered for the positive things and stand out as being different and having character.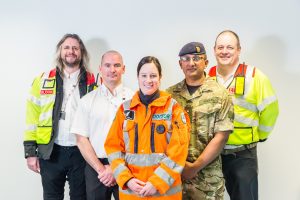 Do you have a piece of advice for younger self?
Be hardworking, friendly, enthusiastic, and passionate about what you and it's difficult for people to refuse to help you or get involved.
Also, be determined and pick yourself back up and keep going when things haven't gone quite right the first time around.
In terms of success, what people don't see is the road it took to get there or the setbacks along the way and how hard it was to keep going sometimes to achieve the goals. The road to success isn't usually a straight one!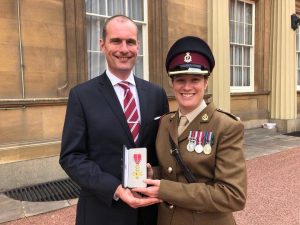 What's next for you?
I introduced the blood on board concept back in 2014 and the service started in January 2015.
Since then, we have continually audited the process and developed it so now it is totally different from what was introduced, and is a very safe, effective mature system. We carry red blood cells and plasma, both during the day and the night, and have mechanisms for resupply if it's all used and the ability to expand to carry lots more in the event of a major incident.
We've just completed some research over the last two years looking into the feasibility of carrying whole blood (red blood cells and plasma mixed together). My next aim is to undertake some research on whole blood comparing it to our current system to see if this development would benefit the patients more and improve the logistics.
Can you help Fund Our Fleet?
Donate today to help secure the future of our helicopters
Support the appeal