"I felt an attachment to GNAAS through my fundraising and I try and live life with no regrets."
---
In April we welcomed Giles Evans to the team as a specialist fundraiser for Northumberland and Newcastle.
58-year-old Giles, from Bedlington, has been a huge supporter of GNAAS for several years and recently had the honour of attending a special garden party in Alnwick hosted by the Duchess of Northumberland, which recognised his support for our charity and the Sir Bobby Robson Foundation (SBRF).
He said: "I felt very proud that I had done so much and continue to do work for fantastic local charities that mean a lot to me.
"The day itself was superb and I was lucky to meet some old acquaintances as well as some dignitaries. What struck me was the support and appreciation of the work GNAAS carries out. A day that will live long in my memory."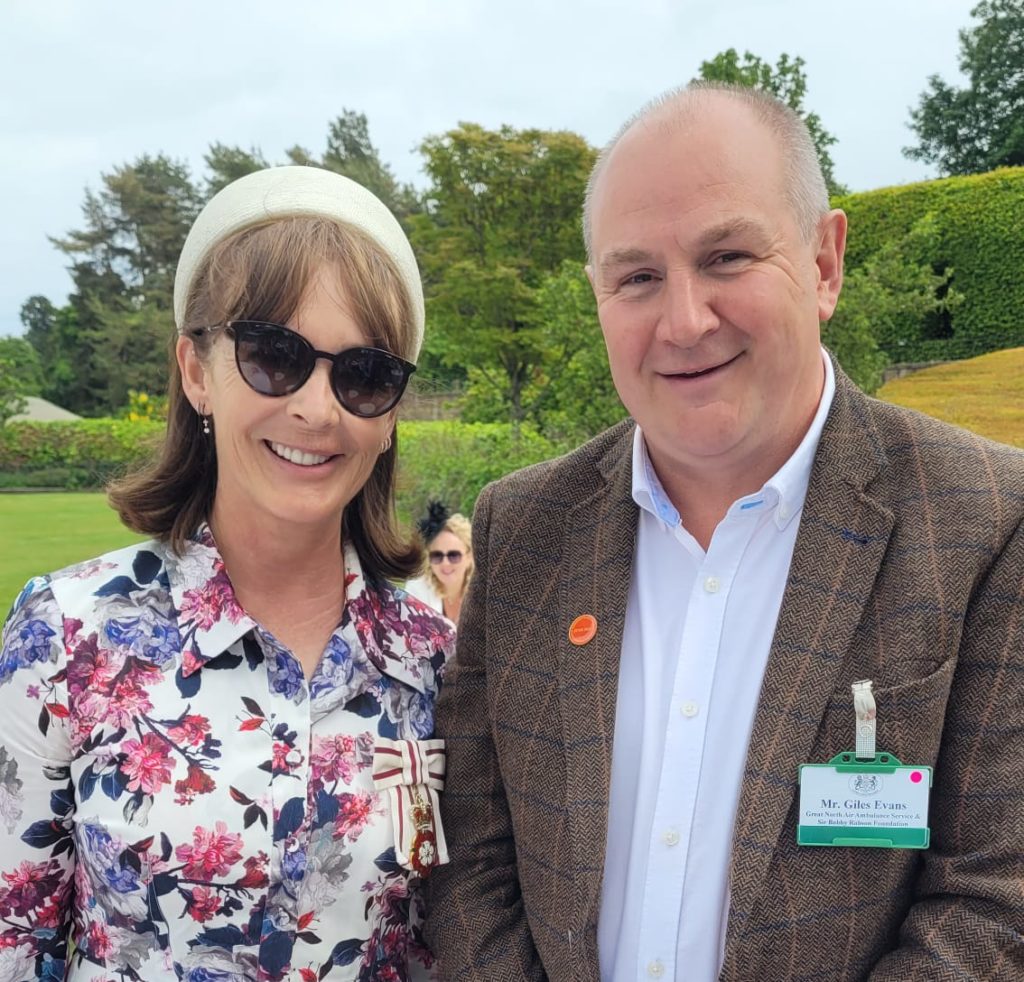 Prior to joining GNAAS, Giles worked for Northumbria Police for over 30 years, and has helped raise thousands of pounds for different charities.
We caught up with Giles to learn more about his previous career and incredible charitable efforts.
How did you start getting involved in supporting charities?
 My charity work started in 2010, when I lost a family friend to cancer. Sadly, it wasn't detected early, and I looked to do something to raise funds as I felt it so unjust that a cruel disease should strike someone like this, so I wanted to help. I chose SBRF as they are a local charity, which is important to me and that their message is around finding ways to detect and treat cancer.
As life is a journey, I decided to return to my home, which is a town in West Wales called Llanelli, however I decided to do it alone and on a bike! It was only 380 miles, but I did it and thoroughly enjoyed it. I named the challenge Toon to Town as I live near Newcastle commonly called the Toon and Llanelli is commonly referred to as Town – it stuck and so the charity journey began.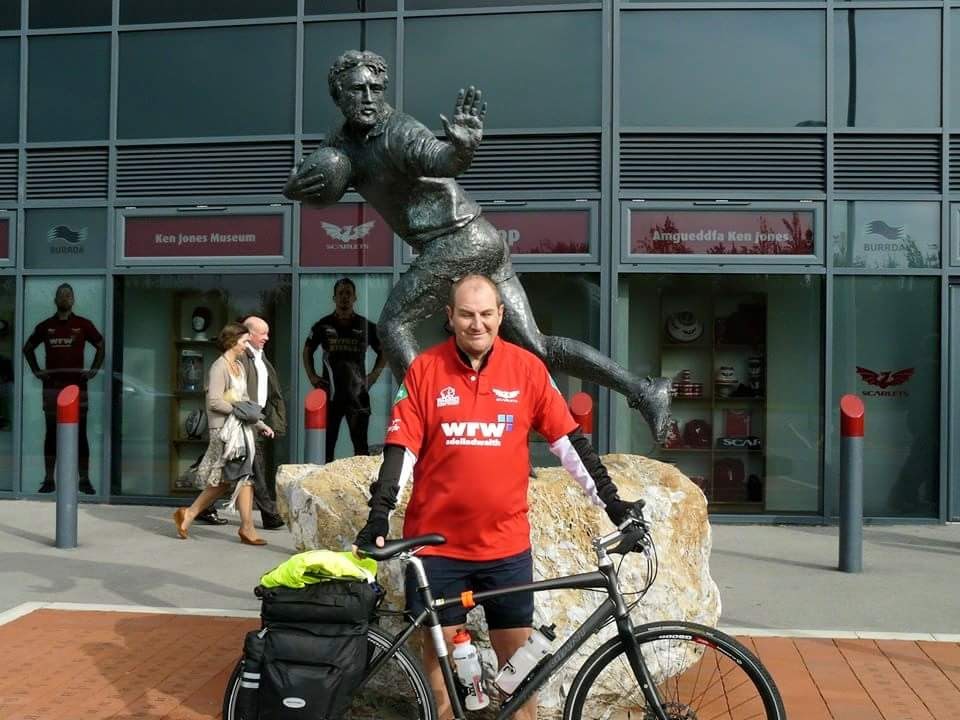 How did you get other people involved in Toon to Town?
One of my best friends, Tim Mayland, had also completed a charity ride with Help for Heroes that year, so following that, we got together and carried on with cycling challenges between the Toon and Town till 2015. It gained momentum and friends and colleagues got involved. This saw us raise £101k for various local charities including Help for Heroes. We raised this through cycle rides, supermarket collections and also black tie dinners. I am proud of what we achieved and also the generosity of our supporters and the public.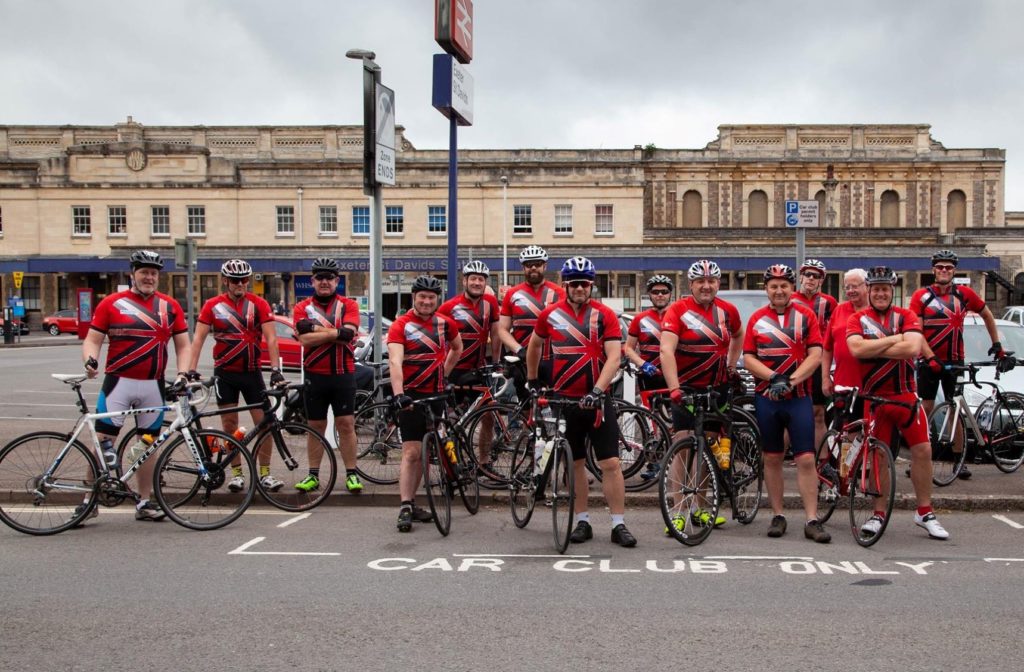 Wow that's an incredible amount of money you've raised. After a two-year break, what made you decide to carry out further fundraising?
In August 2017 one of our team member's sons, Sam Beecroft, was injured whilst riding his motorbike to work at Newcastle Airport. This injury saw him sever his spinal cord. GNAAS attended and without them, the result would have been a lot worse. In Sam's words, GNAAS saved his life.
Following this, we did what all bands do – we reformed and went out on tour again! In 2018 we cycled from Exeter to Morpeth, Sam's hometown. This was to raise funds for GNAAS and for a trust that had been set up for Sam to help him adapt to his life-changing injury. This was a huge success and we received great support from GNAAS, with Will Clark, a GNAAS volunteer, speaking at our dinner.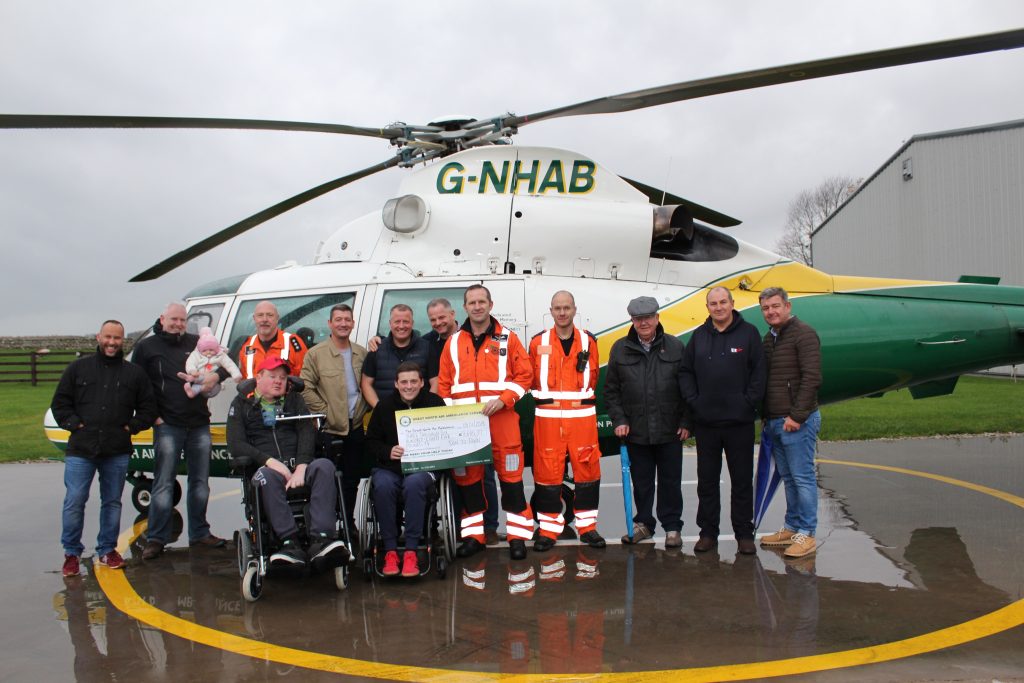 What did you do for the 10th anniversary of Toon to Town?
In 2020, we decided to reform once more to support GNAAS, SBRF and The Dementia Care Foundation, as my father-in-law was suffering from dementia, however due to covid we never got our cycling plans off the ground that year. Things were delayed until 2021 and we added a further charity, the Teenage Cancer Trust following the diagnosis of another one of our supporters' sons, Connor Todd, with a brain tumour. Connor during his recovery also fundraised for us and met us with his family, when we completed our revised challenge of the Coast to Coast in his hometown of Cambois in Northumberland. We were unaware that on this day, Connor had been told his cancer had returned and sadly on 18 October that year, aged 15 years, Connor passed away.
In total the further fundraising in 2018 and 2021 saw our efforts raise a further £25k and therefore during this period we were able to raise £126k for worthy local causes – something I am immensely proud of.
Connor's contribution and effort made everything so worthwhile. He may not have cycled with us, but he is very much part of the Toon to Town team and each New Year's Day, I plunge into the North Sea with many others to fundraise for him. A fantastic young man that we are all proud to know.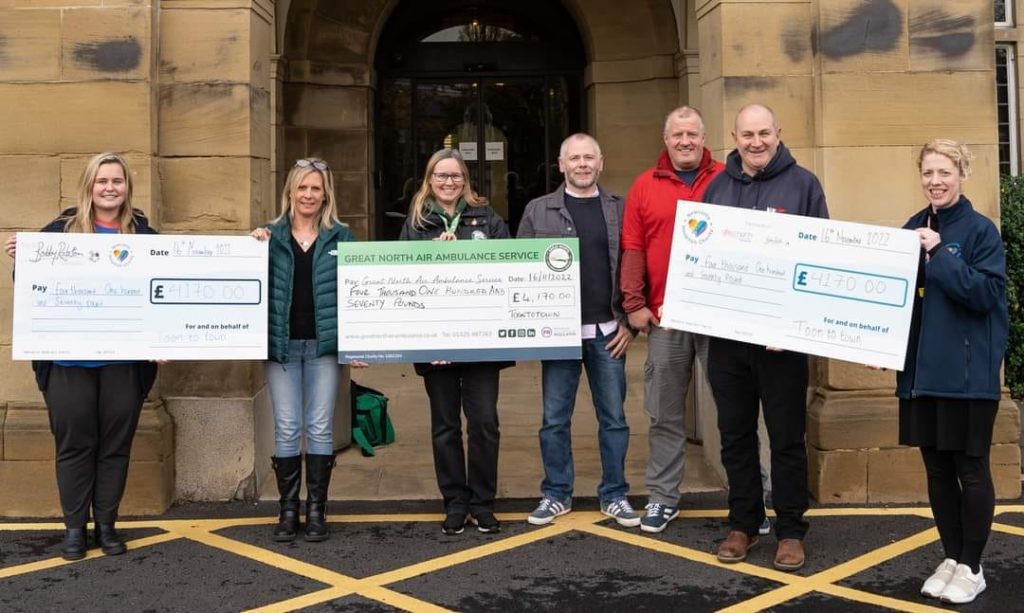 What did you do prior to joining GNAAS?
On leaving school many moons ago, I initially started working as a nursing auxiliary at a local psychiatric hospital. After a short spell there, in 1985 I joined Dyfed-Powys Police as a police officer where I stayed until 1989 before transferring to Northumbria Police and seeing out my 30-year service with them as a detective.
Following my service with them, I began a part time role with the Angling Trust that was funded by the Environment Agency. Angling is a hobby of mine, so I travelled across the North East and Yorkshire, recruiting and working with volunteers and police forces to combat rural and wildlife crime.
In November 2019 I returned to Northumbria Police as a Civilian Investigator focusing on rural and wildlife crime and then becoming part of the forces rural policing team which is where I remained until I left to join GNAAS.
Why did you apply for a job at GNAAS?
Far better to have tried and failed than not tried at all is a motto of mine. I saw the role with GNAAS and knew that I could fulfil the role so I decided a career change in my latter years of my working life would be something I would consider if successful.  Luckily I was and I haven't looked back.
How did it feel when you were told you got the job at GNAAS?
I can recall that I had not told anyone other than my wife about my interview.  I was out with a police colleague in an unmarked vehicle on an enquiry. The call came through when I was travelling in North Tyneside and as I was the passenger, answered my phone to be told that I had been successful. I can remember the joy in my voice as well as the surprise on my colleague's face when he instantly discovered what my plans were. He told me that he was really pleased for me, that I had chosen to work for a great charity and that he had no doubt I would be a success in my new role.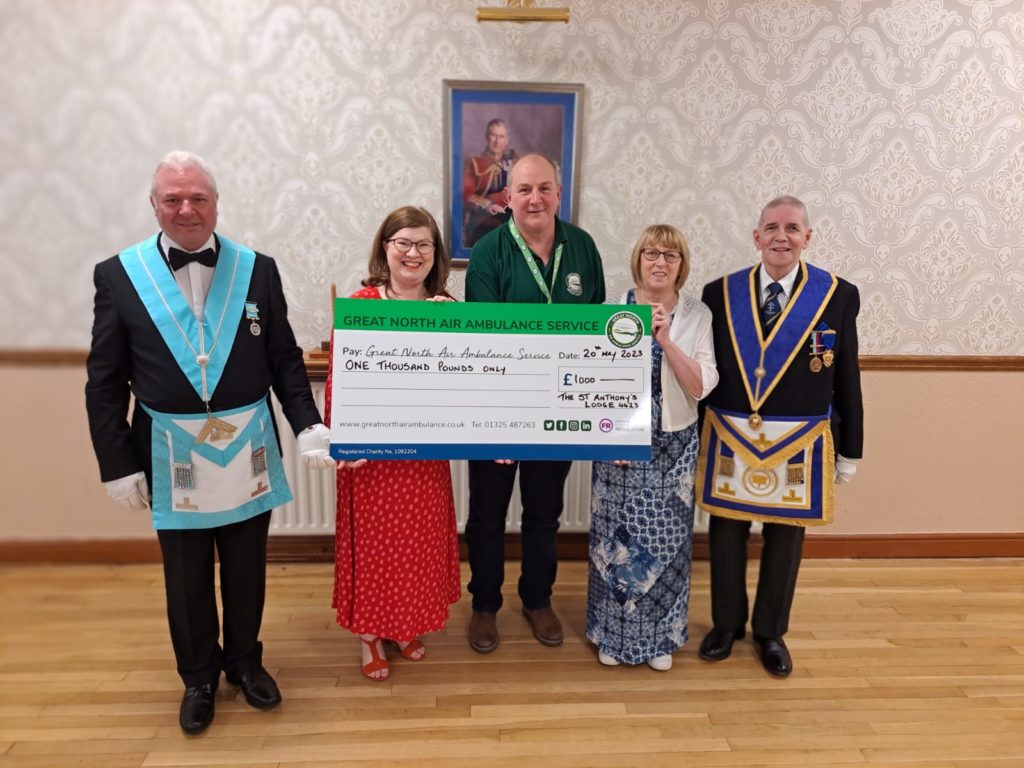 What is your role and responsibilities?
My role is specialist fundraiser for Newcastle and Northumberland. I work with the business and corporate sector within those areas when they wish to support GNAAS. I class myself as very much a people person, so therefore I feel very much at home working in this area. I want to ensure that anyone I support through their fundraising for GNAAS, has a great experience, like I did, as the monies they raise for us, helps us save lives.
How does it feel to be working at GNAAS?
I have been truly amazed by the work GNAAS carries out. Prior to joining, I had seen a small part of it, but the bigger picture is simply breathtaking. The courageous, caring and committed work carried out by those who deliver advanced lifesaving treatment to the people of our region at critical moments is a testament to their skill. It's also a testament to those who support us. No one knows when you will ever need GNAAS, however I know that if you ever need the service, then you are in safe hands.
Have there been any highlights or stand-out moments during your time at GNAAS so far?
Having been with the charity for a short time, I am lucky to have some great highlights so far. A sunny golf day at the majestic Close House, visiting the Isle of Man during the TT as well as a clay pigeon shoot in County Durham that saw a rural community come together to support us and the County Durham Community Foundation. All were memorable and the support for GNAAS was clearly present.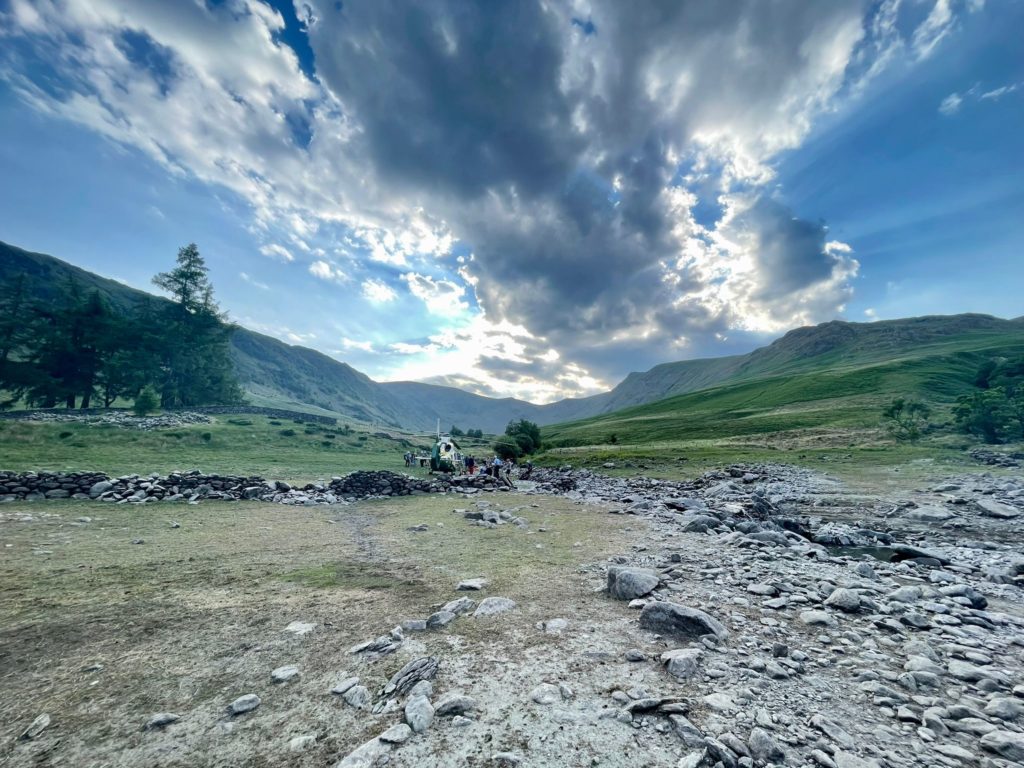 Urgent Summer Appeal
We need your donations to support the increase in call-outs we face during the warmer months.
Donate today