A VIOLENT seizure left a 38-year-old Spennymoor man having to relearn how to use the left-side of his body.
---
One minute, Michael Hallas and partner Gemma Turnbull were planning a cinema trip. The next, Michael was gripped by the frightening medical episode which nearly killed him.
The incident happened in October last year. Michael had been suffering headaches two weeks prior to the seizure, but nothing that could have forewarned what was to happen next.
Gemma, who made the 999 call, said: "I was at home with Michael and everything was normal. We were sat talking about going to the cinema when suddenly he just started having a seizure."
The North East Ambulance Service (NEAS) responded but requested the assistance of a GNAAS doctor due to Michael's agitation.
This is a common reaction of patients experiencing a seizure and is often most effectively controlled by a powerful sedation administered by a doctor.
Gemma added: "When the ambulance came, Michael didn't know where he was and couldn't talk. The paramedics tried to keep him calm but it wasn't working. That's when GNAAS were called out."
GNAAS doctor Phil Godfrey and paramedic Tim West treated Michael before airlifting him to James Cook University Hospital in Middlesbrough.
Phil said: "When we arrived at the incident Michael was very agitated and still upstairs in his bedroom.
"We sedated him and then were able to move him downstairs safely and into the ambulance.
"We then put Michael in a medically induced coma to take over his vital functions and protect his airways while we airlifted him to James Cook University Hospital."
Michael went on to stay at the Royal Victoria Infirmary in Newcastle for several weeks before being transported to Walkergate Park Hospital for a further three months' rehabilitation.
The incident left the 38-year-old having to relearn to use the left side of his body after scans showed he had suffered a brain haemorrhage.
Michael said: "With being predominantly left handed, I had to learn to do everything again. It was hard to do.
"I just want to say thank you for everyone who helped me, I wouldn't be here otherwise."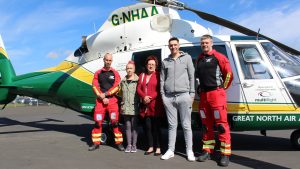 Michael recently had the chance to come back to the GNAAS base at Teesside International Airport with his family to thank the crew who saved his life.
Michael said: "Donate as much as you can because they are saving a lot of people. If it wasn't for them I would be dead."
Last year, we needed to raise £5.1m to keep our aircraft in the air. To support our mission visit www.gnaas.co.uk/