When Ann Lipscombe from Langley Park, County Durham, retired, she was keen to give her time and energy to a worthwhile cause.
---
As an ex-deputy headteacher at a secondary school, with more than 30 years' experience teaching English and History, she decided to put her presentation and teaching skills to use and applied to become a presenter and events volunteer for GNAAS.
Ann became a volunteer in October 2017 and mainly delivers community talks in a range of environments, from school assemblies to WI groups.
She also attends cheque presentations, and this summer she will be manning the GNAAS stall at a couple of country shows with her husband who is also a volunteer.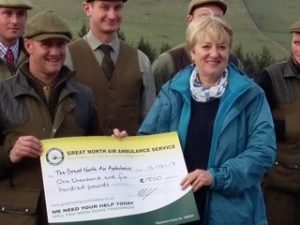 Beyond these activities Ann has been heavily involved in developing GNAAS' education resources for 11-16 year olds.
She said: "Whilst GNAAS had an excellent primary school offer, as an ex-deputy headteacher in secondary school, I felt that there was a need for development in that sector.
In consultation with Ben McWilliams, volunteer coordinator, and Pete Moody, assistant head of fundraising, I wrote a series of PSHE lessons linked to the GNAAS community presentation.
My ex-colleagues were very happy to allow us to trial the work in school so Ben, Sophie Weir, public liaison assistant, and I went in to school to work with a group of pupils from years 7-10.
They gave valuable feedback on both how to change the community presentation to be more appropriate and on the proposed lesson plans.
Having tweaked the lessons from that advice, the whole package was then trialled as a whole school resource in PSHE lessons and deemed successful.
Ben and I have also recently trialled a full  PSHE drop-down day of GNAAS activities, three one hour lessons, followed by a two hour lesson with groups of year 10 at another school. We're currently evaluating the success of that trial.
"I very much enjoy volunteering for GNAAS.
Doing the talks takes me all over the region to all kinds of places and groups, from the Heritage Tractor Group in Northumberland to the Harley Davidson North East Chapter, from the Startforth Luncheon Club to a 90th birthday party, and I love meeting the people who support us.
In terms of the school work, it's been a great opportunity to use my knowledge and skills to help GNAAS, although it wasn't something I had imagined doing when I first volunteered.
"It's been a great experience so far. I feel very well supported and appreciated by Ben, Pete and Kerry, public liaison officer, and can see myself being involved with GNAAS for a long time."
Find out more about the volunteering roles available at GNAAS here: https://gna.as/volunteering