In August this year, the Great North Air Ambulance Service (GNAAS) welcomed a new trainee doctor to the team, Charlie Duffield. We caught up with Charlie to find out more about him and how he's settling in at GNAAS.
---
Welcome Charlie! So, what is your role at GNAAS?
I have joined GNAAS as a pre-hospital emergency medicine trainee doctor. I was interviewed for the role in November 2018 and appointed to the position in August this year. My current role is to learn about the field of pre-hospital emergency medicine (PHEM) as I work toward being 'signed off' over the next six months or so.
This will then mean that I can deploy on the helicopter or all-night rapid response car without a senior doctor supervising me.
Where are you from and what is your background?
Originally, I am from Oxfordshire and my background is in the Army.
I'm in the Royal Army Medical Corps as a medical officer. I joined up whilst at medical school and have been with them since.
I had a three-year stint where I was the doctor for the Royal Scots Dragoon Guard and I also went to Afghanistan in 2013 on operation Herrick. Since 2013 I have been training to be an anaesthetist in North West London before moving up North.
What is your title?
I'm an ST6 (speciality trainee year 6) anaesthetics trainee and PHEM registrar as well as a major in the Army.
Where did you do your medical training?
I went to Guy's, King's and St Thomas' School of Medicine in London. I also did my anaesthetics training in London.
If you would like to find out more about GNAAS training courses click here 
How are you finding GNAAS so far?
I love the job and the organisation. I've never worked with a more dedicated and forward-thinking group of professionals.
I'm constantly impressed with how much energy and enthusiasm everyone has for the job and get a real sense that everyone is constantly trying to develop the service that we provide. They're also a welcoming and friendly group.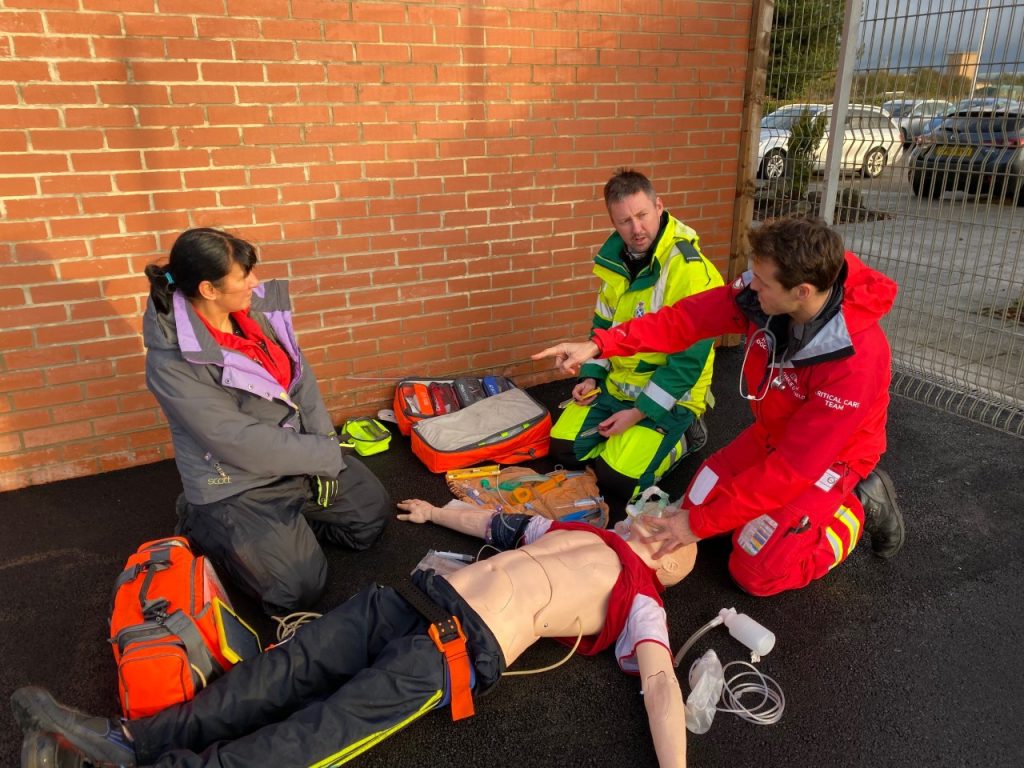 What's your favourite thing about GNAAS?
I like that it is a really close-knit group of people. Everyone genuinely seems to like each other and love what they do, which I think is unusual in any organisation!
What's the best thing about being a doctor?
I guess it's doing something that is both challenging and rewarding at the same time. I've got lots of friends in other fields (banking and so on) who don't get the same sense of satisfaction of meaning from their work.
How is working at GNAAS different to working in a hospital setting?
The medicine is broadly similar, but the challenges posed by the environment are wildly apart. Going to the scene can be a real sensory experience with all the emergency services that are there, bystanders, as well as the patients themselves.
In hospital we get a very sanitised patient where they're presented to us on a stretcher or trolley having already been cut out of a car for example.
The other thing that makes PHEM challenging is everything surrounding the patient. You must think about where the patient needs to go, how they need to get there (for example by helicopter or road), what you need to do for them and what can wait for hospital (for example blood now or later).
You also must interact and coordinate with other emergency services which is something that you don't need to do in hospital to the same degree.
What was it that made you want to work for GNAAS?
I had heard that they were a great organisation to work for!
What's next for you?
Well I need to get signed off which isn't easy. Then I have the tough Fellowship in Immediate Medical Care (FIMC) exams next year which allow me to become a PHEM consultant.
The FIMC is the highest level of formal qualification available for pre-hospital practitioners.
After that my current plan is to finish off my two-year training job with GNAAS and then to get a job as a consultant, but I hope to keep coming back for shifts at GNAAS.
If you would like to find out more about GNAAS training courses click here