Our team has completed a fourth successful roadside open chest surgery – a procedure that five years ago would have been impossible outside of a hospital.
---
Advances in equipment and training have enabled Great North Air Ambulance Service (GNAAS) clinicians to harness the potential of the thoracotomy – which is reserved for those patients not otherwise expected to survive.
Since 2017, GNAAS has logged four successful thoracotomies, the most recent being over Christmas 2019.
Due to the sensitive nature of the four successful cases, details are restricted, but all were reported as stabbings, with two happening in County Durham and two in Tyneside. In all four cases, the patients would not have been expected to survive the journey to hospital had they not received the thoracotomy.
The charity's first successful thoracotomy happened in 2017 when a man was stabbed and left for dead in Horden, County Durham.
Footage taken of that procedure is thought to be the only time a successful pre-hospital thoracotomy has ever been recorded in the world and is now a vital training aid for GNAAS teams as well as other pre-hospital teams.
Although the charity's clinicians are building a track record for delivering the complex procedure in high-pressure scenarios, they are hoping to be able to practice it more regularly and to share that knowledge with others.
Historically, the training has utilised a human cadaver or pig carcass. But now, an ultra-realistic training manikin – life-size, repairable and therefore reusable – is changing the way the thoracotomy is practised.
Now GNAAS is appealing to the public to help them pay for a day's training to allow more clinicians to practice. For £2,000 the charity plans to hire two manikins for the day. While one is being repaired, the other can be utilised.
Watch GNAAS paramedic Tim West's guided thoracotomy on the training manikin below:
Tim, who was on scene in Horden for the charity's first ever successful procedure in 2017, said: "GNAAS is the only organisation in the North East that has the ability to be able to do this prior to hospital, and the only one based in Cumbria as well.
"All four of these patients would have been dead if we had not been there to perform it as ambulance crews aren't trained to do this and this is only ever normally performed in an operating theatre.
"We take steps to avoid the procedure as much as we can. When we do decide to undertake it, the patient is dying in front of us and will be dead if we do not intervene."
A thoracotomy is performed when a person has a penetration injury such as a gunshot or stab wound. Last year alone GNAAS was called out to stabbings on 172 occasions. This accounted for more than 10 per cent of the charity's callouts.
By making a major incision across the chest and through the muscle, and thus exposing the heart and lungs, the charity's teams can identify the origin of the bleeding with a view to stemming the flow of blood, allowing the heart to beat again and restore circulation to the brain.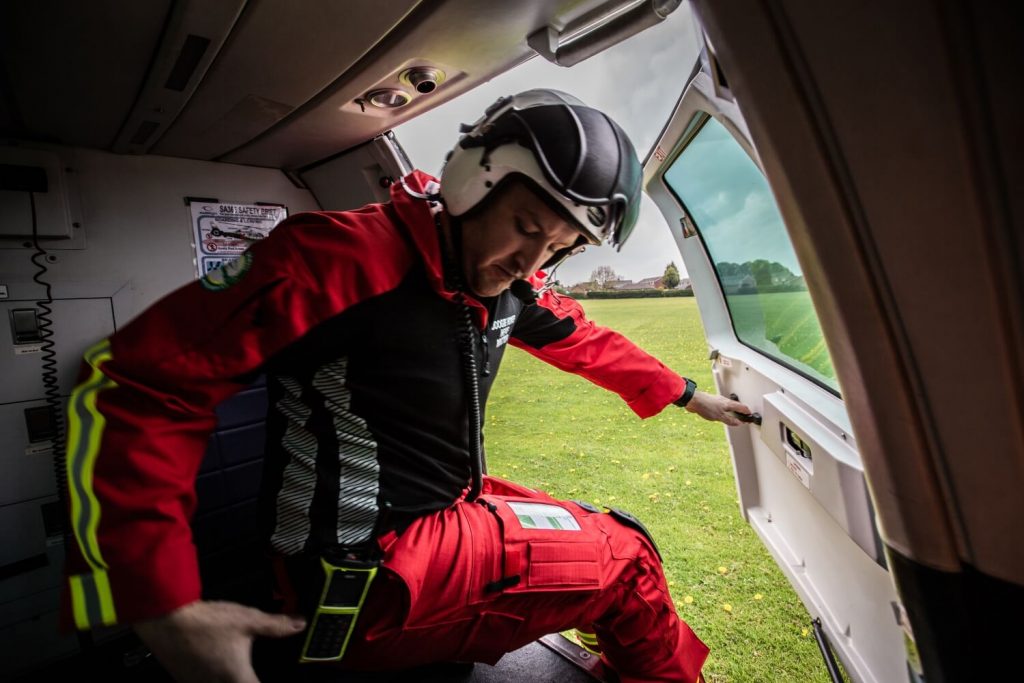 GNAAS doctor, Jeff Doran, said that regular, high-quality thoracotomy training is expensive but essential in delivering the procedure with confidence.
"Up until now, training for a thoracotomy has been either on a human cadaver or a pig's chest," he said.
"A human cadaver is a valuable resource that is realistic but is also expensive at around £2,000 and it can only be used once in training."
Operable and adaptable, the thoracotomy training manikin allows training in a range of environments. Clinicians can put the manikin into a variety of different scenarios, to challenge their decision making, teamwork and safe movement of a patient.
If you would like to help GNAAS cover the £2,000 costs of one day's manikin, please call 01325-487263 or visit www.gnaas.com