One year ago, 21-year-old Ruth Thomas was left with broken bones and a traumatic brain injury after a road traffic collision.
---
Twelve months on, the university student is now back in Cumbria, preparing to restart her studies and couldn't wait to get involved in volunteering for the Great North Air Ambulance at the Coniston County Fair.
Ruth, who lives in Grizebeck on the southern edge of the Lake District National Park, was travelling home on the evening of July 12, 2018, when her car was struck by a van travelling in the opposite direction.
Our critical care team was dispatched from its base in Langwathby, Penrith and Ruth was treated and stabilised at the roadside by the on board doctor Theo Weston and paramedic Sarah Graham before being flown directly to a waiting trauma team at the Royal Preston Hospital.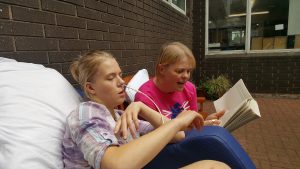 Having spent almost three weeks in a coma, and three months in total in hospital, Ruth returned home to continue her recovery.
Now, finally, Ruth has moved back to the Cumbrian village she calls home and is looking to get her life back on track.
Ruth can't wait to pick up where she left off last year, with a three month trip to the Greek islands studying marine zoology before heading off to Costa Rica in the new year for five months working on a sloth and toucan rescue and rehabilitation project.
Ruth is keen to acknowledge the role GNAAS played in making this all possible.
She said: "The air ambulance saved my life. There is no doubt about it.
"When I learned just how badly injured I was in the crash, I couldn't believe I had survived, and it's all thanks to Theo, Sarah and Owen who did everything possible at the roadside and then got me to the Critical Care Team at Preston Hospital as quickly as they could.
"While I was still in a coma in hospital, my family raised nearly £3,000 for GNAAS but being able to help out at Coniston Fair is just one little way I was able to start saying thank you myself."
Last year, we needed to raise £5.1m to keep our life-saving aircraft in the air. You can support our mission and help people like Ruth by donating.