"I can remember seeing the gravel, and then the long grass, and thinking 'oh dear', and then it was bang."
---
Pete Holland, 67, from Hexham, Northumberland, was riding along the A68, near Crook in County Durham, with his son Jim Holland when he unexpectedly came off his motorbike. Describing the incident, he said:
"We were going round a slight bend, not very fast, not particularly sharp. I can remember seeing the gravel, and then the long grass, and thinking 'oh dear', and then it was bang. Not much of a recollection then, until I could hear the aircraft arriving and I thought oh that must be serious if they've brought the helicopter for me."
Mr Holland was assessed and treated by the GNAAS paramedic and doctor team before being airlifted to the Royal Victoria Infirmary (RVI) in Newcastle for ongoing treatment. He said:
"Next thing I knew I was in the RVI waking up to be told that I'd been 12 hours in surgery and that I'd got a multiple fracture on my clavicle, ten broken ribs, a crushed vertebra, a multiple fracture on my right fib and tib and was very lucky apparently to have saved my leg."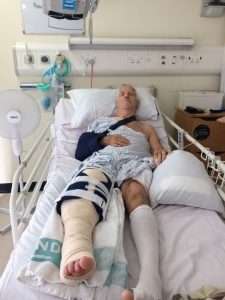 Mr Holland spent four weeks in the RVI before continuing his recovery at home where he had to use a wheelchair for several months while his leg healed. The incident left him with a great admiration for the staff at GNAAS and the hospital who helped him in his time of need. He said:
"I was greatly relieved that they turned up for me. Prompt reaction, expert in their field, got me to the right place at the right time, where again expert staff took over me at the RVI and took great care. Just wonderful."
Since the incident, Jim and Mr Holland's daughters-in-law Kristina Rodney and Shonah Holland ran the Kielder Half Marathon to raise money for GNAAS. To add to the challenge, Jim decided to run with a backpack weighing 15kg, and in total they raised £782 for the charity.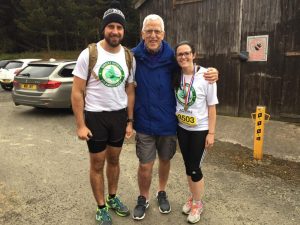 Incident date: May 18, 2018
Incident location: The A68 near Crook, County Durham (map below).
Incident timeline:
14:16 GNAAS mobile to incident from Durham Tees Valley Airport
14:30 On scene
15:00 Take off from scene, transporting patient by air
15:12 Arrive at hospital – Royal Victoria Infirmary, Newcastle
16:00 Returning to base
16:19 Arrived back at base 
Total flying time: 45mins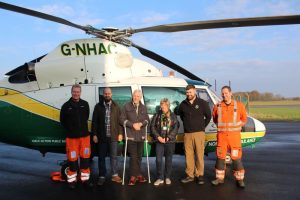 Summary
Pete had sustained very serious injuries and was around 20 miles from the nearest Major Trauma Centre. It was imperative that the team reached him quickly and then were able to administer the treatments he needed to stabilise his condition before the transport to hospital. Not only do our aircraft travel at up to 190mph, they also carry on board pre-hospital expert clinicians who can deliver treatments which once would have only been possible in the emergency department.