A FARMER who lost his right hand while working with a forage harvester is embarking on a cycling challenge to support the charity who came to his aid.
---
Ashley Herbert, 30, was on a farm in Cliburn near Penrith, where he lives, in July 2014 when his hand got caught in the machine after trying to fix an error.
He said: "Fortunately, my now father-in-law saw me in the field and wrestled me to the ground, and my brother-in-law found a piece of string and used it to tourniquet my arm. I thought that was the end of me."
North West Ambulance Service arrived on scene before the critical care team from the Great North Air Ambulance Service (GNAAS) flew in and administered further treatment.
He said: "They gave me ketamine and I felt like I was in the movie Inception and everything was folding in on itself and I thought 'oh I don't like this'.
"I got loaded up on the helicopter and flown to the Royal Victoria Infirmary (RVI) in Newcastle and I remember the whole flight because I was joking with the team on the way there.
"The forage harvester has rotating blades and it goes at 2,000rpm and minces everything up, cutting the grass to one inch long, so the remains of my hand were pulp basically. The surgeon said I couldn't have done a better job of it."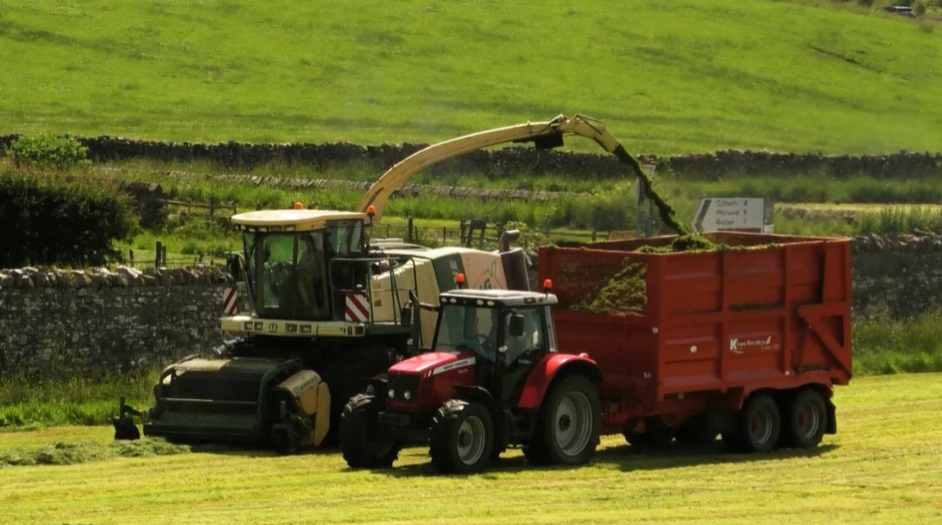 Ashley left hospital after a week and returned to working on the farm three weeks later, however he had to get used to doing activities with one hand before getting his first prosthetic.
He said: "The prosthetics have got better and better and led me to be able to do most things again."
Prior to his accident Ashley was a keen cyclist who even rode the coast to coast in 2013 to raise money for GNAAS.
He's since been able to get a prosthetic and bike adapted to his needs and has now challenged himself to complete a Land's End to John O'Groats cycling challenge for GNAAS with his friend Craig Robinson in September.
"GNAAS are absolutely awesome," he added. "To get to Newcastle I think the best run I've done when driving there is 1 hour and 40 minutes. It's a long time and effectively I was bleeding out so the speed of the helicopter was great. They knew exactly what to do and I appreciate everything they have done for me. If it wasn't for them I would have been in a worse position. I wanted to give back to them so that's why I decided to do the ride."
To sponsor the friends visit: http://www.justgiving.com/Ashley-and-craigs-lejog
Help us to keep holding strong
We are here, keeping you in safe hands. With your support, we can keep holding strong.
Donate