The daughter of a man who died after a house fire in West Cumbria has revealed her plans to do a sponsored swim in his memory.
---
Martin McCarthy sadly died last month following the fire at his home in Bridge End, Egremont.
Describing the 82-year-old former carpenter, daughter Michelle Rogers said: "He loved a pint, he loved a bet, he loved a laugh, and he was just a lovely, hard-working man."
The fire at Mr McCarthy's house shocked the town of Egremont.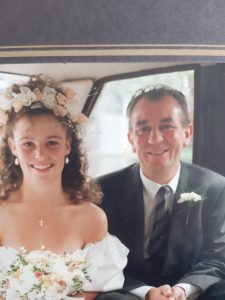 Mrs Rogers, a chef at Seacote Hotel, St Bees, a resident of Egremont and former post lady in the town, was called to the scene in the immediate aftermath of the incident, on May 8.
The mother-of-three, 54, said: "I was driving to where he lived and I saw the air ambulance go over my car. He was already gone. I got down there and there were police, fire and ambulances everywhere. I just thought he had burned himself. I wasn't prepared for the worst."
The Great North Air Ambulance Service (GNAAS) flew to the scene to assist the other emergency services. Mr McCarthy was anaesthetised by a GNAAS doctor before being flown to Royal Preston Hospital.
She added: "When I got to hospital in Preston, I was sat in the waiting room and just didn't know what to expect. They said that when I went in to see him that he wouldn't look like my dad. But I wasn't listening to the bad news. I wouldn't. I only wanted to hear some good news."
Mr McCarthy died shortly afterwards.
"When we got home, I cried all night," she added. "The next day I said I wanted to do a sponsored swim in dad's memory. My husband Stuart said straight away that it had to be for the Great North Air Ambulance Service, which is a charity.
"We had a song, me and my dad. It was I Love You Because by Jim Reeves. I just kept listening to it and crying. My son said I had to snap out of it. I was listening to it when the air ambulance fundraising pack arrived."
Mrs Rogers aims to swim 128 lengths of Copeland Pool, Whitehaven, on July 28 after the facility kindly offered to open earlier in the day to accommodate her.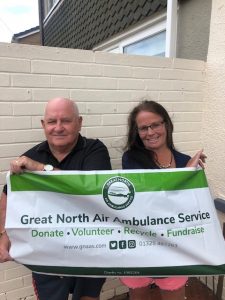 Grahame Pickering MBE, chief executive of GNAAS, said: "Mrs Rogers has shown extraordinary strength of character at this difficult time. Her first instinct was not to think of herself, as would have been completely understandable, but instead she thought of how to help others.
"The money she raises will do exactly that, enabling someone else to receive the critical care they need."
Mrs Rogers has set up a Facebook fundraising page where friends, family, and anyone touched by the story can donate if they wish.
To support her, please visit gna.as/Michelle1