A MAN who required the help of the Great North Air Ambulance Service (GNAAS) after a serious crash has been reunited with the doctor who treated him on scene.
---
Steven Higgins, 30, from Carlisle, was a passenger in a van when he was involved in a head-on collision on the A66 near Penrith on 14 February 2013.
He suffered serious head trauma, a broken pelvis, hip and shoulder and was put into a medically induced coma at the roadside by the GNAAS paramedic and doctor team.
This procedure is only carried out in the most serious of cases, particularly when a patient has a serious head injury.
Mr Higgins was then airlifted to James Cook University Hospital in Middlesbrough where he spent two weeks in intensive care and three months in hospital.
COVID-19: With your help we will fly on
Mr Higgins, who still suffers from long-lasting effects of the incident, said: "I'm brilliant head wise but I suffer with a bit of fatigue, memory loss, and my shoulder's still about 50 percent, I've got limited movement in my shoulder. My hips stop me from running properly, I can nearly run but I can't play rugby anymore."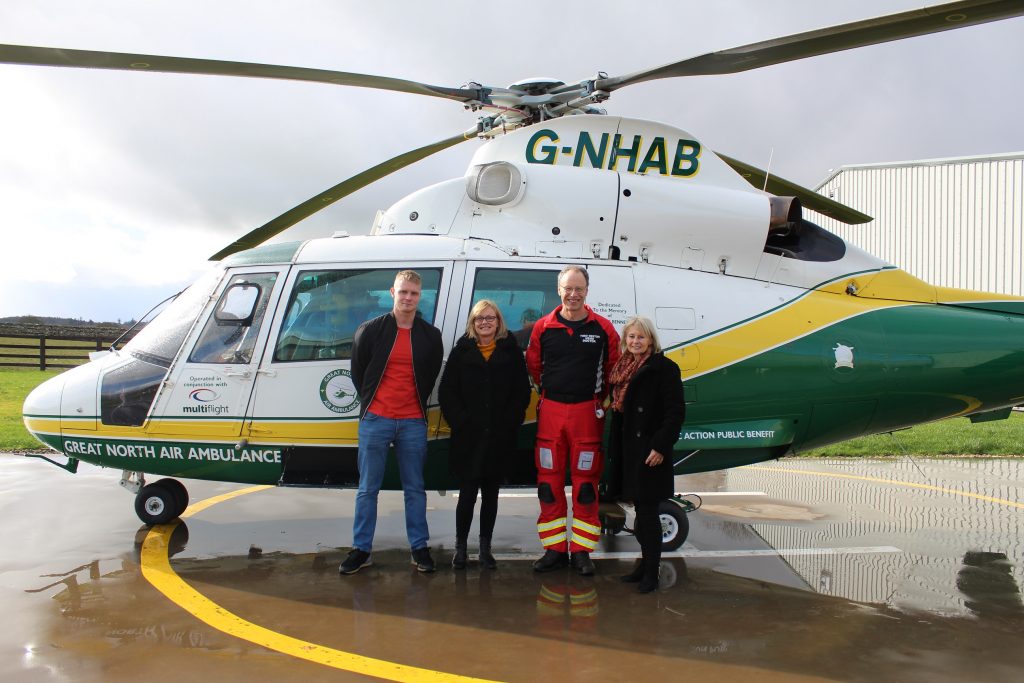 Since the incident his friends, family, and workmates have fundraised for the charity which relies solely public donations and does not receive government funding.
His best friend Simon Robinson ran the Great North Run, and his former workmates at Northern Gas Networks took part in a four-day rugby and walking challenge.
Mr Higgins and his family also recently visited the GNAAS base in Langwathby where he was reunited with Dr Theo Weston MBE who treated him on scene.
COVID-19: With your help we will fly on
He said: "It was brilliant meeting Theo. I have no doubt in my mind that without GNAAS I would have been in a worse state than I am, if not dead."
Earlier this week, GNAAS reassured supporters that it was operating as normal throughout Cumbria and had attended several critical care emergencies this week alone.
The charity is expecting to see a downturn in income due to cancelled fundraising activity and is asking the public to continue their support if they can.
 To support GNAAS, which operates the Pride of Cumbria aircraft from Langwathby, near Penrith, please donate online.
Help preserve our critical care services
We want to be there when you need us, but we can only do that with your support.
Donate here