Since the pandemic hit, the number of people carrying out challenge and events fundraising has fallen by about one third, amounting to almost £50,000 in lost income every month. This is why we need your help in 2021.
---
There are so many ways you can get involved.
Your fundraising could stem from a personal interest such as a hobby, talent, a passion for a particular sport or something you just enjoy doing.
If you're in need of some inspiration of what you can do, here are just some of the incredible people who have supported us in 2020.
Leo Armstrong's hot dog challenge
13-year-old Leo Armstrong from Middlesbrough has taken part in several fundraising challenges since he was only eight and has raised thousands of pounds for GNAAS.
During lockdown Leo decided this was the perfect opportunity to set himself another fundraising challenge for GNAAS.
He said: "In the first lockdown, I got a hot dog costume to try and cheer people up, however I wanted to do some fundraising to support GNAAS. I thought that with the restrictions, I would go local and go up and down Roseberry Topping for 12 hours and incorporate my hot dog costume."
Leo managed to go up and down the hill 13 times and raised nearly £1,685. You can read his full story here.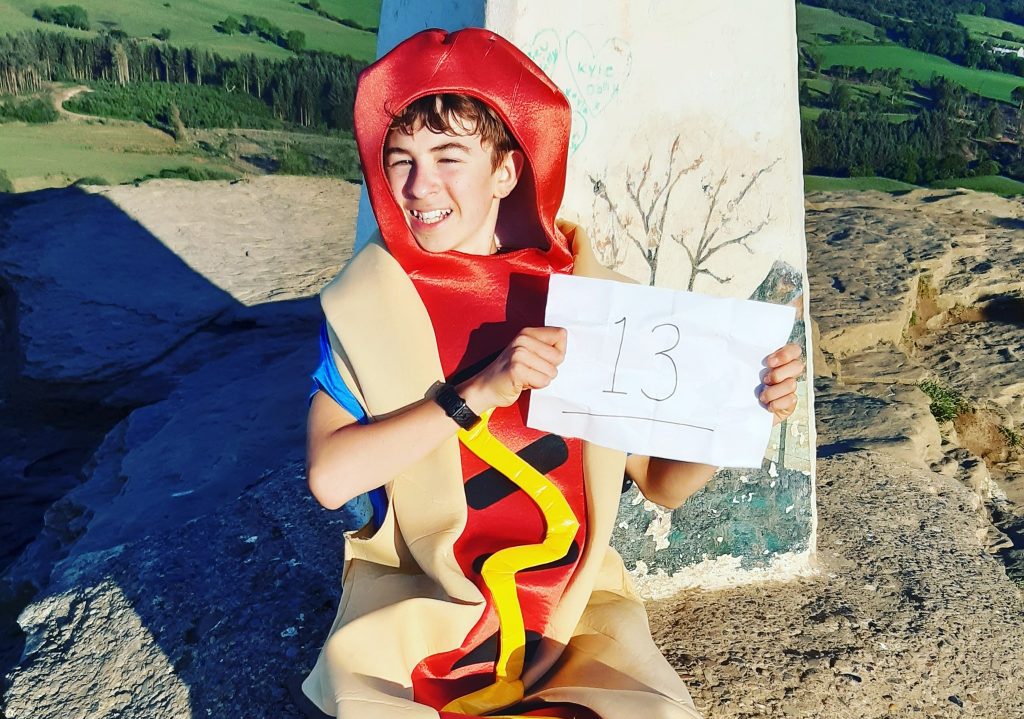 Make a difference by fundraising for GNAAS
Karl Cleet's 24-hour gaming marathon
Karl Cleet was only 19 when he was crushed after a car reversed into him, trapping him against another car close to his family home in Eaglescliffe.
GNAAS flew to the scene and pulled Karl from under the car before assessing and treating his injuries, which included broken ribs, a fractured skull and a bleed on the brain.
He was put into a medically-induced coma before being flown to James Cook University Hospital in Middlesbrough for further treatment.
Karl's incident happened on 27 September 2015, so to commemorate five years since being a patient of GNAAS, he decided to do a 24-hour charity livestream playing games on Twitch and raised £310.
He said: "It was easy to decide to fundraise for the GNAAS as I was supposed to run the Great North Run on behalf of them but for obvious reasons it got cancelled. So I thought since I wasn't able to raise money by running the half marathon I'd think of another way to fundraise. Plus I owe so much to GNAAS for saving my life five years ago, so I'm committed to raising money for the charity."
Pickle's 2.6 challenge
Fundraising challenges aren't just exclusively for people, you can get your pets involved too!
Pickle from Darlington was only 14 weeks old when she was challenged to fetch 26 green and yellow balls.
Pickle chose to fundraise for GNAAS because they are a charity which rely on public donations and they need people (and dogs) like her to donate and fundraise in order to keep the helicopters flying. GNAAS is Pickle's favourite charity because her mam works for them too!
'Pickle' said: "I didn't even realise I was fundraising I was just having fun! My mam says that's the best way to raise money, by doing something you enjoy!"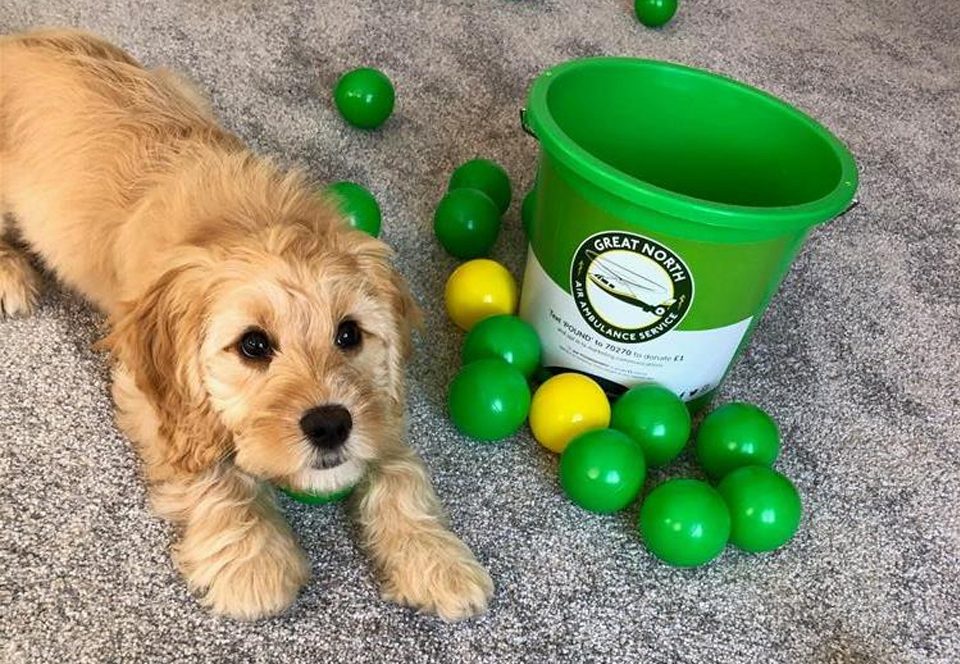 Pledge your support for GNAAS in 2021
Michael and Kelly Davison's sheep dog trial
We have so many brilliant supporters throughout the North of England, including our rural communities.
Michael and Kelly Davidson from Northumberland regularly hold sheepdog trials so they decided to turn one into a fundraiser for GNAAS.
Michael said: "I am a shepherd in a remote part of North Northumberland and are quite often out on hill gathers, also Kelly's dad needed their service six years ago when he had a big heart attack and ended up having a five way bypass. If they hadn't been there to call on he wouldn't have made it.
"It was very easy to set up the fundraising, we just got in touch and they sent all the information to us. We then charged £5 per dog to run and people also handed donations in as well. We would definitely do it again."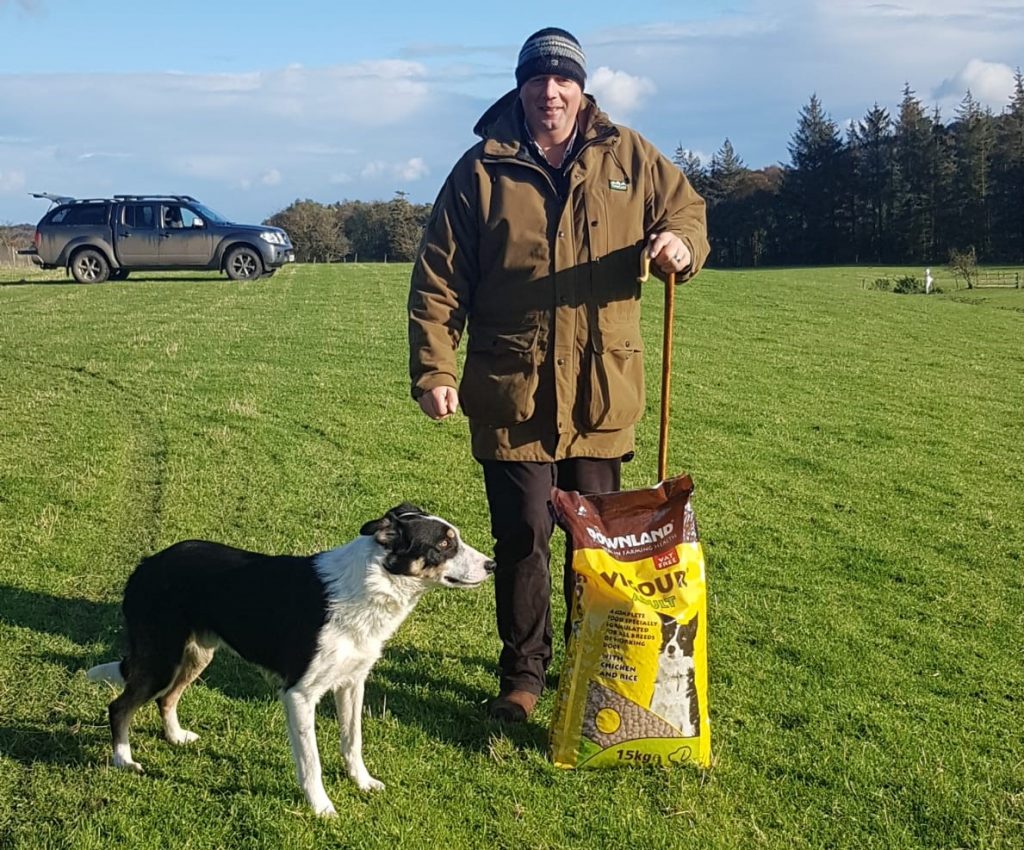 Alnwick RFC's 1960 challenge
To celebrate their 60th birthday Alnwick RFC took part in physical activities based around the number 1960.
Emma Adamson, chairperson of the club said: "GNAAS is such a worthy cause to fundraise for. Over the years we've needed to use this service to attend to injured players, but we have also had several members who have needed this service away from the club.
"The overall experience of raising money for GNAAS was excellent, not only did it bring our club together, but the communication and support from the charity was top class. I would highly recommend, if you haven't already, to support them as much as you can."
Make a difference by fundraising for GNAAS
Teesside Paramedic Society's fundraising activities
Teesside Paramedic Society have GNAAS as their chosen charity and have already raised more than £1,200 from a 24 mile walk.
Elizabeth Dixon, vice chair communications, said: "Jessica Snaith, chair of the society, myself and Adrian Whateley, vice chair charities & finance, wanted to be able to engage in the community in a positive way and supporting a charity was one of the methods we chose.
"Through our aspirations as future paramedics, we understand how incredible the work GNAAS does and it's a career that some of us want to be a part of in the future.
"The team at GNAAS have made supporting their charity incredibly easy and enjoyable. From having our initial idea of wanting to have them as our official charity they were able to help facilitate and develop our idea into a functional and beneficial venture. GNAAS have even supplied the society with means to fundraise such as collection buckets, t-shirts and banners as well as goodies for us to use as a prize in our raffle. They've also offered the support of their own volunteers to aid us with any future fundraising ventures."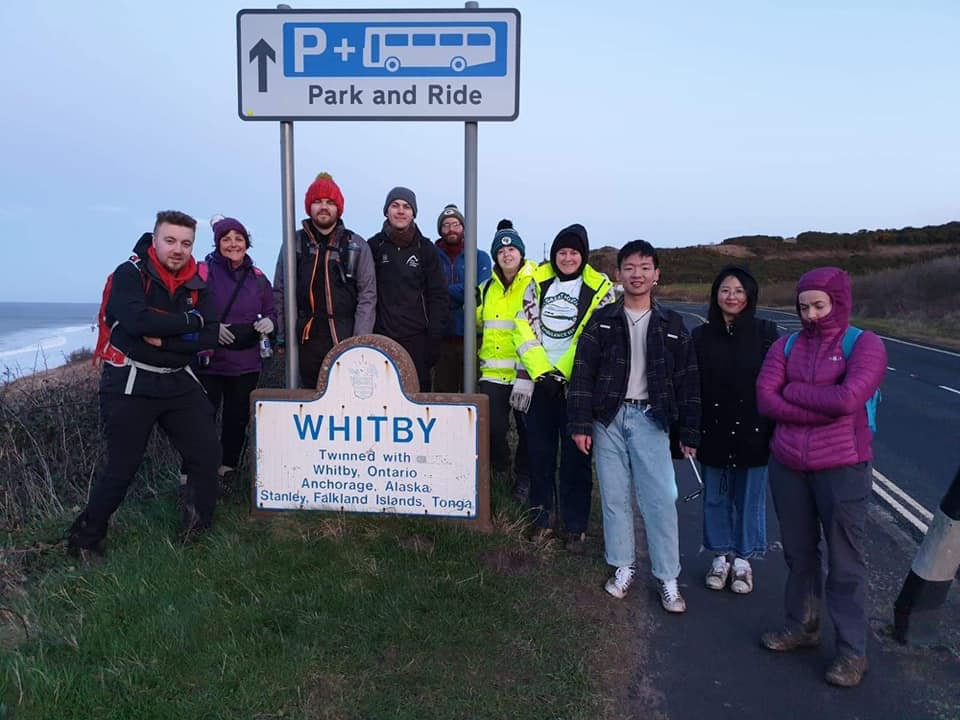 Andy Tennyson's bike fixing
Andy Tennyson from Guisborough took lockdown as an opportunity to fix people's bikes in exchange for a donation and raised £1,022.
He said: "GNAAS was the obvious choice as mountain biking can be a dangerous sport.
"I had seen lots of families out together riding bikes which was great to see. I then heard from friends that the local bike shops were booked up for three months and people were struggling to get their bikes fixed. So I used my skills to help get people back on their bikes.
"It was fantastic seeing people returning later in the day to see that their bike was fixed. A smile and a thank you always made my day.
"It was so easy to fundraise and so rewarding that I have done the same in 'Lockdown two'. More funds on their way to the GNAAS."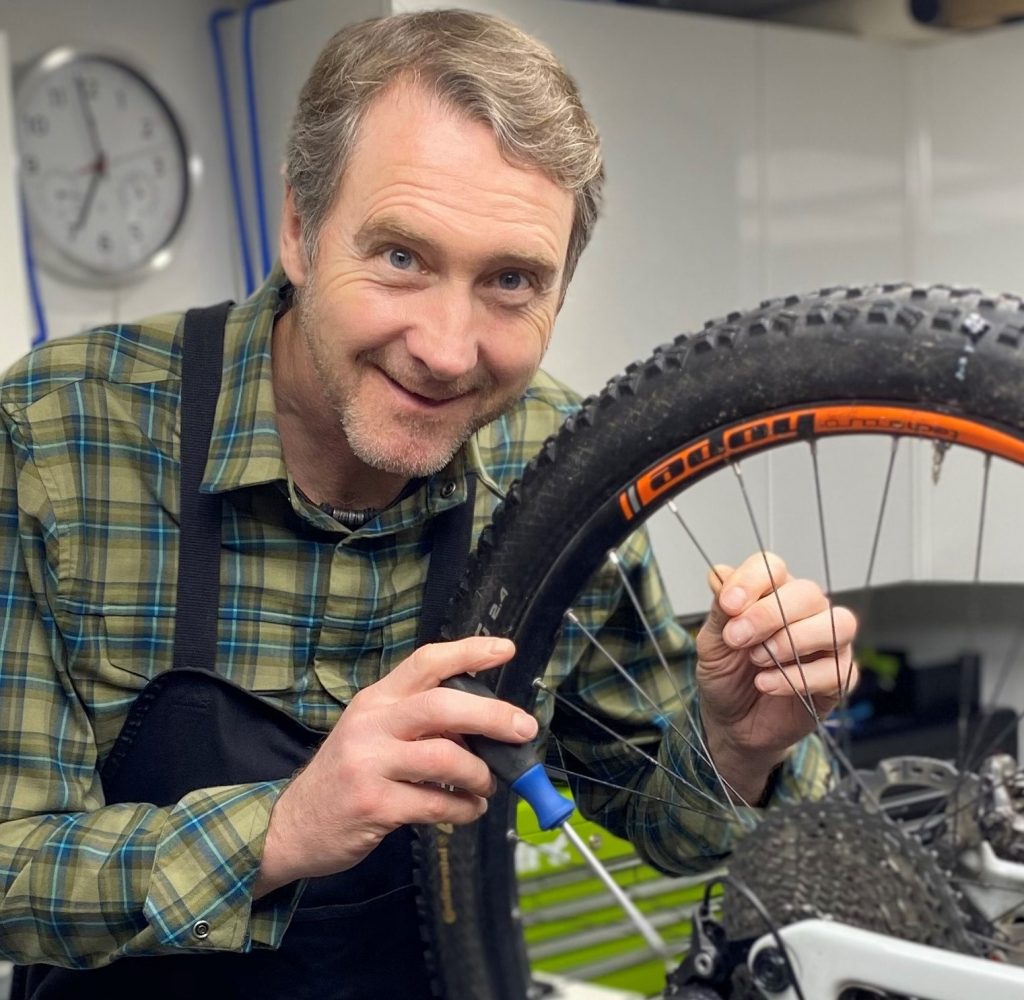 Pledge your support for GNAAS in 2021
Jennifer Mitchell's snowdrop garden
Jennifer Mitchell from Carlisle is lucky enough to have a good-sized garden which from January-early March is a sea of snowdrops.
Since 2012 she has held a charity coffee morning and open garden event and recently started supporting GNAAS after her son Dr Angus Mitchell joined the charity.
She said: "When my son started flying with GNAAS in 2019 I decided that in 2020 I would split the proceeds between two charities.
"GNAAS is a very important service especially in county areas like Cumbria.
"The planning and baking and thinking of a new competition was hard work but the pack from GNAAS including a banner and stickers (my grandson loved handing out the stickers) helped a lot. Get friends and family to help, so you have time to thank people. Then pray for sunshine!  The day is amazing and people are happy to support such a worthwhile cause, almost everybody knows somebody who has been helped by GNAAS."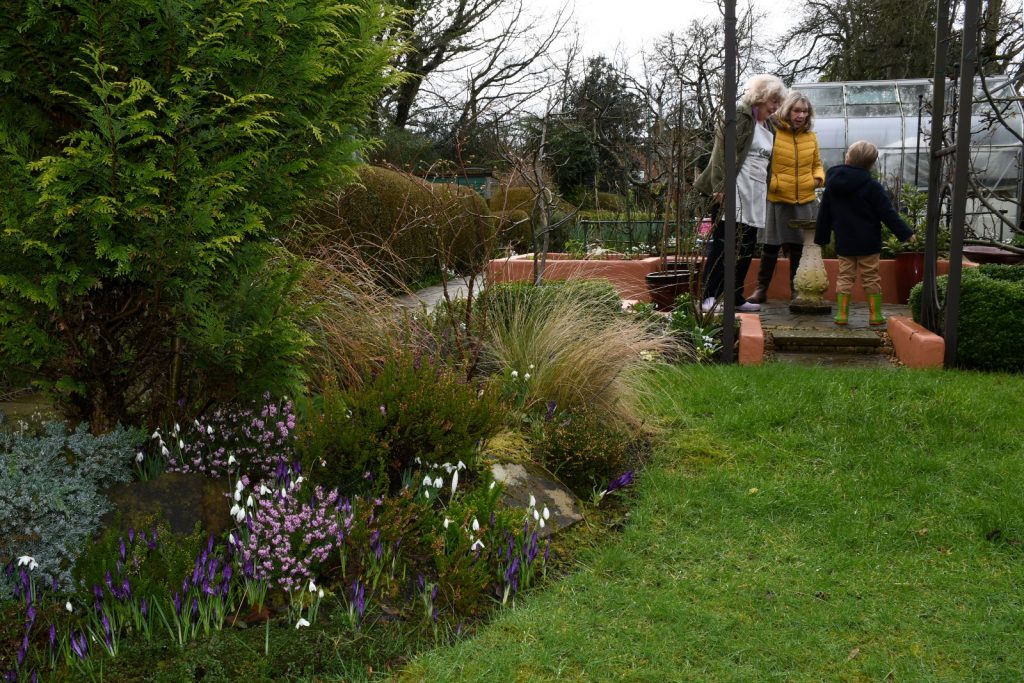 Midtown Milkhouse's book exchange
The family who run the Midtown Milkhouse in Caldbeck have had a phone box for years, so they decided to put it to good use and set up a book exchange with a collection tin for GNAAS inside.
Debra Hodgson said: "This year when we decided to open the Midtown Milkhouse selling our milk at the farm gate it seemed a nice addition to the Milkhouse yard.
"Books are a comfort especially this year and that's why GNAAS are our chosen charity and everyone is giving so generously because GNAAS is also a great comfort to rural communities like ours and we all appreciate the importance of the service. It's a simple idea that is quietly raising much needed funds."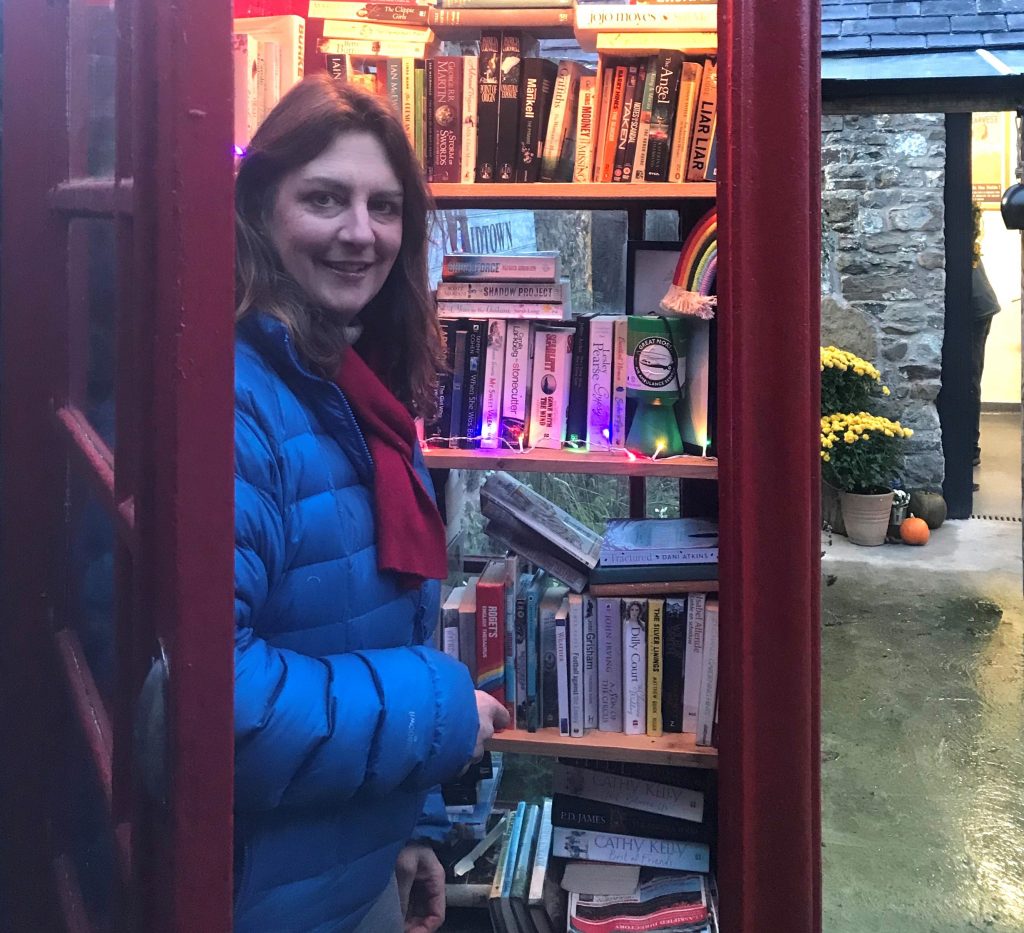 Sonny Wetherell's book character running challenge
To mark his 10th birthday Sonny ran 1k in his garden in Gateshead dressed up as different characters from David Walliams' books for 10 days, and even received a special video message and donation from the author.
He said: "I chose to raise money for GNAAS because my dad was doing some work with them, so I looked at their website and saw that they use helicopters to save lives which I thought was really cool. Because of Covid, the website said they couldn't raise as much money as normal, so I decided to fundraise.
"I thought about the idea on a family walk during lockdown. I was thinking about my birthday being in lockdown so thought I would switch it up and do something different. I wanted it to be fun, interesting and something to do with sport because I love being active."
Make a difference by fundraising for GNAAS
Alex Heron's rope doorstops
"However daft your idea is, try it."
Those are the words of our supporter Alex Heron from Penrith who started fundraising by making doorstops out of his old climbing ropes during lockdown.
He said: "I thought I'd try and raise some money for a worthwhile cause like GNAAS and was donated a mountain of rope by other climbing friends. I branched out to make dog toys too and have now raised nearly three times my original target.
"I think GNAAS provides a really important service to communities in Cumbria. Being a very rural county with remote villages and fells inaccessible to vehicles, the helicopter can get to people much quicker than by road. I know people who have been rescued by GNAAS."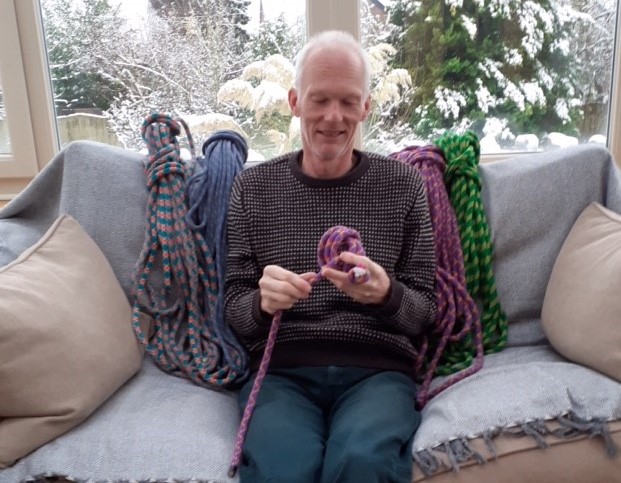 The Eskuleles' virtual performances
In lockdown The Eskuleles, a ukulele club in Upper Esk Valley, swapped entertainment venues for their homes and delivered virtual performances to raise funds for GNAAS.
They said: "We're sure that many other GNAAS supporters will be finding it difficult to carry out their usual methods of fundraising at the present time so why not try something similar. It could be a video of anything you've done whether it be a song, playing an instrument, a physical challenge, anything that would appeal to family and friends or perhaps to an even wider audience. You might be surprised like we were as to how much you might raise. We know the staff at GNAAS would be happy to advise you on how to go about it."
Pledge to support GNAAS in 2021 and help keep us flying.
From streaming a gaming marathon to doing a physical challenge, we can support you along the way.
Find out more