Air crash investigators have arrived in Cumbria after a glider crashed on Cross Fell in the Pennines yesterday afternoon.
---
A team from the UK Air Accident Investigations Branch (AAIB) will seek to determine the cause of the incident, which left the glider's male pilot with a head injury, according to BBC Cumbria:
A glider aircraft has crashed on a Cumbrian mountain. It happened on Cross Fell on the Pennines this afternoon. A man's been flown to hospital by @GNairambulance with a head injury. The glider had taken off from Eden Soaring near Skirwith, east of Penrith.

— BBC Cumbria (@BBC_Cumbria) August 7, 2019
GNAAS responded to the call out at 2.29pm. With the Cumbria-based team responding to another emergency, the aircraft and crew from Teesside International Airport were despatched and on scene within 20 minutes.
As ever, we had a doctor and paramedic team on both aircraft, which meant the patient was able to receive advanced treatment on scene and en route to hospital.
After a refuel at Newcastle International Airport, our team then made its way back to base. The duration of our involvement was little over three hours.
The AAIB has sent a team to investigate an accident involving a glider that occurred near Kirkland, Cumbria.

Read more about how we investigate aircraft accidents:https://t.co/1ptiUNyF14 pic.twitter.com/vzxoX6NgV9

— AAIB (@aaibgovuk) August 7, 2019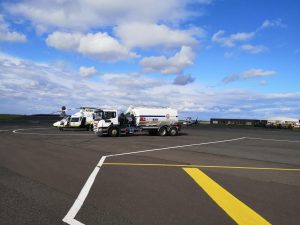 Last year GNAAS was called out 1062 times and needed to raise £5.1m to remain operational. Please consider making a donation to keep us flying. Click here.