A STAGED firearms incident held in the North-East gave doctors and paramedics a taste of working in a mass casualty incident.
---
The event was organised by the Great North Air Ambulance Service, which is currently hosting clinicians from around the country as part of an annual training course.
The course participants were faced with dozens of 'patients' with realistic, bleeding wounds, who had been injured in the simulated terrorist incident. The patients were played by student volunteers from Northumbria University's Department of Nursing, Midwifery and Health.
The event happened at Northumbria Police's Operational Tactical Training Centre at Follingsby, and several officers from the force took part in the scenario using firearms and explosives to add to the realism.
Jamie Walsh, training manager at GNAAS, is part of the organising team behind the charity's Pre-Hospital Emergency Medicine Crew Course. He said six paramedics and six doctors took part in the event, which featured casualties displaying signs of blast and gunshot injuries.
"We're trying to give them an understanding of what this type of incident may be like in real life," he added.
"We are looking at the triage aspect of it – when they should be doing care and where they should be doing it and also prioritising which patient requires treatment first.
"It's not just the critical care they are learning but how to communicate in these very stressful and pressured situations. It's a really interesting scenario and something which they'll have never done before."
Mr Walsh said the day would not have been possible without the support of both Northumbria Police and Northumbria University, with the latter sending thirty pre-registration nursing students to take part in the exercise as part of their studies.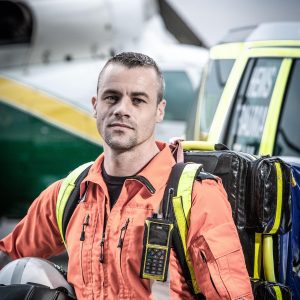 Daniel Monk, senior lecturer in Northumbria University's Department of Nursing, Midwifery and Health, said: "Northumbria University has been working productively with both Northumbria Police and the Great North Air Ambulance Service for some time, collaborating on a number of high-quality research and teaching projects. This includes this world-class course, where exposure to complex, simulated pre-hospital clinical scenarios significantly enhances the learning of pre-hospital specialists.
"Our involvement in this simulation event provided our nursing students with the unique opportunity to participate in the real-time simulation of a mass-casualty incident. They saw first-hand how experienced pre-hospital specialists would prioritise, assess, manage and coordinate casualties at the front-line of an incident of this scale in an urban environment.
"This immersive experience allows them to develop their acute patient assessment knowledge and skills. It is part of our continuing work to ensure that our students learn from realistic scenarios to prepare them for the challenges they may face in their professional careers."
Acting inspector Nigel Bennett, from Northumbria Police's Firearms Support Unit, said: "It is always great to be able to work alongside partners to train and share best practice. It enables us to carry out detailed and realistic training exercises that help continue to develop those skills and knowledge that are so vital to our role.
"It benefits all involved which helps us ensure officers and staff from all organisations are best prepared to handle potential real-life scenarios. We look forward to continuing working together to best prepare and protect the public we serve."
The course participants come from all over the UK. GNAAS charges for the places, with profits pushed back into the service.
GNAAS is reliant on donations to survive. To donate, click here.