A thrill-seeking former soldier celebrated his 100th birthday with a charity skydive, 74 years after he last jumped out of a plane in World War Two.
---
Tommy Hodgson, who lives in Cleator Moor, performed the daring stunt on 7 July with his friend John Wharton, who works at Mitchells Livestock Auction.
Mr Hodgson was born on 30 June 1919, the same year that the First World War ended, and joined the Royal Engineers in 1940 at the age of 19.
He was attached to the paratroopers for training and completed jumps out of a plane over Hampshire.
Seven decades later, Mr Hodgson accomplished a 14,000ft tandem skydive with Skydive Northwest in Flookburgh, to raise money for Cancer Research UK and The Great North Air Ambulance.
He was originally meant to skydive on his actual birthday, but the event was cancelled due to high winds.
After his jump, Mr Hodgson said: "It was a smashing day. We just slid off, that was it, done a few somersaults and the adrenaline just come rushing back. Great it was. The landing was perfect. I could see for miles. Blackpool Tower, Lancaster, Morecambe, all the sea, and even Ireland. Beautiful view."
The adventurous pensioner also celebrated his birthday with a party at Mitchells Livestock Auction, the day before the jump, and received 104 birthday cards including one from The Queen.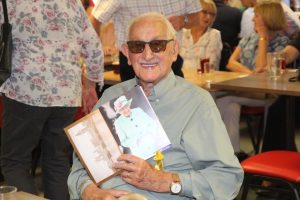 When asked how it felt to be 100 he said: "I feel 50. It's how you live. I don't drink, I don't smoke. Although I had a few drinks at my party. I've had a good life. Had a lot of great friends here at Mitchells. I'm only sorry my wife isn't with us."
Mr Hodgson met his wife Mary in 1936 and the couple wed on 26 February 1943.
After leaving the army, Mr Hodgson worked on the London, Midland and Scottish Railway, and was a chargehand locomotive driver at Sellafield for 12 years before he retired.
He was widowed 25 years ago and continues to visit his wife's final resting place at St Leonard's twice a week.
Mr Hodgson proudly describes himself as independent. He still drives a car, cooks, and regularly meets up with his old friends.
When asked about the secret to his longevity, Mr Hodgson said: "I treat everybody as an equal. Man, woman and child. They're all equal and if you treat them as equal, they'll treat you the same back."
If he reaches the age of 103, Mr Hodgson intends to jump again so he can break the world record for the oldest person to skydive, which is currently 102.