Find out how Ian Grey of Cramlington is coping with the demands of working towards 'sign-off' as a paramedic with the Great North Air Ambulance Service.
---
Ian Grey arrived at GNAAS in 2018 after fifteen years with the North East Ambulance Service. His career there saw him progress from being an advanced technician to a paramedic, through working in ambulance control, with the Hazard Area Response Team (HART) and serving a stint as line manager. He applied for a GNAAS role, was initially unsuccessful, but made such a good impression that he got the call when another position arose.
"I accepted on the spot," he said. "Though maybe I should have asked my wife first."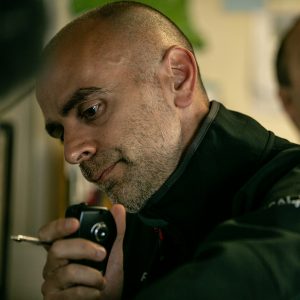 He remembers the recruitment process being tough. "I thought I had a chance as I had variety and progression on my CV, but I never took it for granted that I'd even get an interview," he said.
"I did though, and I remember coming down for the assessment day which was horrendous. I came in and straight away was dealing with a paediatric cardiac arrest scenario, and then onto a trauma one. I remember looking up and seeing everyone from GNAAS stood around watching. It felt like the whole world was there. I now know that it was all about increasing the pressure and seeing how we reacted. I walked away at the end thinking 'what just happened?'."
Ian's efforts had taken him close, but not quite close enough. However, it was not long afterwards that his phone rang with the job offer he had been holding out for. Getting the job was an accomplishment, but for Ian, the real challenge began on day one and has continued ever since.
"It's been hard," he said. "There's loads to learn. Not just the medical side but simply adjusting to a new organisation – the people, the ways of working, the technology. It's been massively challenging but also massively rewarding and I know that will only continue. This is the kind of job where you just can't rest on your laurels. You have to keep learning and progressing.
"That's been a theme at GNAAS – I noticed early on that everyone here is constantly looking to better themselves for the good of the patient. The other thing that struck me was the relationship with doctors. It isn't a doctor and paramedic team, it's a critical care team and there's no hierarchy there to divide us. Everything is for the benefit of the patient."
Interested? Read how to become an air ambulance paramedic here
Flying for a living is not completely new for Ian, who before joining the ambulance service was a flight operations assistant in the RAF.
"Flying isn't what lured me in," he said. "It's certainly a benefit, and something I really enjoy, but it's not the best part of the job for me. The best part is the incidents we get to. They are what I'd call proper emergencies, where the skills, experience and equipment we bring can and does make a real difference. That's what it's all about."