Becoming a volunteer at GNAAS doesn't just support our mission – it's also a great way to develop new skills and maybe even find your next job!
---
Not sure what you want to do in the long run? Volunteering can help you figure out what career suits you, and help you stand out during the application process.
We spoke to our volunteer coordinator Ben McWilliams to ask him how joining in with the GNAAS Ground Crew can benefit you in your career.
Soft skills
Volunteering with the Great North Air Ambulance Service is a great way to boost any skills you feel you may be lacking in. We offer a wide variety of roles to get involved with, so you can really tailor your experience with GNAAS to what you want and need.
We are always looking for people who want to improve their leadership skills by coordinating public collections in their area. If that interests you, then our fundraising role would be perfect for you. Alternatively, if you were interested in joining our admin staff/volunteers, you can be part of an amazing team who expand the capacity of our charity services team to record new heights.
We would recommend you have a look through the roles we offer on our website to see what really jumps off the page to suit your experience and your personality.
Adding depth to a CV and impressing an employer
The skills and experiences you will pick up whilst volunteering will all be transferable. You can easily pick up cash handling, self-confidence, presentation skills, IT skills and many more! These can all help your C.V. stand out to potential employers. We are always looking for ways to give back to our volunteers and the skills you learn with GNAAS can go much further than you think.
If you are struggling for a reference as well, then your volunteer coordinator can provide one after we have got to know you well enough.
We are a world class organization here at the Great North Air Ambulance Service and our outstanding team of volunteers has expanded our capacity to levels we have never seen before. Come join our Ground Crew and you won't just be keeping the helicopter in the air, you will be growing, learning and building your confidence to a whole new level.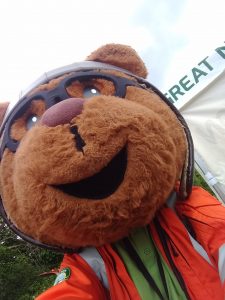 Confidence and self-esteem
How can volunteering help boost confidence and self-esteem? We'd like to answer that with a quote from one of our volunteers, Linda:
 "Since starting volunteering with GNAAS my confidence has grown so much. Even in just the first six months I had so many people commenting on how much happier and open I was.
"I would definitely recommend other people to sign up as a volunteer. It's really helped my confidence, gets me out in the local community, I get to meet new people, go to different events, and just have a lot of fun. I enjoy every minute of it."
We think that sums up volunteering with GNAAS perfectly.
It really does warm our hearts to know the difference volunteering can make to people's lives. We'd never push you into something that you really didn't want to so, however pushing those boundaries yourself can make a huge difference to how you feel about yourself and ultimately build confidence.
You might think volunteering isn't your thing, but all our volunteers go through an induction process to make sure we are all on the same page. Following this, we would arrange for you to shadow some activity until you feel comfortable with what you are doing.
Then, when you feel confident enough to start leading on your own activity we would encourage you to do as much as you like. We have different roles for different types of volunteering but there is no limit to how many you can take on. As long as you stay within the role responsibilities, you can take on as much as you want.
Networking
Volunteering is a great way to meet like-minded people. Whether you are passionate about GNAAS, your local community or just want to give something back we can almost guarantee that there will be another volunteer thinking the same thing.
Volunteering can lead to friends for life and is a great way to meet people in your area. If you are new to the area, then getting out in your community as a volunteer will be a great way to meet the neighbours.
Our volunteers are a friendly face in their community and represent everything we stand for at GNAAS. Come join the team and help us reach further than ever.
Get involved
If volunteering sounds like something for you, then signing up couldn't be easier.
Simply visit our volunteering sign up page and complete the form.