South Tyneside businessman Tom Robson has continued his life-saving support of the region's air ambulance after handing over £13,424 raised at his annual race day.
---
Mr Robson, who runs Jarrow-based environmental engineering firm Roflow, hosts the Sedgefield Racecourse Ladies Evening every summer to raise money for the Great North Air Ambulance Service (GNAAS).
The charity has a special connection with Mr Robson after it airlifted his dying mother, allowing him to share precious moments with her before she passed away.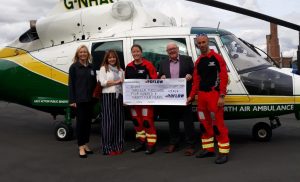 This year he was supported by leading figures from the horse racing world, with pundit Derek "Tommo" Thompson and former Grand National winning jockey Bob Champion entertaining guests.
A delegation from Roflow visited GNAAS' base at Teesside International Airport to hand over the cheque and to see where the money would be spent.
GNAAS chief executive Grahame Pickering said: "Tom does all this with little fuss or fanfare. His day is always well supported and that's testament to his standing here in the North-East and beyond.
"The money raised this year and in the past has enabled us to respond to dozens of call-outs. I'm sure lives have been saved as a direct result of Tom's selfless action."
Top jockey Brian Hughes, who also spoke at the race day, later paid tribute to Mr Robson's fundraising endeavours.
"Everyone in racing knows the importance of the air ambulance," he said. "Many of us have needed its services over the years, so it's great to see people like Tom Robson and Roflow doing everything they can to help the Great North Air Ambulance Service. I'm happy to have been able to support them in doing so."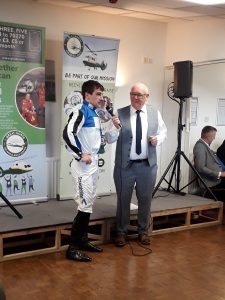 Mr Robson said he was already planning next year's event, which coincides with Roflow's 30th anniversary.
"I love it," he said. "It's my favourite day of the year. It's a lot of work but it's always worth it, especially when you see that green and white helicopter flying overhead and you remember what it's all about."
As well as dinner and racing, the event also features entertainment and has attracted top performers in the past including Kenny Thomas, Phil Fearon, Steve Brookstein, Baby D and Lorraine Crosby.
Next year's event will take place on Thursday 27 August. For enquiries, please call 01740 621925.