Alan Lewis, 57, from Fairburn, North Yorkshire, had been helping a neighbour cut down a 35ft pine tree back in 2012 when he fell from the ladder hitting the concrete below.
---
The accident, which left Alan in a coma and permanently blind in one eye, has changed his life. Eight years later, he's decided to open up and share what happened that day for the first time. This is his story:
I remember getting out of bed that morning and looking outside and it was a lovely bright day. Across from my window I could see my neighbour's pine tree which was about 35ft tall with a ladder beside it and I immediately thought 'that looks dangerous'.
I went outside to see what was happening as I could see five of my neighbour's family members all talking and looking at the tree, and it turned out my neighbour wanted it cut down to the same height as the other trees outside her house.
Me being me, I said: "I'll do it" and climbed up the ladder with a chainsaw ready to cut it in half. I remember starting to cut then after that, I can't remember anything but lying on the concrete below.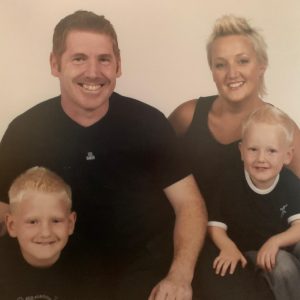 The tree had come down, and hit me like a snooker cue straight in the face and knocked me off the ladder. I fell around 9ft onto the road below and landed on my head.
I live on a hill and have since been told that the blood from my head ran from the top of the hill to the bottom.
My family wasn't home, they were in Bournemouth at a singing competition which I am glad about because at the time my two sons were very young, and it would have been traumatising for them.
Emergency services were called, and I was told afterwards it was believed they thought it would be fatal. Almost instantly, they decided time was of the essence and called the air ambulance.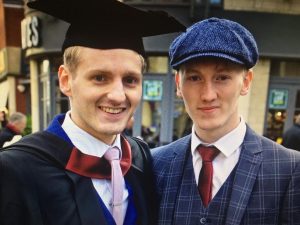 It was actually Yorkshire Air Ambulance that was called due to where I live but they were out on a job. I am so grateful to GNAAS for making the journey to me or I wouldn't be here today.
They landed in a field near my house and I was put into a medically induced coma on scene. I don't remember GNAAS arriving but my neighbour told me after that he saw the helicopter flying off with me and thought I would have loved to of seen that.
I had multiple skull fractures, a broken hand and collar bone, a snapped wrist and because I landed on my face it swelled to twice the size. My tendons in my wrist were severed and I had 15 breaks in my skull and a bleed on the brain.
I have also totally lost sight in my right eye. The optic nerve was severed because my skull was so broken, and I was in a coma for six days and intensive care for 17 days.
While I was in intensive care, my wife Claire, 49, visited me every day and all of my family actually thought I was going to die. During my recovery, GNAAS called the hospital a few times after they dropped me off to check on my progress which I still think is amazing.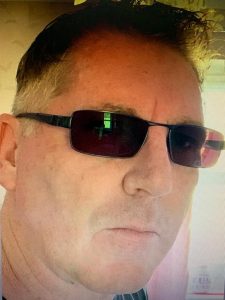 I woke up from my coma to bangs on bonfire night and I couldn't grasp how it was November as the last thing I could remember was that it was October!
It took me around six months from the accident to not feel dizzy, but my eyesight has never returned and it was the biggest shock of all being told that I wouldn't see out of that eye again.
I know it was such a stupid thing to do now looking back and especially for me, as I work in a nuclear industry where safety comes first. My outlook on life is a strange one but I will never forget how much effort the GNAAS crew put into me that day. Their care and concern is just staggering.
If I had all the money in the world, I would give it to the charity but I know that's just a token. They do it because they care and because of them I have watched my two sons grow up – I can't ever thank them enough.