Earlier this week, the charity celebrated 15 years of providing the only air ambulance service based in Cumbria.
Speaking to BBC Cumbria, GNAAS paramedic Lee Salmon described his dream job on board Cumbria's air ambulance.
---
What changes have you seen in your time at the Great North Air Ambulance?
I've seen lots of changes. We've gone from very basic aircraft to modern aircraft, we've gone from being a simple air ambulance transporting patients to being a full critical care team performing critical care at the side of the road and in rural communities, doing what we can to help save lives and support the ambulance services that we cover in the North East and North West.
How important is the Great North Air Ambulance for a place like Cumbria, which can be quite remote?
For me it's hugely important. Obviously not because I work on it but because my family and friends live here. There are people in these isolated communities, and in the bigger towns as well, who deserve specialist care, who deserve so much more than what we unfortunately have access to locally. It's really important to be able to access specialist centres for different injuries and different diseases.
The amazing thing is you're funded largely by donations. What's been the response from the public?
We do get some great support from the public and we thank every single one of you, and for every single penny raised it's phenomenal and it's great to have such support. We need more obviously, we're a charity and if we want to improve things we do need that greater support. But I would say that every penny that people raise for us counts.
Even things like social media, like retweeting and liking things on Facebook, all helps to raise our profile, so it's really really important because we want people to understand what the Great North Air Ambulance do and we want people to understand the benefits that we can bring to their loved ones.
What incidents really stick out in your mind in terms of the rescues you've been involved in?
For me, probably two incidents I've found out at either end of my career. Early on in my career a little girl called Grace Gardiner who was three months old at the time had a problem with her bowel and needed some specialist surgery over in Newcastle. We went up to Carlisle hospital and we anaesthetised her and we took her over to the Royal Victoria Infirmary (RVI) for that emergency surgery and I was lucky enough to actually meet her again only earlier this year when I realised she was going to the same school as my own daughter, so that was good, it was lovely to meet her again.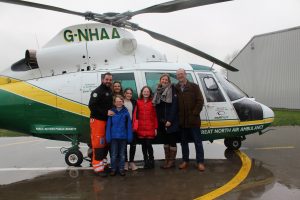 And then recently again one of the other jobs I was mildly involved in was the young boy in Appleby, Kacper Krauze who drowned. A phenomenal story of a little lad who went out, as many of our kids have done, and will do continually, playing with his friends in the water. Poor Kacper went under the water and drowned and was rescued by the fire service in Appleby, who did a tremendous job. What most people would do, would just think he was gone, but they went under that water to save that little lad's life, brought him out and then it was a real team effort with the ambulance service, local doctors and then the Great North Air Ambulance who attended that job and flew him over to the RVI where one of our doctors received him and put him on what we call Extracorporeal Membrane Oxygenation, which is ECMO for short, which is a relatively new technology which gave Kacper the opportunity to be back here with us again today. So jobs like that really stick out in my mind. These are kids who have their whole lives ahead of them and we want to support them and help them in every which way they can.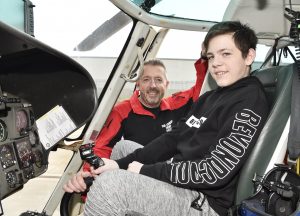 How does this job rank among the many jobs you have done in the medical profession?
This job is for me, without a doubt, the biggest privilege of a job I could ever hope to have. I'm immensely lucky. I've fallen on my feet. I work in Cumbria, I live in Cumbria, and I fly on what is essentially the Cumbrian air ambulance. It's a phenomenal job, I work with top rate doctors, top rate paramedics, top rate managers, we have some phenomenal volunteers who support us each and every day and our whole organisation works tirelessly to provide a facility which supports the local people and I couldn't be prouder to work for the Great North Air Ambulance and I think everybody in Cumbria should do what they can to support them. And that's genuinely from the heart.
In terms of the long term future, how secure is the service?
It's difficult to say really because as technology improves we want to improve our fleet, we want to provide the latest technology, we want to provide cover over longer periods of the day, but all that comes at a cost, and it's a bit of a chicken and egg situation. If we get the money then we can improve and increase our support and cover. If we don't then we are a bit of a status quo so it's really important that people dig deep and support us, and we will do everything we can.
We're not a fly-by-night organisation. 15 years ago nobody had heard of the Great North Air Ambulance, 15 years later we've seen more than 10,000 patients. We've treated over 340 people in Cumbria in the last financial year alone. That's a huge amount when you consider the patients we treat are in the top three percent of critical illness and critical injuries, so it's a lot of patients, that have potentially benefited from this service.