A man who was one of the North's first patients to be airlifted has visited the Great North Air Ambulance Service's (GNAAS) base.
---
Please note: This visit took place before the COVID-19 outbreak
Anthony Carr, 55, from Bellingham, was involved in a two-vehicle collision near Ponteland, Newcastle in May 1990.
At the time, the ambulance service had just started trialling a helicopter to transport patients to hospital, so they flew to the scene. GNAAS did not exist back then but the roots of the organisation can very much be traced back to this initial trial.
Anthony was airlifted to the Royal Victoria Infirmary (RVI) in Newcastle, but as there was no helipad at the hospital yet, the aircraft landed in Leazes Park, and a land ambulance was used to transport him directly to hospital.
He said: "Because I was only the second person to be airlifted, I think there were still some teething problems. The trouble was getting the team together to come down to the park and then transport me to the RVI. The other injured person was taken to hospital by road and they actually beat me there."
Anthony, who was only 25 at the time, had an embolism in his lung, broke both his femurs, with one femur having more than 30 breaks, and he also broke his tibia and fibula. This resulted in him losing two inches off his height.
COVID-19: With your help we will fly on
He spent 14 weeks in hospital before finally returning home to continue his recovery.
Thirty years later he still lives with some of the complications resulting from the incident, but has led an active life.
Anthony had also only been married six months when the incident happened, and therefore he's now celebrated his 30th wedding anniversary with his wife Ingrid.
They decided to use the occasion to fundraise for GNAAS and presented a cheque for £870 to the charity's critical care team, who showed them round their base at Teesside International Airport.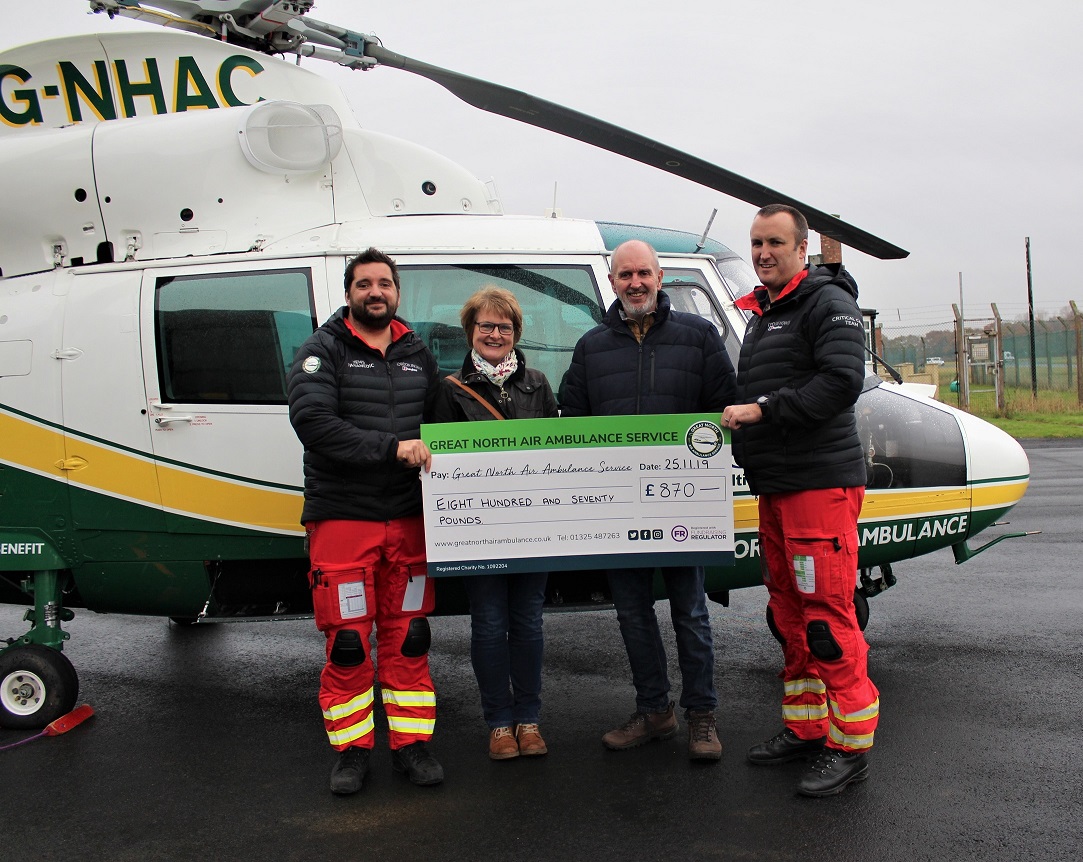 Anthony said: "They have certainly moved on a lot since 1990 and can offer advanced critical care like blood transfusions and even heart surgery on the roadside.
"The camaraderie between the team is very apparent, you can tell they get along well, and they should be really proud of what they do."
Ingrid added: "Everyone in our community has heard a lot about GNAAS, because it affects us all. It was a pleasure to be invited to visit the base and see how it all works. The advancements they have made since 1990 are incredible."
Help preserve our critical care services
We want to be there when you need us, but we can only do that with your support.
Donate here