"At the end of a shift in A&E, I can always name a handful of things that I have done that day to help someone."
---
Great North Air Ambulance Service (GNAAS) doctor, Phil Dowson, from Washington, joined the charity six years ago.
At GNAAS, our doctors are all pre-hospital experts and come from a variety of backgrounds.
We have a number of doctors who also have careers in the military, we have GPs with a pre-hospital speciality, and we have anaesthetics and emergency medicine consultants from hospitals throughout the region.
When he's not flying around saving lives, he's an A&E consultant at Sunderland Royal Hospital.
Holly Taylor chatted to him to find out more about his career and his life outside of GNAAS.
So, Phil, where do you work outside of GNAAS and what is your role?
I work as a Consultant in Emergency Medicine at Sunderland Royal Hospital, I have been there for about three years now.
Talk me through an average day in your consultant role?
So, if I was working an average day shift, I would chat to the night team when I got in that morning to see if there had been any problems through the night. If it has been a particularly difficult night, I may spend some time give them a little pep talk.
I'd then get the team together who work across the different areas and look at the patients we have in the department. I'd point out some of the sicker ones and those that may need urgent interventions during the day.
I'd then make sure everyone was up to speed with what they are doing, walk around the department to see how patients are getting on, discuss any treatment plans, look at our priorities for the rest of the day and contact any of the specialists across the hospital if needed.
How do you manage your time working between GNAAS and your other job?
Time is tight! There are times when the emergency department is really stressful and GNAAS is not so busy but then there are also times when the air ambulance is really busy. My shifts with GNAAS are provided in advance, so I shuffle my A&E shifts around those and try to leave a little bit of time for myself.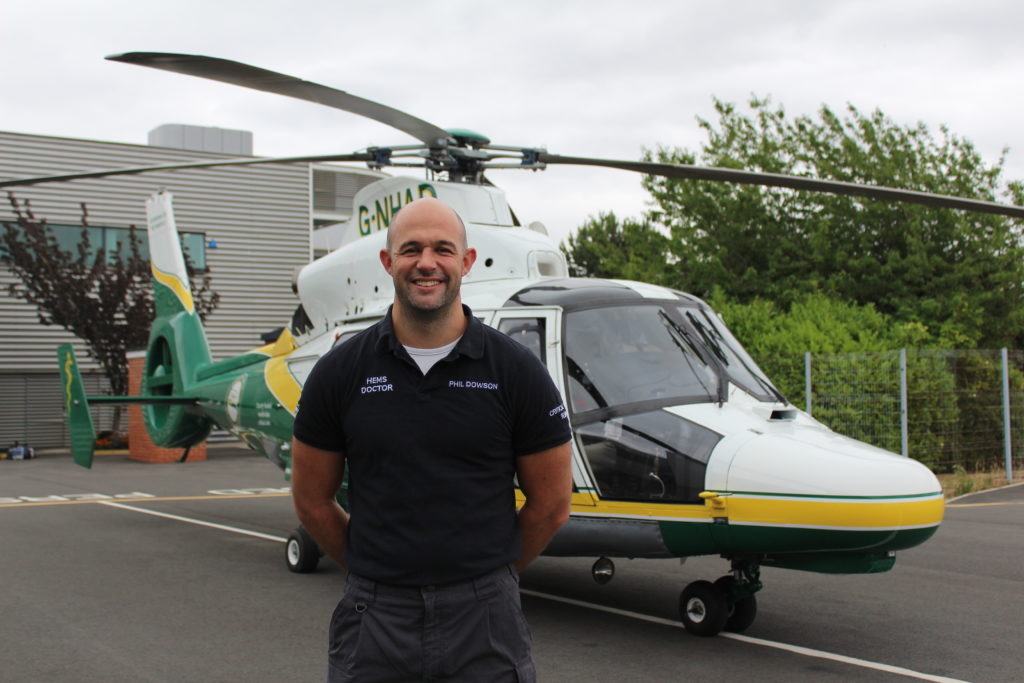 Talk me through your career from the beginning up to now? 
I left school and went to Newcastle University to study medicine. I really loved my time at University and knew by the end that medicine was definitely the career for me. I began my career as a junior doctor at Sunderland Hospital.
From there, I spent a couple of years working in an Emergency Department in Sydney and when I came back, I worked across various North East hospitals on an A&E training scheme.
Along the way, I enjoyed meeting paramedics who had lots of interesting stories to tell from their job on the road. I also became good friends with another GNAAS doctor Doogie Howes. He had started on the Pre-Hospital Emergency Medicine scheme and encouraged me to apply.
I got the job and was posted with GNAAS as a HEMS doctor and then got to the end of my medical training and went back to Sunderland Hospital as a full-time permanent consultant.
Did you always know you wanted to become a doctor?
I didn't actually.
My Dad was a doctor and had always told me to be wary about going into medicine. He was an anaesthetist and said medicine wasn't the job it used to be.
At the time I was more interested in art and theatre, but had also looked into architecture, and chemical engineering.
I was always fairly academic and by the end of school when we had to choose our options, I really didn't know what I wanted to do but a lot of my friends at the time were studying medicine, so I went for it too.
I didn't have a clue what to expect and very quickly went from being one of the clever ones in school to being among 200 or so very very clever people – it was a huge jump. I just thought to myself 'how on earth am I here?'.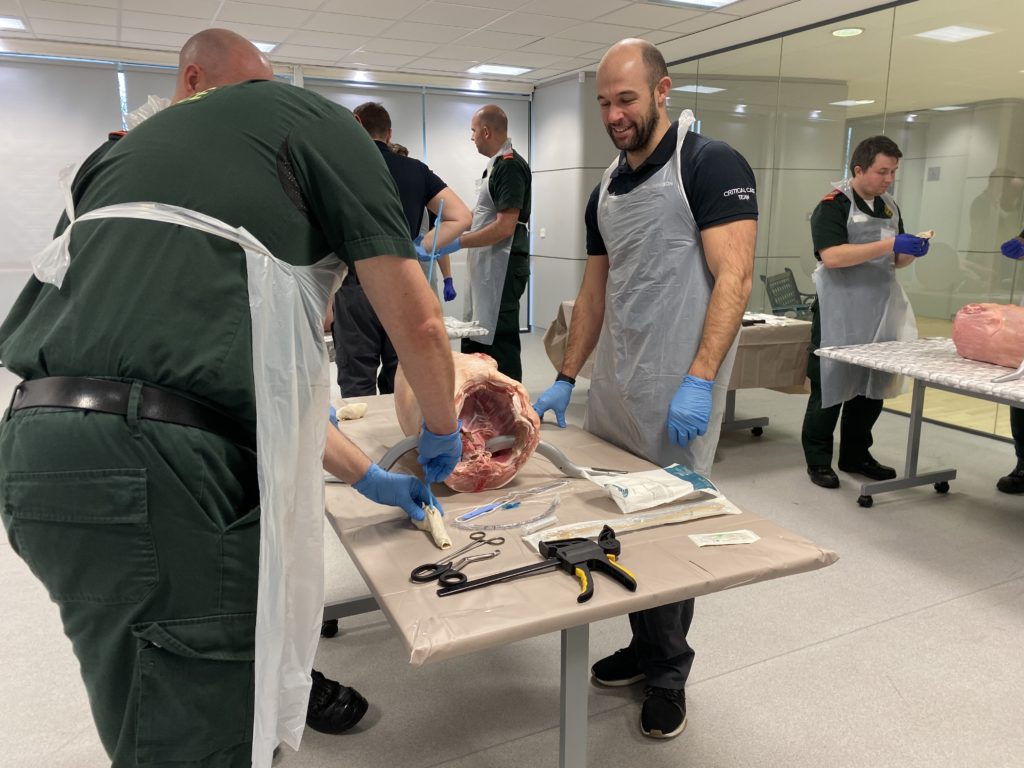 Why did you choose your field of specialty?
At first, I thought I should become an orthopaedic surgeon because I liked the idea of fixing fractures (and at the time they all seemed to like rugby too). But, during my first time assisting in orthopaedic theatre I had to stand still for such a long period of time, sweating under the lights in a lead apron and I just thought 'this isn't for me'.
I love A&E because I get to see the full spectrum of medical cases and procedures. Whether that be trauma, stitches, drains, broken bones or mental health.
I love variety and have always felt as a doctor that I wanted to be able to manage any patient that came through the door. Emergency Medicine gives me the confidence and skills to do that.
What would you have become if you weren't?
Maybe I would have worked in sales? Or been an out-of-work actor.
How is GNAAS different from your other work? 
Generally, at GNAAS, I am only dealing with one patient at a time – not a department of 100 patients.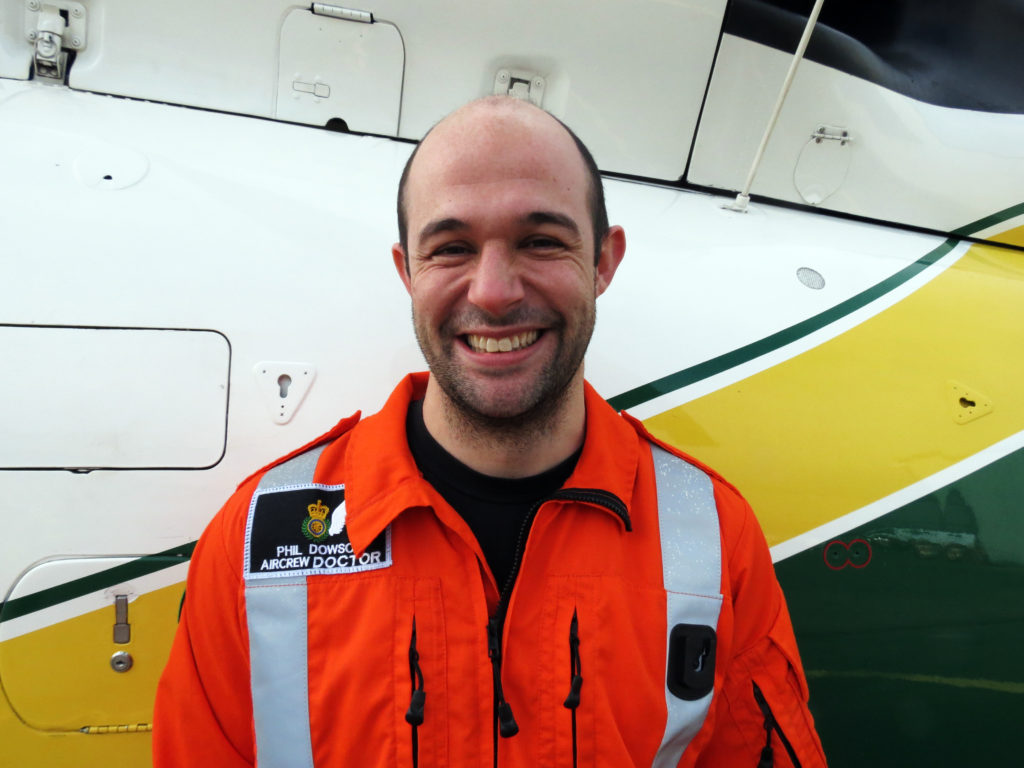 What's the best/worst thing about your job outside of GNAAS? 
I would say the best thing about my work is the variety and the challenge. At the end of the day in the hospital, I can always name a handful of things that I have done that day to help someone or that have made a positive impact.
The thing I enjoy the least is probably the intensity of the work and the fact it's literally none stop from the moment you step in to begin your shift until you go home.
It can be really tiring.
Do you have any standout jobs from either of your roles? What happened?
I remember a while back, we attended an incident in the air ambulance where a guy had been run over running out onto the road to save his dog – it was quite a bad crash. I was convinced he wasn't going to make it but we managed to resuscitate him and gave him an emergency anaesthetic.
When we left him at the hospital, I still didn't think he would survive but three years later he came to visit us at the GNAAS base, and it was just amazing to see that he had pulled through and was doing well.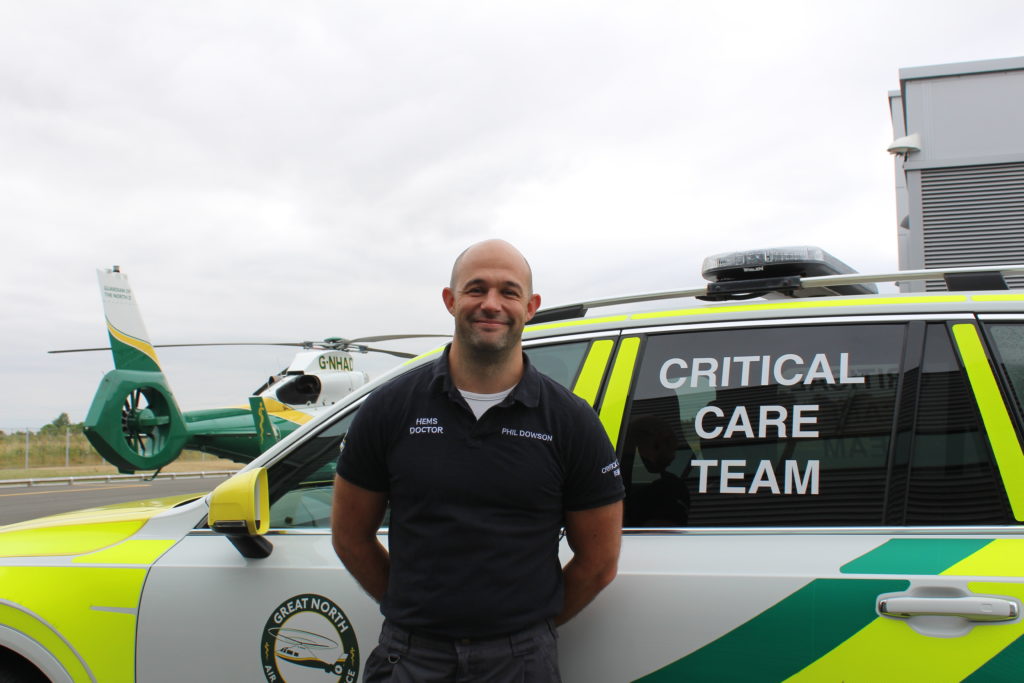 How do you cope with difficult jobs? 
Definitely by talking things through after. My wife is in the medical profession too, so it makes life easier as she gets it. It's also useful to unwind with the crew after a difficult job and discuss what happened and if there's anything we could have done differently.
What do you like to do outside of work?
I like to surf, watch rugby, go to the gym, and play a bit of piano. I also love spending time with my kids which tends to include a lot of dressing up and role play!