A MAN who suffered severe burns in a barbecue explosion has capped his recovery by completing a 50-mile fundraising run.
---
Steven Clark was preparing for the first barbecue of the year at his home in Riding Mill, Northumberland, when the incident happened.
The 47-year-old was struggling to light the fire, so decided to use liquid fuel. Unknown to him, the fire was already alight. Within seconds, he was engulfed in flames.
"The fuel ignited," he said. "It tracked back up the actual stream to the bottle. The flame went into the bottle and the whole bottle exploded. It went into my hands, showered me in ignited fuel, and basically burnt me from head to toe.
"My t-shirt melted onto me, my torso was all burnt, my head was all burnt, I remember flames all around my head, I remember Jessica, my daughter, shouting and screaming."
Mr Clark rushed to the garden hose to put out the flames and then called for Jessica, 20, to help extinguish the fire.
Meanwhile, his neighbours rang for an ambulance, and the Great North Air Ambulance Service (GNAAS) flew to the scene.
He said: "Whilst we were waiting, I saw a helicopter come over and I identified it as the air ambulance helicopter and thought 'that can't be for me, surely not', but sure enough it was."
GNAAS worked alongside the North East Ambulance Service to assess and treat the family's injuries before airlifting Mr Clark to the Royal Victoria Infirmary (RVI) in Newcastle.
The incident happened in April last year. He spent five days in the RVI, and had several products applied to his burns including medicinal honey to help them heal quicker.
He said: "The arm's recovered well, I've lost a bit of pigment in my skin in places, and I haven't got any bald patches on my head. Recovery has been absolutely fantastic."
After making a good recovery, Mr Clark decided to sign up for the Lakeland 50, a 50-mile trail race, to raise money for GNAAS.
He said: "I wanted to enter the 50, and I thought, I'm going to do it for the air ambulance. They've come to my rescue, they need the money, it's a brilliant cause."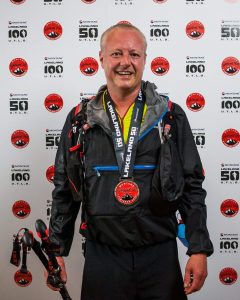 Despite it raining all day, Mr Clark managed to successfully complete the route in 14 hours and 50 minutes and raised approximately £1,470.
He added: "GNAAS is a service that's needed. We can't do without it, it's a fantastic service. A lot of people will be stuck without it."
Last year GNAAS responded to 1641 call-outs and needed to raise more than £5m. Please consider making a donation to keep us flying. Click here to donate.