A MAN was airlifted twice within a month after suffering two heart attacks and now his wife has raised £2,350 for the charity which flew to his aid.
---
Bill Hasted, 81, of Aisgill, Kirkby Stephen, needed the Great North Air Ambulance Service (GNAAS) twice in February last year.
When he first became ill, it took the charity just 12 minutes to fly him from his rural home to the specialist cardiac centre at the Cumberland Infirmary, Carlisle.
But just three weeks later he needed to call upon GNAAS again after suffering another heart attack at home.
Again he was flown to Carlisle, although subsequently he received additional care at the Freeman Hospital in Newcastle.
Now feeling much better, Bill and his wife Pauline have visited the GNAAS base at Langwathby to say thank you to the crew and to tell them about their fundraising endeavours.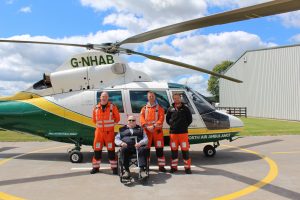 Mrs Hasted, 75, held Christmas fayres and a pie and pea supper at the Moorcock Inn, Garsdale Head, to "repay GNAAS" for helping Bill.
She said: "We live in the middle of nowhere with the nearest market town being Hawes which is eight miles away. That's why we're grateful we have an air ambulance covering our area.
"The medics from the land ambulance and air ambulance were assessing him and taking down details. It was agreed that the journey was too far by road and it wouldn't have done Bill any good."
During the Langwathby visit, Bill got the chance to meet aircrew paramedics Terry Sharpe and Andy Dalton who both helped him last year.
Mr Hasted said: "The visit was really good. The crew were friendly and I enjoyed meeting them again so I could say thank you."
Mrs Hasted added: "The service provided by GNAAS is absolutely brilliant, and I couldn't fault them.
"They were so good in looking after Bill both times, and we felt the need to give back, so that's why I held Christmas fayres and a pie and pea supper at our friend's pub. If it hadn't been for GNAAS I don't think he would have been here now."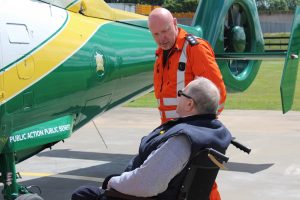 Mr Sharpe said: "This is exactly what we are here for and we are just glad we could make a difference. We are grateful to the family and the wider community for continuing to support us as we simply couldn't carry on without this kind of generosity."
To support GNAAS and its doctor-led trauma teams, please visit the charity's website at www.gnaas.com or call 01768-899150. Last year, it needed to raise £5.1m to