Alan Henderson, 39, of Silloth, was left with life-changing injuries when he swerved to miss a van while on a quad bike in 2013. Since then, his mission has been to get his life back. In his own words, here's his story.
---
Back in July 2013, I was on a quad bike on a rural road in Silloth. All of a sudden, a van came round the corner at high speed. Instead of the van hitting me, I swerved on the quad bike, landing on the road and the bike crushed me.
The road I was on was so rural so I knew I had to get myself to the side of the road as quick as possible in case any other traffic flew by. It was getting dark as well and I was scared I wouldn't be found so despite my injuries, I managed to drag myself to the side of the road and waited for help.
Luckily, a family that was passing by found me and called emergency services. By this point, I was totally out of it.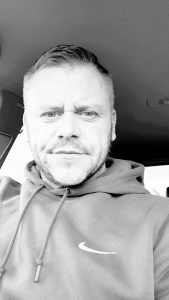 I can't remember the air ambulance coming for me at all, the last thing I remember is the land ambulance paramedic cutting off my clothes. I remember looking down at my arm and it didn't even look connected to my body. The whole time I was in and out of consciousness.
I broke my back, ruptured my spleen, punctured my lungs, broke seven ribs as well as my right arm and right leg. I also ripped my entire heel off, broke a bone in my backside and suffered a bad head injury.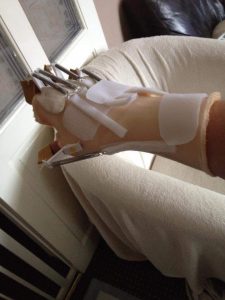 I was taken by GNAAS to the Royal Victoria Infirmary in Newcastle where I spent two weeks having my arm and leg reset, ribs removed and I also suffered blood clots.
I have had three years of counselling to get over the accident and I was told I would never walk again but here I am back to work. I wouldn't be here today with GNAAS.
My sister was getting married and because I wasn't going to be there she was planning on cancelling it. I made it my goal to try to get better to make it to the wedding and I did. It makes me emotional thinking about it – it's because of GNAAS that I made it.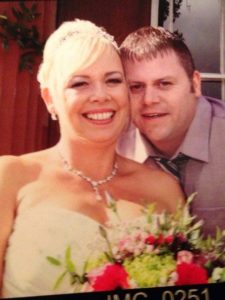 My memory is totally shot. I try to write post it notes all over the house and letters to myself and keep a journal.
I struggle day to day now but I am very stubborn so I push myself to do the things that I struggle with as I won't be beaten. With everything that is going on at the moment I am stuck in the house and it is killing me as I no longer have the concentration for the television and so on.
GNAAS are fabulous and I can't put into words how much I am grateful for them. I have met the team and they are all amazing.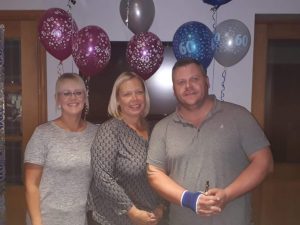 I now live each day like it is my last – having the accident and recovering from it has definitely put everything into perspective.
At the moment I am back at work, working more hours than I have ever worked before and it's to drum into myself that I can actually work.
I have just been back in hospital recently so the future is uncertain with everything that is going on in the world but from the bottom of my heart…thank you GNAAS!