After years of planning and a hectic week of unloading office supplies, Great North Air Ambulance Service's new HQ is open for business!
---
The move to Progress House in Urlay Nook, Eaglescliffe, has brought fundraising, lottery and admin teams together under the same roof for the first time. Office staff are excited to welcome the operational team based at Durham Tees Valley Airport to the new headquarters later in the year, while our Cumbrian base in Langwathby will continue to operate in the West.
The move to relocate staff from three of our sites – Darlington town centre, Newton Aycliffe and DTVA – will result in rent savings of around £120,000 per year.
As well as accommodating our aircrew and charity staff, the base will also be home to a world-class clinical training facility for a huge number of medical professionals across the globe. The revenue generated by this facility will go towards improving our front-line care, ultimately helping to save more lives.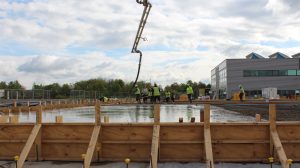 This week, workers began pouring the concrete which will create the foundation of the hangar which will house our aircraft.
Our grounds are also receiving some TLC. A group of ground crew volunteers  have kindly offered up their own time and resources to keep the base in tip-top condition and to prepare the area for visitors.
GNAAS staff would like to say a huge thank you to every supporter who's helped us along the way. It is thanks to you that this move has been possible.
Donations, volunteering and kind words of encouragement have helped the move to run very smoothly. We can't wait to show everyone the shiny new base!
If you need to post us a letter or stop by the office, our new address is: Great North Air Ambulance Service, Progress House, Urlay Nook Road, Eaglescliffe, Stockton-on-tees, TS16 0QB.