A supporter who kickstarted a fundraising challenge at the start of lockdown to get people active is now hoping to reach the 'magic' goal of £10,000.
---
Ben Hunt, from Eaglescliffe, launched the 'Chasing Rainbows' challenge in April after seeing his neighbour Jean Snaith display a crochet rainbow in her windows.
He said: "The idea was basically to do a run, a ride or a walk, take a nice photo, make a donation to the Great North Air Ambulance Service (GNAAS) and safely at the time pass the rainbow on to the next person to do the same and it really just took off."
Jean Snaith has now made a total of 200 crochet rainbows which have travelled not only all over the North East, but also across the world.
Her rainbows can be found in New York, Australia, Romania, Italy, Spain and Russia.
After the announcement that the Great North Run was postponed to next year, Ben decided to take part in the virtual version and set up a route which finishes at Progress House, GNAAS' HQ near Eaglescliffe. He also organised a charity night with a raffle and auction.
Nearly 30 people took part in the run, including some members of our critical care team and office staff.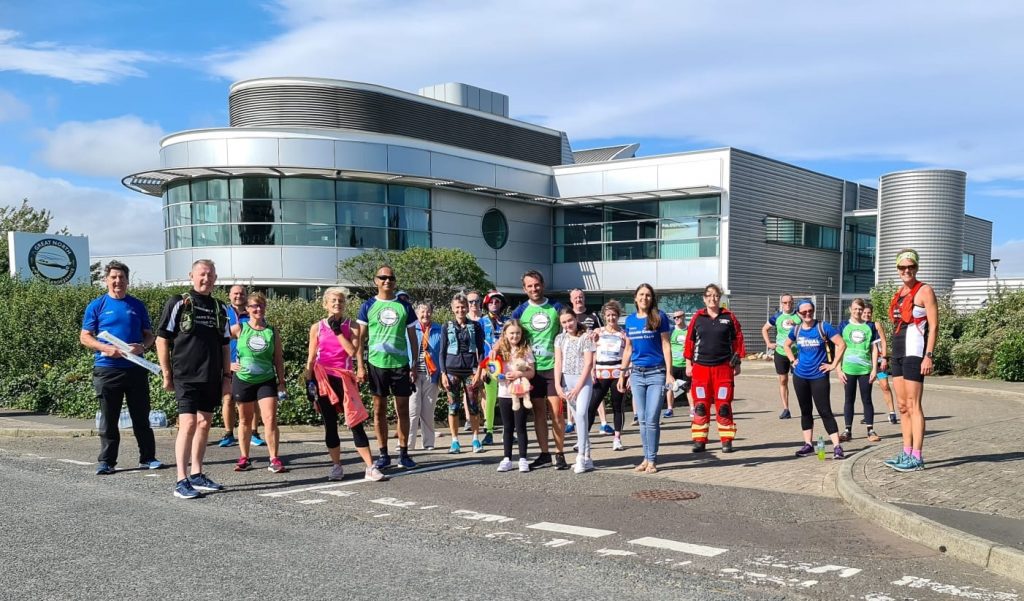 Raffle 2020: Enter to win £10,000
Speaking about the day, Ben said: "The run was tough, I'll be honest. It was very hot, it was a very hilly route we selected, and extremely windy but the support was immense from all the people along the way, so it was a fantastic day.
"We raised £2,500 on the evening at the event at the Eagle pub, kindly supported by my friend Colin and his partner Sam, the landlord and landlady.
"On the JustGiving page and donations so far another £5,500 plus, so we're creeping up towards that magic number of £10,000 I hope."
Help fund our vital missions by entering the raffle.
Our challenge event officer Angela Doran has been supporting Ben's fundraising journey and is incredibly proud of what he has achieved.
She said: "Ben is an outstanding supporter of GNAAS. We've been staggered by the awareness and the amount of fundraising he has done for our charity. GNAAS is 100% charity funded and we couldn't do what we do and raise the £5.3 million that we need each year to keep the service operating without outstanding supporters like Ben, and we're just so thankful because everything he's done for us is absolutely amazing."
Ben added: "We're very privileged to have GNAAS on our doorstep and I think we should all be very very grateful, I know I am and I thank Angela and everybody that's been involved from the bottom of our hearts. We certainly wouldn't have got this off the ground and had it take off as it has if it hadn't of been for a massive team effort from everybody. So thank you all very very much."


Enter the raffle
Support your air ambulance by playing the raffle and you could win the £10,000 top prize!
£1 per ticket. Draw date: 11 December 2020.