The Great North Air Ambulance Service's (GNAAS) new aircraft received a warm welcome today as she landed at her new home in Langwathby for the first time.
---
The Pride of Cumbria II will be based near Penrith and will enable the charity's critical care team to reach even more patients across Cumbria thanks to its upgraded power and versatility.
The aircraft was met by cheers and applause from her new team as she took her first flight into the county this afternoon following a much-anticipated arrival.
The next generation air ambulance will begin work within weeks and will replace the Pride of Cumbria which is nearly thirty-years-old and has helped to save hundreds if not thousands of lives since arriving in the region in 2011.
The charity's chief executive, David Stockton, said: "It goes without saying that the last year has been a real struggle for GNAAS with estimated losses due to COVID of around £100,000 per month.
"Last summer, the Guardian of the North II arrived at the charity and now, with the addition of the Pride of Cumbria II, we have completely revamped our aircraft and it's time to look forward, not back."
Mr Stockton added: "The ongoing support of the people of Cumbria has been phenomenal and this new helicopter is our way of repaying that loyalty, which in turn, will allow us to save many more lives and keep families together."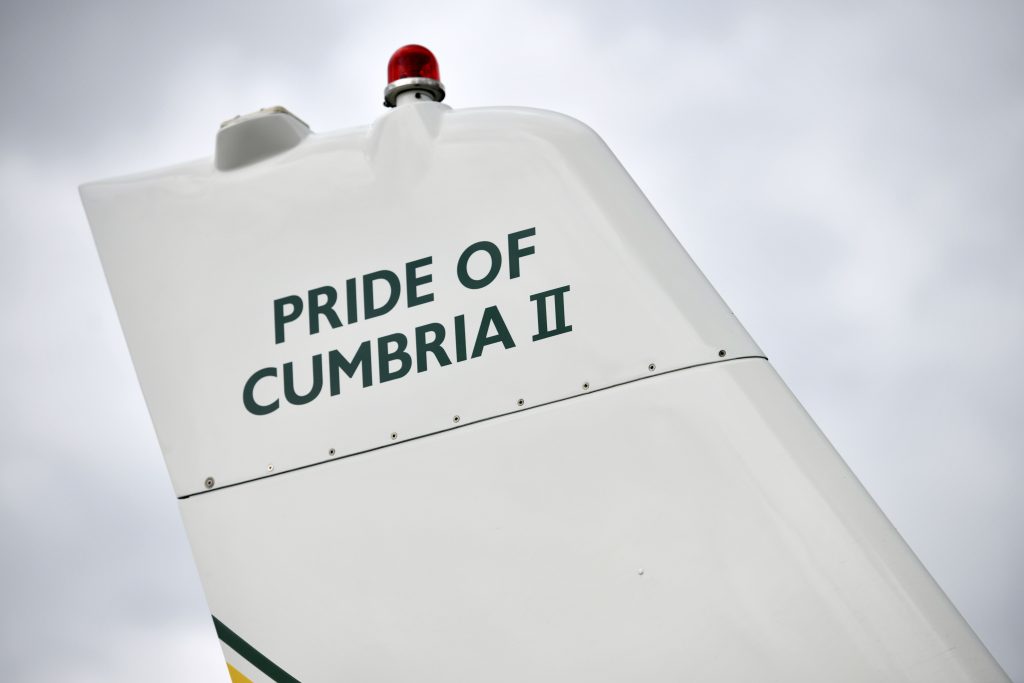 The Pride of Cumbria was due for routine maintenance next year which was set to cost around £500,000 – money the charity could not justify spending on such an old aircraft.
The new Dauphin N3 aircraft is expected to serve Cumbria for around 15 years and is part of the charity's wider plans to expand the service in the region.
Francesca Kennedy, of Keswick, who was airlifted in December 2020 following a road traffic collision, said she was overjoyed when she heard about the arrival of the new aircraft.
Miss Kennedy said: "The new helicopter is so beneficial. The public need to get behind GNAAS in supporting costs associated with the upgraded aircraft because we really couldn't be without the service. It is invaluable."
GNAAS pilot, Phil Lambert, of Kendal said: "I am so excited about the arrival of the Pride of Cumbria II.
"It's very rare I get to drive a new car so you can imagine how I felt when I found out I was going to get to fly a new helicopter. A new car is exciting, but a new helicopter is next level stuff."
He added: "I think we are going to be so busy in Cumbria this summer and the advantage of this new helicopter is that it can carry a lot more fuel meaning we can potentially go to three jobs before refueling instead of just one."
Although GNAAS was able to fund the deposit on the aircraft through savings, it now needs to raise £40k a month to cover the loan repayments on the helicopter, and is asking supporters to do what they can to help meet the costs.
Can you help Fund Our Fleet?
Donate today to help secure the future of our helicopters
Support the appeal