We're calling on all fundraisers to Power Up for the Great North Air Ambulance Service.
Events were cancelled. Fundraising was put on hold. 2020 was a devastating year for the Great North Air Ambulance Service.
It's estimated we lost more than £100,000 a month because of the pandemic.
Now, we're calling on our supporters to Power Up to help us bridge the gap left by Covid-19 and raise the essential funds that mean our helicopters can continue to Power Up every day.
How can I Power Up?
Power Up is for everyone who wants to raise money for the Great North Air Ambulance Service. To join in, you need to think of a fundraising activity  – don't worry, we've got some great ideas to get you started!
Love gaming? Power Up your console, stream your game and watchers to sponsor you. A brilliant baker? Power Up your oven and bake up a storm. Always active? Power Up those legs and run, swim or cycle like you never have before to raise funds for the charity.
Whatever you choose, when you Power Up for GNAAS you're helping Power our life-saving service.
Powered Up Participants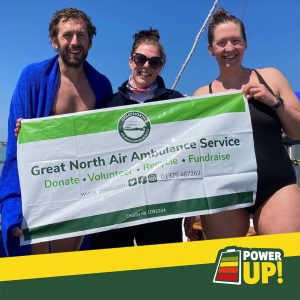 Anouska, Jordan and Kasha
Swam the English Channel
Read more
These three amazing siblings successfully completed a charity relay swim across the English Channel after our team flew to the aid of their mother, Melanie.
Kasha Rogers-Smith said: "After completing a Boxing Day dip in Christmas 2019, a few glasses of wine later we decided to swim the English Channel. There was no doubt in the charity that we would be supporting, GNAAS airlifted our mum after a serious horse-riding accident in 2016. The channel was a tough but brilliant adventure. We swam through the night in cold water, encountering jellyfish and large cargo ships, it was an amazing moment to stand on the beach in France!"
Well done to Anouska, Jordan and Kasha for their fantastic achievement and also raising more than £5,000!
You can still sponsor them here.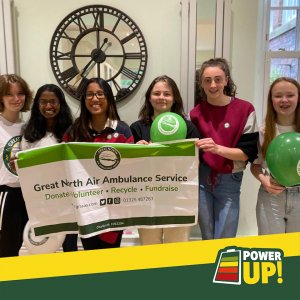 Medhini, Annie, Eve, Fiona, Amy and Sarah
Litter picked 32 fells
Read more
These six friends used the start of the Summer Holidays to do a sponsored litter pick on 32 fells in support of GNAAS.
Over 30 days they picked up rubbish from fells including Grey Crag, Graystones, Broom Fell, Lord's Seat, and Skiddaw.
The girls have not only ensured our green spaces are clean but raised more than £1,800 for our charity.
Medhini said: "It really feels amazing that so many people are supporting this cause!"
You can still sponsor them here.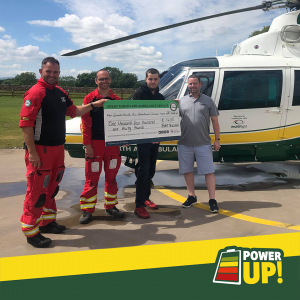 Peter Nattrass
Online game stream
Read more
Peter from BVAR Trucking, a virtual trucking company, organised a charity event convoy where people drove set routes and streamed them to raise money for GNAAS.
The online gaming event was held in support of our charity after a member of Peter's family was saved by our team following a 100ft fall from a mountain face.
He said: "The event was really great we raised over 1.4k for GNAAS. The team are all amazing and go out of their way to save lives, and this was our way of saying thank you."
Well done to Peter and everyone else who got involved and collectively raised £1,430!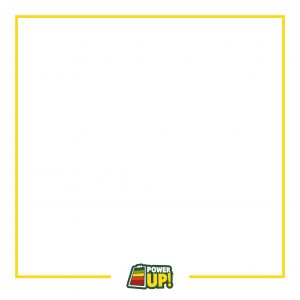 Your name here!
Power Up
Read more
Power Up for GNAAS and we'll add you to the Power Up Participants hall of fame!
We'd love to see your fundraising pictures. If you're happy for us to share them, please email them to fundraising@gnaas.com.

Power Up FAQs
If you have any questions about Power Up fundraising that aren't answered below, please get in touch with our team on fundraising@gnaas.com or call 01325 487 263.
How can I join in?
Taking part is easy. Simply sign up using the form above and start your fundraising! Whether you're a baker or a biker, runner or gamer, Power Up your fundraising. Once you're done, pay in your money or close your JustGiving page.
When can I sign up?
Power Up will run from August to January, and you can fundraise any time in those months. We ask that you try to get your fundraising paid in by the end of January.
When will the draw take place?
The draw will take place on 7 March 2022, giving you plenty of time to raise funds and pay in your money. Please aim to pay in your fundraising by the end of January 2022, so we have time to process it and make sure you're in the draw.
GNAAS goodies will be posted week commencing 1st November and 28th February.
Can I get a GNAAS speaker to visit my school/community group/workplace?
Absolutely! We'd love to come out and speak with you about how you can make a difference and share some inspiring stories about our work. Please email fundraising@gnaas.com and we'll be in touch to organise this!